Round 9 Wrap Up
Results, Reports & Highlights
Most peculiarly, we journeyed up to Rat Park to take on Norths and whilst we had a good day across the board with 5 from 7 wins, we finished a on sour note with First Grade being thoroughly outplayed in the main game. Full credit to Norths though, who made us look very average in an impressive display.

The Magic girls had another big win at Campbelltown and are in 2nd spot with 1 round left against Hunter at Latham on Saturday, before the semis of the Jack Scott Cup.

It doesn't get any easier this weekend for the men as we head to Sydney Uni, doing a Friday night matinee for Colts and then the traditional Saturday session for all Grade teams on campus. With 3 games left, our destiny is still in our own hands to make the finals across all grades.

Tickets are impossible to acquire for this week's Uni games due to the minimal crowd capacity allowed at Sydney University facilities. Fortunately, we again appear on Channel 7Two as the TV Match of the Round and other games will be live-streamed. So, you will be able to watch the games from the comfort of your home.

In the same vein and disappointingly we need to reduce our crowd numbers for our final home game of the season against Manly at Coogee Oval on Sept 26. Social distancing co-operation from spectators is proving frustratingly problematic to enforce and is drawing the ire of the authorities, despite our best endeavours. We can only ask people so many times to co-operate and if they don't then we end up where we end up. Prohibition!

We congratulate Wicks boys, Ned Hannigan, Will Harrison and James Ramm who all deservedly made the extended Wallabies 2020 Squad after impressive efforts for the Waratahs this season. Also, to ex Wick Pete Samu and to Tom Wright - a Randwick and Clovelly Junior, who were both selected via the Brumbies route, well done too.

Please read on to see all the full results and the coaches match reviews for all grades, colts and girl's teams and what's happening in our popular community corner. This week has a real junior flavour with an update on the Randwick Warriors season from their President Craig Bell. Also in the 'spirit of ying and yang', we sadly farewell another old boy of the club in John 'The Spaniard' Mayo, but our player led blood donor challenge against Easts continues to help save many lives.

Also, we congratulate one of our club medico's, Dr Adrian Cohen, for a major national design award he has received, for a product which will help revolutionise the medical assessment of brain health and injuries. Very impressive.

Up the Wicks!

Mark Harrison
General Manager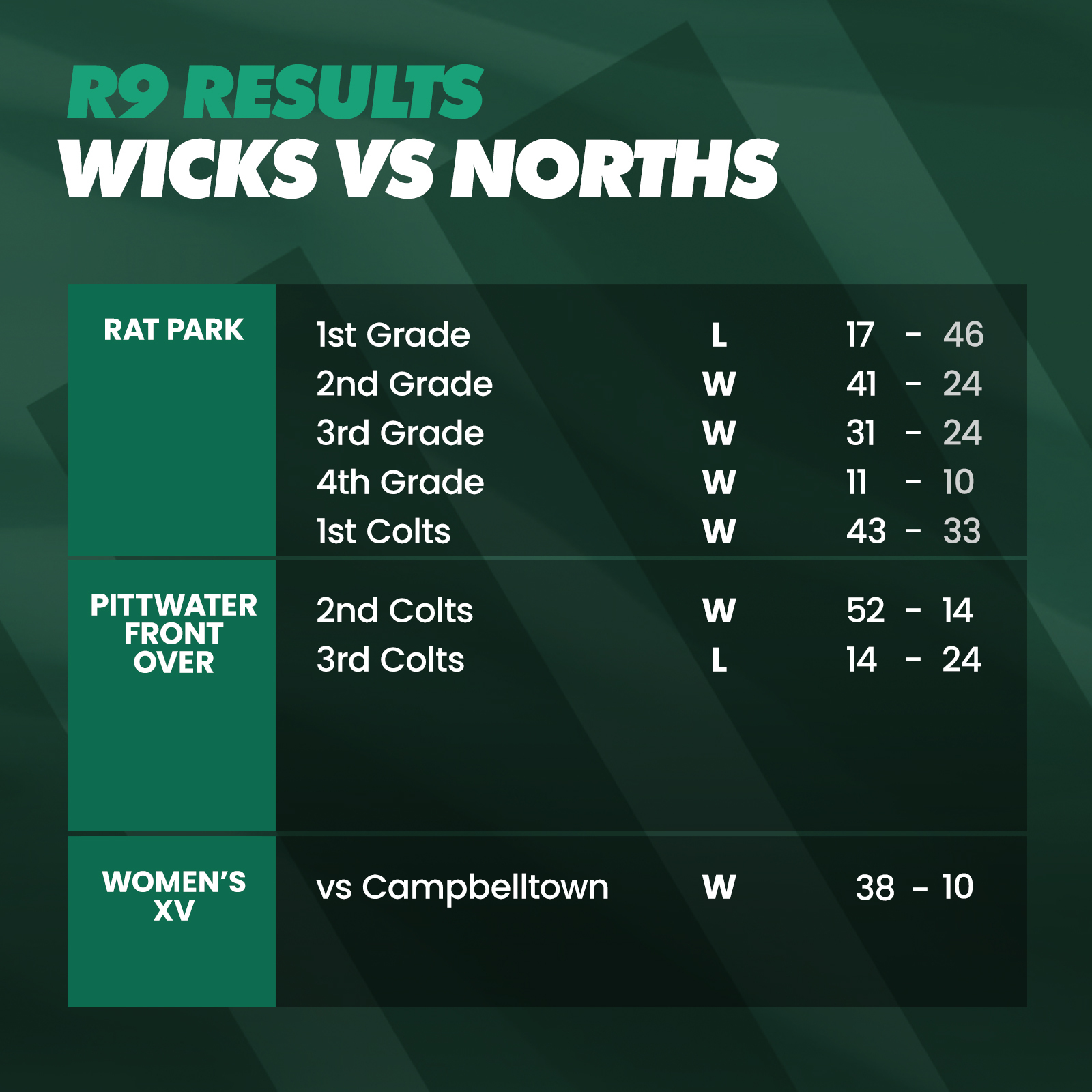 Coaches Corner
Morgan's Mail - Round 9 Club Review:
Overall it was a positive weekend for the club, this time bookended by disappointment only for 3rds Colts and 1st Grade. It was another good test for the Club's depth against Norths, who are strong right through the 7 teams. The Magic girls also flew the flag again with a big win out west

There's no need to mince words. First Grade were poor. However, the great thing in footy is that we only have to wait seven days for the opportunity to erase that performance – and the bar raises again as we tackle Uni this Saturday. I can't wait for 1's to do just that.

2nd's and 3rd's continued on their merry winning way and it was pleasing to see 4th grade bounce back with a hard fought last minute victory, after being towelled up against Gordon the week prior.

1st Colts marched on to another win, after seeing off a difficult period from Norths. 2nd Colts also rebounded impressively after their shock loss tin Round 9. However, our 3 Colts teams will all have a stern examination this Friday night, when they take on the arch enemy Uni.

An exciting week for all teams this week, with an opportunity to show who are truly contenders when it comes to title aspirations. Also, a special cheerio to our young Randwick Warriors, who play their final matches for the season on Sunday. Good luck to everyone in Myrtle Green.

IFHU and Up the Wicks!

Morgan Turinui
Club Coach

B1's First Grade Review:

Credit where credit is due, Norths played some impressive rugby on Saturday – but the unfortunate reality was that we invited and allowed them to do so.

Building pressure and asking constant questions of a defensive line has been a strength of our game this season, however we failed to get past 1 phase on our first 6 structured possessions on Saturday therefore asking no questions of the Norths defence and mounting zero pressure. We were also uncharacteristically passive on our 1st phase defence which allowed an extremely fast ruck speed we inevitably couldn't handle. Norths used the quality ball effectively and consistently challenged us in the wider channels where they found pay dirt.

It was an extremely disappointing performance and one that is quite out of character for our group. Moving forward we can't expect to compete at this level with the inaccuracy of the basic fundamentals we showed at Rat Park, however as mentioned, the fact it has been an absolute anomaly this year, should provide some solace to our supporters that we can respond and will bounce back to being in the fight this weekend.

It would be remiss of me not to mention the debut of Colts prop Richmond Tahafee who came to the rescue off the bench when George Hendry succumbed to injury early in the second half. Our 2nd grade prop and usual back up Fiu Gibson was injured during his game and we luckily managed to catch Richmond who had played a tough match in colts and then also benched for 2nd grade. Whilst it may have been a bit of a baptism of fire, Richmond never shirked the task and kept fronting up in his 30-minute stint and should be proud of his efforts.

We reviewed our performance hard on Monday night and the group displayed some positive signs of individual and collective accountability, not shying away from where we went wrong.

The return of some of our NSW Waratahs Mitch Short (9) Ben Donaldson (10) and Michael McDonald (21) was a welcome sight and I imagine playing extended minutes after sitting in a bubble for most of the year was refreshing for them. The boys were not without a bit of ring rust, but most definitely will be all the better for the run. Now with Super AU done and dusted this weekend our contracted players can refocus on their contribution to our collective goal.

University have welcomed back a good portion of their plethora of Super Rugby players for this week's contest, so it has all the ingredients of an exciting game. Up the Wicks!

Ben McCormack
1st Grade Head Coach
B2's Second Grade Review:
2020 has been a weird old year and so it continued with a trip to Rat Park to play Norths in round 9, NOT a finals game at a neutral venue.

The good news was 2nd grade came away with the chocolates 41-24, collecting a bonus point by scoring 7 tries, to remain top of the table.

Despite a relatively dominant score-line, Norths continually disrupted the breakdown and stayed in touch by capitalising on errors caused by a lack of patience in attack or out of character defensive errors. However, once the team discovered its rhythm, they took control of the game and delivered a solid result.

Up front, new prop convert Dec Leaney continues to exceed all expectations, along with young lock Ben Houston who has impressed to date. In the backs, Captain Ben Starkey is thriving as the key decision-maker. Other notable standouts included centre Tom Molloy, who regularly throws himself into the action a million miles an hour without any hesitation and speedy winger Christian Yassmin who is in a try-scoring purple patch.

Uni at Uni is next cab off the rank - bring it on.

Up the Wicks!
Ben Rutherford
2nd Grade Head Coach
The Man on The Hill's - 3rd Grade Report
3rd Grade was intent on continuing its momentum after taking the scalp of the previously undefeated Gordon in Round 9. A win-less Norths looked to be an easier assignment on paper, but you don't win footy games on sheets of A4.

Despite us looking superior in the early exchanges, the scoreboard wasn't troubled by either team in the first 20 minutes. Norths eventually broke the deadlock with a penalty goal, before we hit back with an excellent try in the corner to Connor Size. Norths then scored from a penalty, line out and rolling maul sequence - a cycle that repeated itself, twice later in the match.

We soon hit the front with a Blaise Barnes try, before Norths responded, courtesy of their second rolling maul try from a penalty/line-out. At refreshments we were down 17-12.

After the break we cut loose with 3 tries in succession to Halc Price, Tui Manoa and a 2nd to Blaise, which had the punters comfortable that we had it under control, up 31-17 with only 10 minutes left.

However, it was clear some of our larger bodies were tiring rapidly and some mistakes crept in across the board. Low and behold as a result of a couple of back to back penalties, Norths scored the penalty/line-out/rolling maul try mark 3 and a sideline conversion had them back within 7.

After steadying the ship and the supporter's nerves, we held possession for a while, established good field position and earned a penalty 25 odd metres out and directly in front with 5 minutes to go. With a bonus point already banked, instead of taking the 3, there was confusion apparent and we went for the touch/line-out option (maybe we thought we were Norths…) and we lost the ball in the next play and it was game on.

With only 2 minutes to go, Norths decided scoring a penalty/line-out/rolling maul try No 4, was improbable from their own goal-line and so they thought they were Randwick and ran it – it was all so confusing! Targeting some gassed forwards out wide in attack, they managed to make a spectacular 80-metre break, partly due to a daring grubber kick and looked destined to score a miracle try. However, a courageous head first cover tackle (not recommended by Dr Cohen..) from that man Blaise, saved the day.

The siren then sounded and to make things even more chaotic, we dropped the ball in the in-goal area attempting a clearance kick. By this stage even the referee needed a triple scotch and mercifully declared the ball dead and called a halt to proceedings, with us running out 31-24 winners. Our supporters needed a BEX and good lie down to recover from all the excitement.

On Saturday we face an undefeated Uni side, so the challenge will be immense for us to break into the Top 4 and stay in finals contention – but we are ready to roll. Up the Wicks!

The Man on the Hill
Danny's 3rd Grade Correspondent
Catto's Call - 4th Grade Review
Fourth Grade had an early 9.10am start at Rat Park with 22 players making the trip and keen to rebound from a disappointing loss to Gordon. Norths were equal with us on the table, so a loss to them could have been terminal to our semi-final aspirations.

All players showed good commitment early in game and we opened the scoring through a penalty goal by Ryley Angles-Corke. Late in the first half after a good line-out and rolling maul, our scheming No. 9 Halcyon Price dived over to score wide out and we held that 8-0 advantage into the break.

However, all that good work was undone due to our slow start in second half, which saw Norths scoring two quick tries and giving them a 10-8 lead with 20 minutes to go.

We then stabilised and worked our way back into the game, but it was a hard grind, with neither side gaining the upper hand. It was a great performance by all our forwards with Tom Weatherall leading the way, tightening up our defence in the middle.

Very late in game we pressed Norths line and after applying lots of pressure, were rewarded with a penalty. Ryley calmly obliged, kicking the goal with 2 minutes to go, taking us to the lead and despite a frenetic last minute of action, we held on for a vital 11-10 win.

It was a good defensive performance with every player competing for the full 60-minute performance - well except for the brief period we clocked off after half-time. On Saturday we face Uni who are equal with us on the ladder, so we need to win again to keep our finals hopes alive.

John Catterson
4th Grade Co-Coach
Pete's Colts Review:
1st Colts took on an in-form Norths at their new home away from home, Rat Park.

In a nail-biting affair, both teams had the scoreboard attendant 'working as feverishly as a fiddler's elbow'. Firstly, we ran in some classic Randwick Rugby backline tries to Matt Dutaillis and Winiata Cherrington, whilst Norths stuck to their set piece to gain the ascendancy later in the half, on the back of a sin-binning and some penalty tries, to take an unexpected 21-19 lead at the break.

After the break we got off to flying start, with some great long range tries and looked to have things under control, but Norths just wouldn't go away and hit back with 2 tries to tie proceeding up with 10 minutes left and it was on again.

However, a pressure penalty goal landed by Matt Dutaillis with 3 minutes to go and then a brilliant 80 metre kick return try to Hugo Carr on the bell, sealed the 5 points for us and a 43-33 victory.

Norths certainly gave us some very nervous moments, but we did well to maintain our composure and overcome them. Now we turn our focus to the undefeated Sydney Uni on Friday night.

2nd Colts needed to bounce back from a disappointing and unexpected last-minute loss to Gordon in Round 8 and were determined to atone against a strong Norths team.

We flew the blocks fast, with an intercept try to Luke Hennessy and then a huge individual effort by Mitch McKay, which were both converted by our chief playmaker James Clout. However, similar to the Gordon match, we inexplicably clocked off again, made some basic errors which were capitalised by North's no 9, which saw them hit back with 2 tries and level it up 14 all.

That shot across our bow, saw us regroup, play our own game and put on 38 unanswered points via well worked phases, patience and impressive running rugby.

On the back of an excellent week of training and some huge performances from Luke O'Shannesy, Lucas Dorrell and Mitch McKay, clearly that was our best display of the season and really look forward to the huge challenge against Uni.

3rd Colts had the very early shift at Rat Park and seemingly it took a while for the boys to wake up, as a very determined Norths side unexpectedly ran up an early 10-point lead courtesy of a converted try and god forbid a field goal!

Blayk Bragg returned fire with a strong individual try, which brought some life back into the side. However, Norths replied with a try from a midfield scrum, but then Gage Philips had the final say in the first half, with a great try in the corner, after excellent work from the Randwick pack at scrum time. Luke Hennessey kicked it from the sideline after the bell, making it 17-14 at halftime to Norths.

Disappointingly, the 2nd half was even more frustrating, primarily due to our failure exiting from our quarter and not taking advantage of the gale at our back to dominate field territory. On the back of this Norths played most of the footy in our 22 in the 2nd half, and despite a massive effort in defence to keep them out, Norths eventually got a penalty try with only minutes to go and secure a 24-14 win.

Despite some great performances from Will Serhon, Gage Philips and Austin Routly, unfortunately that was not enough on the day and we saw a very disappointed group of lads at the end of the game. It was definitely the one that got away and we need to bounce back with a huge game on Friday night against Uni.

Peter Dumbleton
Colts Director
Fidel's Womens Update:
For the 3rd week in a row our Randwick Magic team consisted of a number of really young girls, up against a very experienced and intimidating Campbelltown Harlequins outfit.

Despite the return of our Wallaroo Arabella McKenzie, with 12 players missing, our young girls still had to show a massive amount of grit and determination to defeat the Harlequins.

In a shock to our system Campbelltown were first to score, courtesy of some excellent work in the middle of the park. However, we struck immediately back, with Sophia Griffin, who was our Player of the Match, scoring after a charge down. One try soon became three, with Darcie Morrison scoring a brace after displaying great speed when given the space and we went into the break 19-5 up.

The second half then went to script, as our forwards started to dominate the tiring Harlequins pack and once that happened our backs just kept finding more room to show their wares. Accepting the invitation was that girl Darcie, scoring yet again to make it a hat trick of tries in successive weeks, which helped us secure a strong 38-10 win, in a very bruising encounter.

Whilst not reflected by the final score, it was one our toughest games of the year and provided a great experience for our young guns to showcase their abilities.

This week we face a physical Hunter team in the last round before finals, who need to win to qualify. With some established stars coming back, we are confident we are in great shape to go deep this year. Up the Wicks!

Fidel Tukel
Womens XV Co-Coach
Community Corner
Randwick Warriors - Season Report
The Randwick Warriors is Randwick's exclusive feeder club for teenage boys and transitions all under 13 players from the 4 Randwick Village Clubs into the one club. This provides a clear pathway for them to develop and eventually play Colts and beyond for the mighty Wicks!

Our numbers have been increasing every year since 2017 and this year we have 202 registered players and 51 volunteers. Our games are played on a Sunday in a Sydney wide club competition and our home base on a Sunday is Nagle Park in Maroubra. This year we had one team in U13, two in U14s, two in U15s, one U16s and an Opens (U17/18).

In March this year the boys came rocketing out of the Randwick Junior Rugby Academy run by Stu Donaldson and his band of dedicated coaches. Unfortunately, the COVID 19 pandemic then hit and so the season was put on hold. Thankfully we began training again in June and started playing competition games at the end of July. In that regard I'd like to thank Mark Harrison, GM of Randwick Rugby, and Arthur Spellson, Randwick Juniors President, for giving our club clear guidance with our COVID Safety plan and compliance.

The competition season was shortened to 9 consecutive rounds where, apart from A and B Division, the teams weren't graded as the SJRU preferred to place the other teams in geographical zones during this COVID affected season. While there were some mismatches across Sydney, generally most games the Warriors played this season were very competitive contests.

One of the benefits of Junior Club Rugby is that it gives some boys a direct pathway to representative footy, and I am pleased to report the following Warrior selections in the NSW Waratahs Gen Blue 2020 programme:
Opens: Reeve Smith, Clem Halaholo, Fritz Jahnke-Tavana Ethan King, Klayton Thorn and Charlie Worthington
Under 16's: AJ Preketes, Baxter Seinor, James Kotis, Siteni Taukamo, Solomon Tuqiri and Grant Stein
Under 15's: Jonti Morshead-Feidel
A major highlight was the receipt of a significant state grant to our club, which funded two outdoor BBQS and a scrum machine at Nagle Park for use by all the Village Clubs, as well as a storage trailer.

Another highlight is the re-emergence of an Opens (U17/18) team at the club, which is a real bonus for players in Years 11 and 12 who go to non-rugby schools like Marcellin and Pagewood etc. It also helps players at rugby schools to stay connected to Randwick Rugby. I am glad to say that Pete Dumbleton, Director of Colts, has forged a strong link with the team, which is important for the pathway to Randwick Colts.

Regarding sponsorship it was great to welcome Amaysim as our new major sponsor and to welcome back our other sponsors: Your State Agency, McGrath Real Estate Agency, Addisons Advisory, The Randwick Rugby Foundation and Bakker Built. Generally, I'd like to thanks UNSW for their support of the Randwick Rugby Community.

The reason this club exists is to provide an opportunity for teenage boys to play as much rugby as possible on their pathway to Randwick Colts. It requires a lot of effort to provide this opportunity and so I would like to thank our Committee members, Warren Martin, Silvia Bell, Paul Whitehouse, Mary-Anne Tanner, Joanne Galloway and, particularly, Gina Whitehouse for her hours and hours of work as the Club Registrar and organising playing gear and end of season gifts and our Social Media.

And last but not least, I would like to thank the players, parents, coaches/team management for their dedication and passion for our great game. Up the Wicks!

Craig Bell
Randwick Warriors President

Vale John 'The Spaniard' Mayo
Sincere condolences from all at Randwick Rugby go out to the family and friends of ex-player John 'The Spaniard' Mayo, who recently passed away, aged 78, after suffering a stroke. His funeral was held in Newcastle last Tuesday, September 8th.

John was a true stalwart and great character of the club, playing lower grades in the 60's and 70's and also went on the club's 1973 tour of the United Kingdom.

Despite their identities always being a closely guarded secret, a strong rumour has it that 'The Spaniard' was the head inside the famous Galloping Green Horse mascot suit, that led our First Grade Grand Final team's onto the field in the late 70's and early 80's!

Based on that incredibly successful period in the club's history, he was a very busy horse and galloped a lot! John was also very helpful to the club off the field and was responsible for the Sanyo sponsorship of Randwick Rugby that lasted many years.

John is survived by his wife Daniela and daughters Amy and Nicole
RIP John. God bless you, your family and many friends. Up the Wicks!
Red Cross Blood Donation Challenge Update
Last week we had an incredible week with our Battle of The East Blood Drive Initiative, seriously closing in on our fri-enemies from Woollahra Oval and with only 3 weeks remaining in the challenge we are only 15 donations behind.

We saw many members of our Randwick family roll their sleeves up and donate blood, with our colts led by Will Serhon and the 2nd Grade 'ressies' by older bro Tom Serhon. We also had the State Member for Coogee, Dr Marjorie O'Neill go in for her second round of plasma donation. Thanks sincerely to all that have donated so far.

With a tight finish predicted I call all members of our Randwick Family to arms and donate blood – for two great causes. Firstly, we can't lose to those Beasties, plus most importantly we'll be saving many lives along the way – so far, our combine donations have saved 220 people which is amazing.

If you have any questions on how to make your donation count or alternatively on how I will throw my line-outs much straighter this week, please contact me directly by email.

Remember if you're donating the nominated blood bank for this challenge is "Randwick Rugby." Alternatively, if you have already donated blood and didn't or forgot to nominate us, then you can still make it count to our total retrospectively, by sending through your details to the Red Cross.

To arrange your appointment to donate visit DONATE BLOOD.

Up the Wicks!

Dave Vea
Player Leadership Group
The Award-Winning Dr Cohen
Huge congratulations to club doctor Adrian Cohen and his business Headsafe, for winning the major Good Design Australia Award of the Year for their NUROCHECK system.

For context, Headsafe's NUROCHEK system is a portable device set to revolutionise the assessment of brain health. A world first device offering on-demand objective assessment, practitioners will now have long-term data and baselines to help assess brain health for injuries such as concussion and illness including dementia and PTSD within two minutes.

In conjunction with our Club Doctor Paul Raftos, Adrian and his Headsafe team have been looking after Randwick players head and concussion injuries for many years and we are blessed to have his expert help in managing our players neurological safety and welfare. Congrats once again Adrian.

Check out the Award Announcement
Round 10 Match Times & Venues
Friday 18 September - SUFG (No 2 Oval) - Matches Sold Out!
1st Colts v Sydney University - 8.05 pm (Live on BarTV)
2nd Colts v Sydney University - 6.35 pm (Live on BarTV)
3rd Colts v Sydney University - 5.20 pm (Live on Bar TV)

Saturday 19 September SUFG (No 2 Oval) - Matches Sold Out!
1st Grade v Sydney University - 3.10 pm (Televised live on Channel 7Two in NSW and 7Plus Nationally)
2nd Grade v Sydney University - 1.25 pm (Live on Bar TV)
3rd Grade v Sydney University - 12.00 pm (Live on Bar TV)
4th Grade v Sydney University - 10.45 am (Live on Bar TV)
Saturday 19 September Latham Park - No Tickets Required!
Womens XV v Hunter Wildfires - 3.00 pm
Good luck to all our teams on Friday & Saturday. Up the Wicks!