Finals 1 Wrap Up
Results, Reports & Highlights
Well old mate Kipling would have been a very busy chap last weekend, with lots of triumph and disaster to contend with, across Week 1 of our finals campaign.

First Grade, as I fearlessly predicted, returned from the absolute abyss against Easts a week earlier, to almost pull off the upset of the century against the minor premiers Gordon. Heartbreakingly, we went down 15-14 with a last-minute penalty goal sinking us and our season. At least we were in good company with Sydney Uni departing the dance floor too.

It was disappointing, because we were the better side, but just couldn't get the job done, despite having many opportunities to do so. A few poor calls didn't help us either, but the reality of the football at this level is it is all about winning and the simple fact is we didn't.

However, the test of character was passed with flying colours, to bounce back in that manner after the Woollahra debacle. Rudyard's earth and everything in it were almost ours and I was very proud of this team, who also won plenty of neutral admirers in the process.

Bowing out with the big boys were 3rd Grade and 3rd Colts, who also lost their respective semis on Saturday and we congratulate them both on their strong showings this season.

However, our all-conquering 4th Grade and 2nd Colts qualified for the Grand Final and both take on Gordon at Forshaw Park on Saturday. 1st Colts had a big win over Warringah and progress to the elimination final on Sunday at Rat Park and are joined by 2nd Grade, who despite losing to Manly, survive another week to face Uni on Saturday, based on the convoluted Week 1 SRU Finals system.

Then of course there were our Magic Girls, who bravely went down to the Uni juggernaut in the Jack Scott Cup Grand Final, in an absolute cliff hanger last Saturday. Well done to Darren, Fidel and their entire squad on another outstanding season - we are extremely proud of your efforts.

This weekend we also see a number of significant player milestones, with Adam 'Hass' Freier reaching his 200th Club Game in his final match for us. It's only taken 3 decades, but he got there eventually. Also, Tom Weatherall and Finau Makamaka both achieve their 100th Club Games status. Congratulations to you all on your outstanding service, contribution and loyalty to Randwick Rugby.

The Coaches Corner is full of match reports from all 7 finals matches and the women's grand finale, but our community corner is a tad quieter this week, as it's all about footy in finals week. In late breaking news The Wicks Shop has just received a new shipment of our hugely popular Retro Jersey's in and other items which are available for immediate purchase - but hurry they go quick! To order online click here

Good luck to everyone this weekend and please get out to the grounds and support our teams if you can - even though the finals match scheduling for our club seems to have been done by the Leyland Brothers travel agent. If you cant, don't worry as all our finals matches will be live-streamed on the various CLUCH TV app and online platforms.

Up the Wicks!

Mark Harrison
General Manager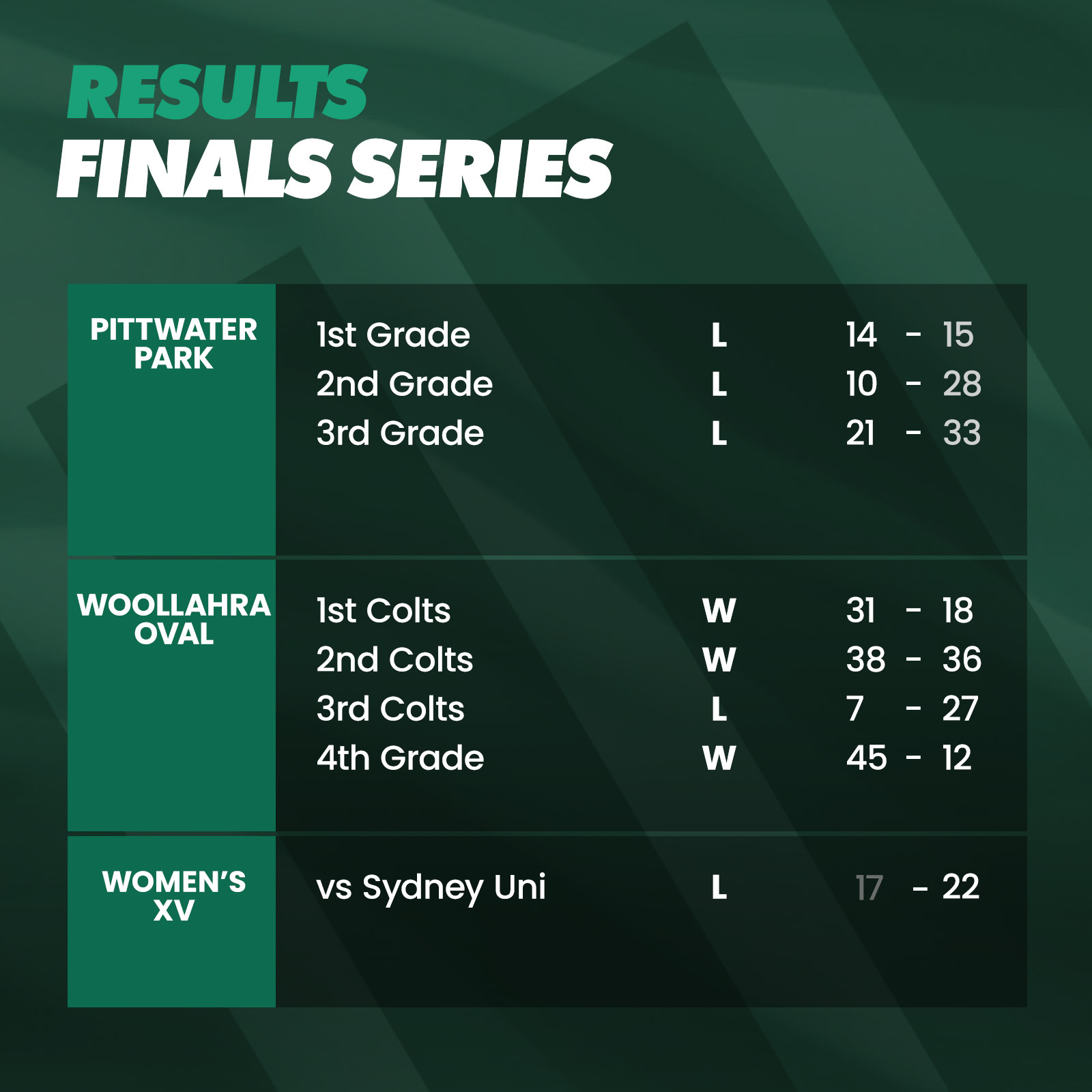 Coaches Corner
Morgan's Mail - Finals Week 1 Club Review:
Mixed results across the weekend.

Congrats must go to 2nds Colts and 4th grade for qualifying for Grand Finals this weekend. Both will meet Gordon at Forshaw. Good luck to both teams.

1s, 3s and 3rds Colts losses ended their seasons. I will say more when all teams finish but thanks to all involved in these teams for your hard work, dedication and talent in getting this far.

1st Colts win and 2nd Grade's loss – courtesy of being the highest ranked loser in the Top 6 - enabled both to progress into sudden death Grand Final qualifiers this weekend. Good luck to both teams. We really want to see 5 out of 8 Randwick teams in Grand Finals this year.

Commiserations to our Magic team who were brave and excellent in equal parts losing their GF on Saturday to Uni. Well ladies done on an outstanding season.

Good luck to our 4 teams playing this week. Up the Wicks!

Morgan Turinui
Club Coach

B1's First Grade Review:

Gordon have been the classic schoolyard bully of 2020, a big and physically imposing side with a dominant set piece, who simply try to run over and intimidate you. If you falter or show weakness, like many have done this year (including us in round 8), they put teams away with relative ease.

We had a basic game plan to take Gordon away from the structure they depend on, which was going to potentially turn the game scrappy and chaotic, but we knew we would adapt and react better than them in that circumstance. Above everything however, the non-negotiable trait required to put ourselves into the game was courage. Courage to put your body on the line consistently and not take a backwards step when the heat from the bigger team was applied.

I thought we showed that courage on Saturday and I was very proud of our group in that space. We showed real physical intent early and grinded through the expected scrappy contest, consistently disrupting Gordon's set piece and largely dominating the collision zone. We allowed the Stags to stay in touch through some extremely poor discipline on our part, despite that it was 3-0 to the good guys at half time.

The second half was another slug-fest and the lead changed hands a couple of times, with us edging back in front with only a few minutes remaining. Sadly, the final nail in our coffin came when we were penalised twice in quick succession, after a disappointing refereeing miss on the last kick-off, which directly led to Gordon's match winning penalty goal.

Despite this we can't shift the blame - this loss lays squarely on our shoulders, the game was there for the taking, we created more than enough chances but we failed to finish them with a few certain tries gone begging, on top of that we let Gordon off the hook with some horrendous ill-discipline.

Our standout performers on the day were back-rowers Christian Poidevin and Jeral Skelton who were immense and provided a lot of our physical presence and go forward. Our props Jake Turnbull and George Hendry who really took it to the Gordon scrum and played out the full 80, in contrast to Gordon's front rowers who 'magically' interchanged somehow to keep fresh legs (something the SRU will no doubt keep a closer eye on moving forward). And our centre pairing of Kristian Jensen and Triston Riley, who were consistently sharp on both sides of the ball, again displaying what a bright future they have at just 20 and 21 years of age.

The enormous level of courage, resilience and physical commitment put into Saturday has been seen on a number of occasions this year, but frustratingly has also gone missing at times. It is the basic required for premiership success at this level and with continued hard work, will be adopted by our group as the new norm next year.

Overall in 2020, we have made some positive progressions in both our delivery of a high level 1st Grade program and also our results on the field, but we can never stop or be happy until we are consistently bringing the Shute Shield back to Coogee.

Our group will now get behind 2's, 4's and the Colts, in their quest for premierships and then it will be straight into planning for next season's assault. Thanks to our fans and sponsors for all your fantastic support this year – it really means a lot to us!

Up the Wicks!

Ben McCormack
1st Grade Head Coach
B2's Second Grade Review:
Week 1 of the finals took us to Rat Park and a clash with Manly, in the 3rd vs 4th on the table battle played in windy conditions. Despite leading 10-0 after a fantastic individual try by prop Declan Leaney, in the space of 5 minutes, we leaked 2 soft tries and went to oranges down 12-10.

The second half was a brilliant demonstration of game management by the Manly playmakers, kicking to the corners and pinning us down, playing into a strong wind. There were moments we looked to bounce back, but almost instantaneously would concede a turnover and any chance to alter the momentum of the game.

A 28-10 full-time result brought a real hollow feeling, along with an anxious wait to see how other results would finish. However, we didn't finish 3rd or lead the comp for the vast majority of the season by accident, and as a result, earned a second bite at the cherry in week 2 of the finals vs Sydney Uni.

I'm a big believer in this team - they're a special group of young men who have the ability to reignite the flame and turn things around. We'll find out how badly they want it at 3:30pm this Saturday afternoon.

All the very best to our 4th Grade and 2nd Colts teams in their Grand Final clashes. And good luck to our 1st Colts, who similar to us, are seeking a ticket to the big dance.

We hope to see as many Randwick supporters as possible at Rat Park this weekend. In the spirit of COVID scheduling weirdness, we appear to be the main game on the program, with the Gordon and Easts First Grade semi being the curtain raiser to us. It's been that type of season. Up the Wicks!
Ben Rutherford
2nd Grade Head Coach
The Man on The Hill's - 3rd Grade Report
Being the only team to have beaten Gordon this year – and convincingly so at Coogee Oval in Round 8 - we had every right to feel confident we could do so again in the semi, particularly after our dominant performance against Easts the week prior.

However, when we kicked the ball out on the full from the kick-off you had to think it was going to be one of those days! Sure, enough Gordon accepted our kind territorial invitation and scored after 2 just minutes to go up 7 nil. It clearly wasn't the start we were after.

Mercifully we responded quickly, with a terrific 80 metre backline movement created by Ray Lesoa, which put Blaise Barnes away under the post to score and level it up again after 6 minutes.

For the next 10 minutes it was arm wrestle until Gordon's prop sized halfback, set up a try for his winger and the Tartan brigade got away to a 14-7 lead. Then an area of our game that has been an Achilles Heel all year - defending kick chases was exposed once again - when Gordon counter attacked from their own 22 to score and go up 21-7.

We needed to score next, otherwise it was game over against the minor premiers and despite a number of good attacking raids we came up empty. Then out of nowhere, Matt Stead after catching a mid-field bomb, then barnstormed through the middle of Gordon's defence to run 50 metre to score. At 21-14 we were back in business and that's where it stayed until halftime.

It was important we scored next to avoid playing catch up for the entire game, but 1 minute into the 2nd half Gordon scored again to extend to 26-14. It wasn't the re-start we needed!

Again, we bounced back, this time with some Galloping Greens brilliance. A smart inside ball from Ryley Angles-Corke put Blaise Barnes into a hole and after a long run he linked up with Henrik Anthony, who then put Ray Lesoa in the corner for a classic try. Blaise converted from the sideline and at 26-21 we were looming and coming home hard.

Low and behold, Gordon then struck back with another try and it proved decisive as 31-21 ended the scoring. The last 15 minutes were keenly contested, but we simply couldn't make an impression and Gordon shut the game down. We had our opportunities to win, but just couldn't convert them and contrary to the week prior, there just appeared to be a slight lack of energy and cohesion after the poor starts in each half.

Unfortunately, that puts the conch out for 3rd Grade in 2020 and we congratulate the boys on a good season, but one, which I know they will be disappointed to end prematurely.

Danny, Parso, Toby, Mick and all the 3's funky bunch would like to wish all our teams still in contention all the best this weekend. Up the Wicks!

Danny's 3rd Grade Correspondent
Catto's Call - 4th Grade Review
Yet another early start, but the boys arrived at Woollahra Oval fired up and ready to go against Uni in the Grand Final qualifying match. After 3 minutes they did not disappoint and with some good leadup work, Joel Ellis picked the ball up from a ruck, caught the Uni forwards napping and darted through the gap, scampering 30 metres untouched to score, which Jack Harrison converted.

From the kick-off, which was caught by Finau Makamaka, he booted it back from inside our 22 to go into touch 10 metres out from Uni's try line. From an ensuing penalty, we took the line-out option and a great throw by Nick Katsogiannis, resulted in a perfectly executed drive and rolling maul, which Nick joined in from the back and crashed over for a 5-pointer.

Then after a good run by Ben Duckworth, Sam Connor offloaded a good ball under pressure to Joel Ellis, who was backing up brilliantly on the outside and he scooted away from the defence to score a 65m try. Jack converted nicely from out wide, to take us to a 19-0 lead after 18 minutes.

Uni then went on the attack and produced an excellent kick, which found touch close to our try line. Unexpectedly, Cillian Monahan took the quick lineout, by throwing the ball up to himself, then proceeded to weave his way through the defence before linking with Sam Connor, who found space before off-loading yet again, to his flying partner-in-crime Joel Ellis, who ran 50 metres to score his 3rd try and take us to a 24-0 margin.

As Rex Mossop once famously said "It was Deja Vu all over again".

Against the run of play, Uni replied with a try as a result of a counter attack from our poorly directed exit kick, which was exacerbated by poor reads in defence. The momentum swung and Uni had the running to continually pressure our line, but good defence and discipline resulted in a penalty and we escaped to hold a 24-5 lead at the break.

The first 8 minutes of second half saw Uni try desperately to break our defence and despite a number of penalties going their way we held firm, until a line out 5m out and an ensuing maul resulted in a converted try to them, to make it 24-12 and game on.

From a backline movement on half-way, Jack Harrison took the line on and stepped inside to make a 20m break, before executing a deft kick ahead, which he chased and regathered to score a brilliant individual try to steady the ship. His conversion saw us up 31-12.

We continued to apply pressure and after good defence caused a turnover, we spread the ball like a hot potato through 5 sets of hands, to eventually find Christian Nanai, who ran 30 metres and beat the cover defence to score. Jack added the extras for a 38-12 lead and it was virtually job done.

In the last 15 minutes we utilised our bench, which provided fresh legs and plenty of enthusiasm, particularly in defence, dishing out some heavy punishment to Uni. With the bell sounding, a good tackle by Seff Smith saw the ball come loose and Ben Duckworth toe it through for a final try, which Kalan Talefenua converted, giving us a dominant 45-12 victory over the students.

At times it has been a tough year, but we have persevered and just got better and better each week which is a great credit to this entire squad of men. We now look forward to the opportunity of knocking over the undefeated Gordon team on Saturday in the Grand Final. Plus, we wish all our other teams the best of luck over the weekend. Up the Wicks!

John Catterson
4th Grade Co-Coach
Pete's Colts Review:
1st Colts:
It was a late kick off for 1st Colts vs the Rats at Woollahra Oval, in our semi-final which was played under smoke laden red sky, thanks to the major North Head bushfire, which was blown straight across the harbour by a strong northerly wind. It was not very pleasant conditions for rugby.

Warringah would be not push-over, particularly with their front row stocks bolstered and were extremely strong up front. This platform saw them awarded early scrum penalties, which they converted into points kicking away to 6-0 lead.

However, it wasn't long before we returned fire (very apt Professor…) with a great off load resulting in a try to Ellis Hawker, which we converted kick to take the lead. Striking again while the iron was hot (go Pete..) Angus Houston crossed down the short side and then a superb sideline goal kick from Matt Dutailis saw us race out to a 14-6 lead.

However, Warringah fought back hard in the early exchanges in the second half, to score two tries and took a well-deserved lead of 18-14 after 60 minutes. It was game on.

Again, like most weeks we responded when challenged and scored 2 excellent broken field tries to Matt Dutallis and Saxon Gillies to surge back to the front, before icing the game completely with a length of the field try, finished off by Reihana Leuii to win 32-18.

It was a good wake-up call before we face the mortal enemy Easts, in the elimination semi-final this Sunday at Rat Park, with the winner heading to the GF!

2nd Colts:
This was the nail-biter of all nail-biters, where we managed to get home by just a 2-point margin, in a game that ebbed and flowed, with the lead changing continually throughout.

There were way too many tries to mention here; but Gage Phillip's was the pick of them. It looked like he was struggling to get back to retrieve a deep kick from Uni, but soon it became clear he was foxing. A laboured jog became a 100 miles per hour explosion in a split second, as he turned and rounded his defender, with speed so blistering it looked like the poor kid was stuck in quicksand. He then raced the length of the field and scored the try of the day, if not the season.

A huge effort was required defensively to hold Uni out and also mentally to contend with a torrent of bewildering calls which kept going against us. However, we defied them all and held our nerve to win the match 38-36 and deservedly march into the Grand Final vs Gordon on Saturday at Forshaw.

We will have to be at our best to beat Gordon as they were super impressive demolishing Easts, in the other semi, but we will go in very confident we can do the job.

3rd Colts
Despite great expectations, it turned out to be a really tough day at the office for our 3rd Colts players on Saturday. Uni were ruthless from the kick-off and dominated territory and possession for large chunks of the proceedings, running out convincing 27-7 winners.

Unfortunately, we could not establish ourselves in the game and the score line ticked away from us throughout. At times, we did have our opportunities, but poor passing or dropped balls killed us off when we looked most likely to hit back. Strong performances from Duncan Evans and Luke Hennessy were not enough to get us the result we all wanted.

Out of all 7 teams in the club, 3rd Colts have suffered the most in the COVID environment, with a reduced number of teams in our division, minimising the number of games we played throughout the year and also exacerbated by some COVID induced cancellations of some make up matches that were organised to be played to replace them.

Therefore, it's a huge credit to all of the players for their resilience, perseverance and dedication to see out the season and make the semi-finals. Losing to Uni in Colts is no disgrace and we are really proud of your efforts this year. Up the Wicks!
Peter Dumbleton
Colts Director
Fidel's Womens Update:
Unfortunately all good things must come to an end and our great run in 2020 has fallen just short of the ultimate prize – losing the Grand Final against a super experienced Sydney University team last Saturday evening at Forshaw Park.

With no nerves apparent, our Magic girls were proverbially jumping out of their skins in the dressing room before the game and this mood was reflected by a great start on the field. After a 20 minute arm wrestle, our girls pulled ahead with a fantastic try by Maya Stewart and then our Wallaroo 10 Arabella McKenzie scored a brilliant individual try using the goose step to perfection, to put us 12-3 up.

Then after our barnstorming winger Bienne Terita just got pulled over the sideline by a great Lori Cramer cover tackle, the whole Randwick staff and supporter team were considering re mortgaging their houses to plunge on a famous Magic win. Lucky we can't or didn't!

Unfortunately after that, all the momentum swung Uni's way, firstly when our Aussie 7s lock Rhiannon Byers had to leave the field with a serious ankle injury - taking away a major weapon in our attack and defense.

Of the back off another Bienne attacking raid, we were in position to score again, but immense Uni pressure at the breakdown saw us turnover the ball and they then travelled 80m to score right on half time. We still led 12-10 at the break and while our heads were still held high and we remained super confident, there was no doubt it was a huge moment in the context of the game.

However, the first 15 minutes of football in the second half will undoubtedly be etched in the heads of our players and staff for many years to come - for all the wrong reasons. Through ill-discipline and possibly nerves due to a lack of experience of our younger girls, we inexplicably went missing, allowing two successive tries to Uni, which saw them storm to a 22-12 lead with 20 minutes to go.

We threw everything bar the kitchen sink at Uni, combinations were changed and replacements made, but as great teams do, they repelled all our attacks and held us at bay. Maya Stewart scored another great try on the buzzer, to make the fulltime score a more respectable 22-17. It was a Grand Final for the ages and a great showcase for women's rugby – congrats to Uni, they were too good when it counted.

With 2020 officially over, we are positive this will be the final time our young squad suffers defeat in such circumstances. The feeling after the game was unanimous and that was to stay together and work harder for each other in 2021, with our underlying slogan being "we don't lose, we only learn"

Up the Magic and Up the Wicks!

Fidel Tukel
Womens XV Co-Coach
Community Corner
The Wicks Shop
Due to incredible demand, more stock in all sizes of our Wicks Long Sleeve Cotton Retro Jersey has arrived and is ready for immediate purchase.

The 2020 edition of the Retro Jersey is now available to order online at 'The Wick's Shop' or drop down to our Coogee Oval office on Monday, Tuesday or Wednesday next week between 10am-2pm

With stock now on hand, your order will be dispatched the next business day.

Plus, not only do we have Retro Jerseys, we also have more stock in for the following Wicks items:
Replica jerseys (babies to adults)
Puffer jackets (adults)
Puffer vests (adults)
Training singlets (kids to adults)
Basketball singlets (kids to adults)
Stubby holder
Retros (babies to adults)
Budgy Smugglers – new designs due in next week (kids to adults)
Training Shorts (kids to adults)
Myrtle Green is hot this summer, so make sure your order quickly to avoid any disappointment or to get an early start on your Christmas Shopping!

Up the Wicks!
Sincere condolences from all at Randwick Rugby go out to the family and friends of ex-player John 'The Spaniard' Mayo, who recently passed away, aged 78, after suffering a stroke. His funeral was held in Newcastle last Tuesday, September 8th.

John was a true stalwart and great character of the club, playing lower grades in the 60's and 70's and also went on the club's 1973 tour of the United Kingdom.

Despite their identities always being a closely guarded secret, a strong rumour has it that 'The Spaniard' was the head inside the famous Galloping Green Horse mascot suit, that led our First Grade Grand Final team's onto the field in the late 70's and early 80's!

Based on that incredibly successful period in the club's history, he was a very busy horse and galloped a lot! John was also very helpful to the club off the field and was responsible for the Sanyo sponsorship of Randwick Rugby that lasted many years.

John is survived by his wife Daniela and daughters Amy and Nicole
RIP John. God bless you, your family and many friends. Up the Wicks!
Finals Fixtures and Details
We are spread far and wide this weekend with Grand Finals at Forshaw Park, Sylvania on Saturday, which has a separate morning (4th Grade) and afternoon session (2nd Colts), just to increase the degree of logistical difficulty.

Click Here to purchase Forshaw Park Tickets for both sessions.

Then there are semi-finals at Pittwater Rugby Park, Narrabeen on both Saturday (2nd Grade) and Sunday (1st Colts).
Saturday Tickets - click here to purchase Pittwater Rugby Park Tickets.
Sunday Tickets - click here to purchase Pittwater Rugby Park Tickets
Good luck to all our teams on Saturday & Sunday. Up the Wicks!