Round 11 Wrap Up
Results, Reports & Highlights
Last Saturday was one of those days. To think we would win 8 from 8 across the club, experience brilliant traditional indigenous ceremonies, celebrating Aboriginal culture and Randwick Rugby's rich connection to it and then cap it off with an impromptu gathering on the field well after full-time and beyond to toast the career of club legend Adam Freier… well you would lock it in the diary for sure!

In the lead up to it all Gary Ella – a man who needs no introduction – powerfully addressed all our players and staff at training last Thursday night, about the indigenous history of this country and his people's struggle for recognition and equality. Then Morgan dropped the bombshell to our 10 Indigenous players… that each would be honoured with their name imprinted on the specifically designed First-Grade jersey for this match and that First-Grade player who wore it would then present the jersey to them to keep after the match.

Finally, veteran Drew Ferguson responded on behalf of the First Nation players emotionally telling us all what it all meant to him and gratitude for making the effort. You could have heard a pin drop and also sense motivation at boiling point.

I have to say it was overwhelming for me to see how much it all meant to these boys and how proud, excited and grateful they were to be recognised in such a way. To see Jake Turnbull playing for 4th Grade prop Drew or Brooklyn Hardaker playing for 3rd Grade Colts winger Bailey Collins and all the others boys, being presented with the jersey after such a big win, was right off the Richter Scale.

The driving force of it all was Dylan Pietsch who would win a gold medal in the persistence marathon. In the COVID environment everything this season has been 10 times harder for 10 times less reward and while there was plenty of logical reasons not to proceed, Dylan was simply impossible to say no to. I'm glad we didn't.

Colts and Grade have a bye this weekend, but our Magic Women are in the Grand Final Qualifying Semi on Friday night against Sydney Uni at Uni. Go get em' girls!

Please read on to see all the full results and the coaches match reviews for all grades, colts and women's teams and what's happening in our popular community corner.

Sadly, we lost John 'Ginger' Weber, one of the absolute all-time greats of this club and we pay tribute to him. Plus, hear from 100 club game veteran Dave Vea on our Red Cross Blood Donation Challenge, with only one week left for everyone to vein up and donate.

Up the Wicks!

Mark Harrison
General Manager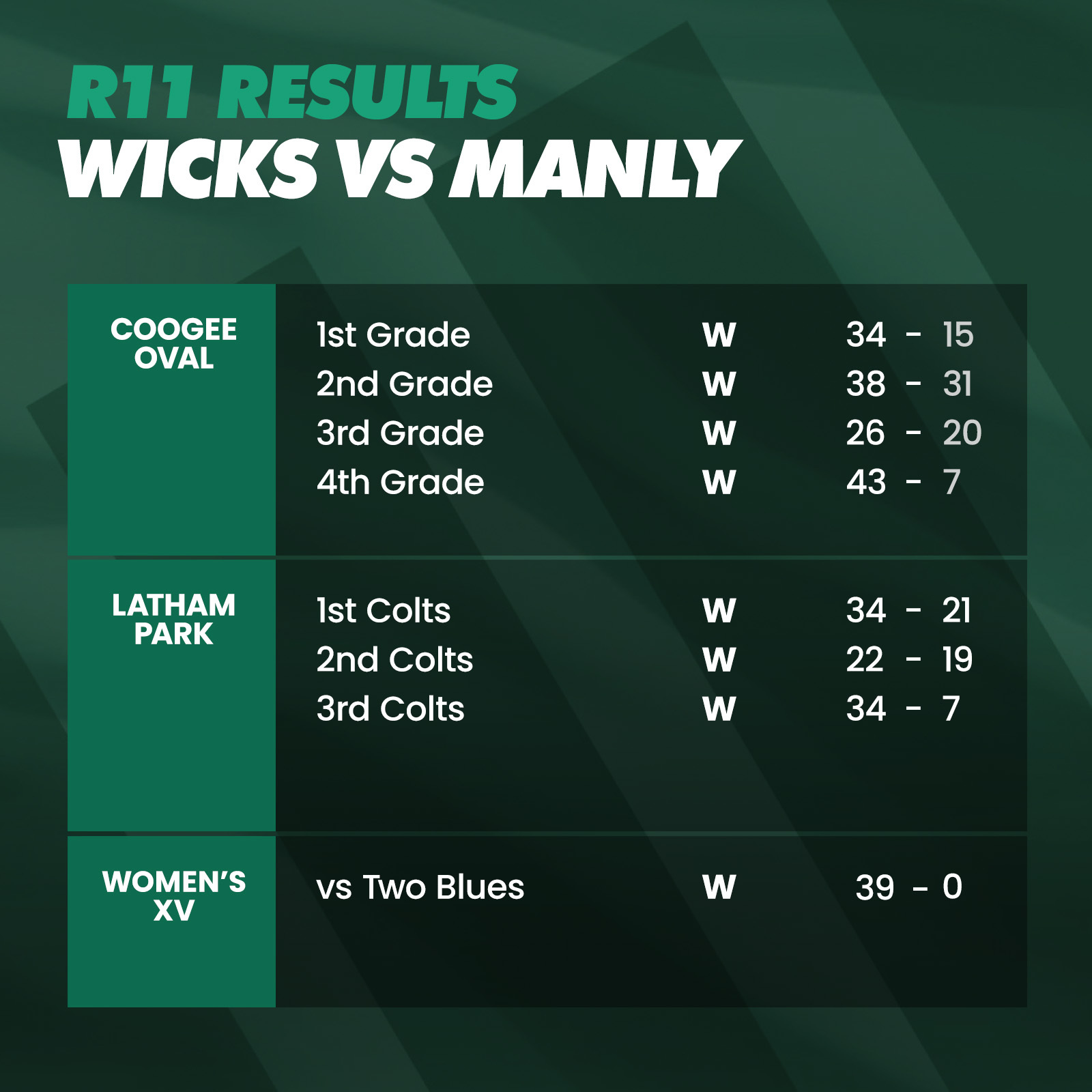 Coaches Corner
Morgan's Mail - Round 11 Club Review:
There's only one way I can describe Saturday for our Club and that is by calling it, with my best Bruce McAvaney impersonation, 'Special'.

Colts did their part up at Latham in difficult conditions and our Magic finished the day with an exclamation mark by winning their finals match and making it an 8/8 day. They now play Uni at Uni on Friday night to qualify for the Grand Final and I can't wait to be there for it.

Down at Coogee Oval it was a day to remember. 4th Grade were excellent from start to finish and dominated their fixture. 3rd Grade produced a second half that will beat anyone in their competition. If they can find the method to consistently play like that they will be a force to be reckoned with in the finals. 2s won in a top of the table, see-sawing battle, thanks to that most valuable of traits, the ability to find a way to win. And First Grade, once they stuck to their plan, were in control throughout.

Encompassing all of these games was Indigenous Day. The contributions of Mark Harrison, Melissa Stone, Dylan Pietsch, Tom Evans and Gary Ella to name but a few, allowed us to celebrate the immeasurable contribution made to the Club by our Aboriginal community. We celebrated our past, our present and even our future with song, dance, ceremony and perhaps most importantly of all, by the performances of the men we entrusted to wear the jersey in First Grade.

Post-game there were many moments I won't soon forget, the acknowledgement of Dave Vea's 100th Grade game and Dave Horwitz's 50th First Grade game. Our Aboriginal players throughout the club being presented the 1st grade jerseys that had their name on them by the players who wore them in the change room immediately after singing 'McNamara's Band'.

And most special of all, a quiet moment on the half way line for Adam Freier's, alleged, last game on Coogee Oval turning into a shared experience that represents everything we want our club to be, was the perfect way to end 2020 at home.

Our teams now go on the road after this week's bye, all with an opportunity to add to Randwick's storied history and continue our greatest tradition of all - winning premierships.

Enjoy your long weekend and Up the Wicks!

Morgan Turinui
Club Coach

B1's First Grade Review:

As Morgan and Mark attested, Saturday was a special day for the club and our group was very mindful it would best celebrated and remembered after a First Grade WIN. To achieve that, we needed to focus on the game and the individual roles that would add to this collective objective.

A swirling wind at Coogee wreaked some early havoc when we failed to adjust to it. A few poor kicks, wayward long passes and poor discipline invited Manly into our half to capitalise on our errors and take an early 8-0 lead. Our adjustment to conditions eventually kicked in and we settled into our work with some excellent defensive sets, setting up Triston Reilly to swoop on a cut-out pass from a Manly attack going backwards and race 50m in his indigenous designed boots. Very apt!

Michael McDonald then made his presence felt with a nice dummy before burrowing over for his first try in Myrtle Green, after some good lead up work from the pack. The game was a bit stop start throughout the middle stages which I'm sure was as frustrating for everyone, but what was constant, were the brutal hits from Jeral Skelton and 100 gamer Dave Vea who rattled a number of Manly attacker's ribs.

We went to the break leading 15-8, but managed to pick the game tempo in the second stanza which provided good segments of play and the skill level in our pack was on display when Tom Piroddi put Kyle Harris in a hole for a try and then Christian Poidevin running in the wider channels set-up Brooklyn Hardaker to score and give us a bonus point.

Kristian Jensen then finished the scoring for the afternoon running a good hard line and picking up a fortuitous rebound off Dave Horwitz to finish under the uprights.

All in all, it wasn't our most polished performance, but we got what we came for and looked reasonably comfortable in doing so. We managed to get through relatively unscathed this week on the injury front, which is vital at this time of year. We will now freshen the boys up this week thanks to the bye, before knuckling down to try and knock off Easts in the last round at Woollahra.

The diversity and inclusiveness of our First-Grade group has never been on show more than over the weekend, as mentioned we celebrated the rich history of indigenous influence both past and present with a strong contingent of proud Aboriginal men in our current group; Triston Reilly, Dylan Pietsch, Maurice Longbottom and Tyzac Jordan all proud to be heavily involved in the day.

We also listened to a pregame jersey presentation delivered in part in the beautiful Tongan language by David Vea's brother Juni. He told how proud he was of Dave and the man he has become after leaving his home and family at age 15 to come to Australia. Dave also addressed the group on receipt of his jersey and sang the praises of the role the club and playing group have played, acting as his family away from home. A very emotional and proud moment for all involved.

We then concluded Saturday in the middle of Coogee Oval celebrating the last home game of the great Adam Freier. It was appropriate that there was past players and supporters from multiple eras who joined us for a few cold ones to show respect for 'Hass' and what he is still contributing, always humble and never wanting to attract all the spotlight, it was fitting that he held court nominating others to drink for their past exploits, capping a great weekend for all involved.

Up the Wicks!

Ben McCormack
1st Grade Head Coach
B2's Second Grade Review:
Round 11 saw Manly visit Coogee Oval for a top of the table clash in 2nd grade, with the Galloping Greens securing a bonus point 38-31 win in tough, windy conditions.

In the last home game of the season, things didn't start well with a botched kick off receipt falling directly into Marlin hands. However, a rock-solid defensive effort, which included some character building on our own goal line, was rewarded with 3 quick tries as we headed to oranges up 19-5.

The second half was a totally different story. Despite an incredible catch and run try literally 3 seconds after we kicked off, what followed was a 26-point Manly onslaught that included 4 tries. Poor game management was a big factor in the momentum shift but yet again, the side somehow found a way to fight back, scoring a try in the dying minutes to win.

Young colt Dan O'Brien was a star in his grade debut, scoring two tries and displaying a bit of magic to assist with another.

Last but not least, I'd like to acknowledge the incredible contribution club legend Adam Freier has made to the Wicks, as Saturday was his last ever game at Coogee Oval, following 21 seasons of service. Current players (and coaches) understand and value the importance of his experience and there aren't many 40-year old's still running around at this level. We love you 'Hass' and are going to miss you mate but we're not finished yet.

We'll enjoy the bye week as an opportunity to rest some battered and bruised bodies, before a HUGE clash against Easts at Woollahra Oval in the last round. UTW!
Ben Rutherford
2nd Grade Head Coach
The Man on The Hill's - 3rd Grade Report
Manly was a must-win game for the Wicks to stay alive in this competition and despite their status on the bottom of the table a tough game was expected. We weren't disappointed.

Manly jumped the gates well and took an early lead courtesy of try and penalty goal after dominating territory and possession. We hit back with a try to Henrik Anthony, but any thoughts of running over the Marlin's were quickly dashed, when they hit back with two more tries and go in at half-time up 20-5.

Manly were not playing as a potential wooden-spooner and we weren't playing like serious premiership contender, so a serious 2ndhalf rescue mission was required to save our season.

It didn't look likely early in the 2nd half, as both teams duked it out, but then we it finally came… it came in a rush. Converted tries in quick succession by both Dave Akkersdyk and Finn Kearns had us only a point behind with 5 minutes left. Then with only minutes to go Ryley Angles-Cork scored and Blaise Barnes converted to take us to the lead for the first time in the match with only a few minutes left.

Manly to their credit came again and were pressing 20 metres out, but a scrum penalty engineered by unretired super-sub Tristian Goodbody, enabled us to close it out and win 26-20. Phew – a bullet dodged!

Whilst we sit in 4th place on the table, Eastwood in 5th have a game in hand and we play 3rd placed Easts at Woolhara in Round 13 which we simply must win to qualify. Up the Wicks!

Danny's 3rd Grade Correspondent
Catto's Call - 4th Grade Review
Coogee Oval was looking a picture and with a big build-up to Indigenous day, our boys were keen to play and also honour Drew Ferguson and James Beaufils in the process. They did not let us down and continued where they left off against Uni, the previous week.

We started solidly and after only 3 minutes Jack Harrison deftly chipped ahead for Makamaka to pick up and race away to score under the posts, which Jack converted.

Another good passage of play saw us soon pressuring the Marlin's line again and a well-structured rolling maul resulted in Nick Katsogiannis scoring and Jack adding the extras from the sideline.

Manly hit back quickly, swooping on a loose pass out wide to score, but we continued to apply the pressure and after a sustained attack, spun the ball wide which saw Kevin Keane scored in the corner. Then a deep kick by Manly saw a great counter attack by Cillian Monahan, beating 3 players before delivering a perfect pass back to Jack Harrison, backing up in the middle, who raced away to score under the posts, which he duly converted. We were up 26-7 after a frenetic 20 minutes.

The remaining 10 minutes of the half saw both sides battle hard and create opportunities, but we were unable them to convert into points. Then just before half time the Manly No. 8 was red carded - making a tough task for them even more difficult.

The first 10 minutes of the 2nd half saw us apply the blow torch and eventually Sam Connor scored. We continued to apply the pressure and were rewarded after a cleaver grubber kick by Jack Harrison to set-up Ben Duckworth, to out sprint his rivals and score under the posts, which Jack converted.

Despite utilising 10 replacements in the 2nd half, we continued to apply pressure and from a good scrum and a blind side run, by that man Jack again, who offloaded to Cameron Hunt with space to score in the corner, making the final score 43-7.

It was a great team performance to get a special day off to the start it deserved. With a bye this week, our next appointment is play a Easts at Woollahra, to secure a top 4 position. Up the Wicks!

John Catterson
4th Grade Co-Coach
Pete's Colts Review:
3rd Colts marched on from a fine performance against the students to produce another convincing 34-7 win against a gutsy Manly side. The early exchanges were even and it was in the second half that the Wicks stamped authority.

Flowing running rugby from all over the park set up several superb teams tries, none more impressive than the play in Bailey Collins that led to his scoring.

Outstanding performances yet again from Garang Garang at 15 and Blayk Bragg in the back row, were instrumental and again, plus 2 terrific efforts from Bailey Collins, put the icing on the cake and were very fitting to celebrate Indigenous Day.

We will enjoy the week off, but are a big chance to take the top spot on the ladder when we come up against Easts in 2 weeks' time.

2nd Colts was a real nail-biter and was only in the bag when the final whistle was blown. The usual Manly 'never say die" approach kept the game on a knife's edge, but we got the job done 22-19.

The tone was set for a physical encounter right from kick off. A bell ringer of a tackle by the Manly No.6, put our kick receiver on the deck and from this point no quarter was given.

Top performances from Lucas Dorrell and Ben Zucchiatti got us moving forward and at times the free-flowing rugby was excellent to watch, despite the gale blowing at Latham.

A huge top of the table clash in 2 weeks' time, against the old enemy Easts, will clearly show where everybody is truly at, on the eve of the finals.

1st Colts took the field already hearing the news that Uni had been surprisingly beaten at Chatswood Oval by Gordon, so the size of the prize in our match increased dramatically.

Manly were up for the fight and dominated territory, but our lads dug in and repelled the early onslaught from the Marlin's

A loose kick chase to our potent back 3 was the initial down fall for Manly. Hugo Carr, a threat throughout picked up the ball 20m from his own line with pace to burn outside him on either edge. Her cut to the right and put Matt Dutaillis away down the short side. Superb link up play saw Randwick score the opening 5 pointer close to the right-side line.

Super 1st half performance from Kristian Jensen, prior to departing for 1st grade bench, provided quality field position and in deed the grunt of go forward. The set piece was again a huge asset and our scrum dominated the penalty count throughout.

Special mention goes to Bailey Collins for his pre-game jersey presentation and speech, which provided true clarity on what Indigenous Day means to his people. It certainly stirred the group on, no more so than Harley McGuiggan in the front row and Winiata Cherrington in the backs, who both had stellar performances.

Roll on the clash with Easts at Woollahra in 2 week's time. Up the Wicks!

Peter Dumbleton
Colts Director
Fidel's Womens Update:
Our Randwick Magic girls have continued their rampaging form into the finals of the Jack Scott Cup, last Saturday at Latham Park, where we systematically demolished the Western Sydney Two Blues in the Preliminary Final, cheered on by all our Colts who were there in numbers to support us.

Despite missing our representative front rowers, against a huge and very experienced forward pack from the Two Blues, our baby Magic girls stood up where others would have folded, with massive games from our 18-year-old replacement props Faliki Pohiva and Seneti Kilisimasi.

Straight from the kick off, our girls had the Two Blues under pressure and in the 6th minute after some great lead up work from our forwards in the middle, Shannon Parry crashed over to score our first try. This was immediately followed by another try to Maya Stewart on the back of some great work done the edge by our backs. Then, that absolute try scoring machine Darcie Morrison crashed over for her first of 3 tries and her third hat trick in 4 games, taking us to the break 17-0 up.

It was no shock that the Two Blues came out even more aggressively in the second half, trying to catch our girls by surprise, which we were prepared for. Despite the score line, they dominated possession for 70% of the game and their huge forward pack peppered our middle for vast periods.

However, our much smaller and determined defensive line just kept weathering the storm and ultimately took advantage of every mistake the Two Blues made, scoring on the counter attack.

The girls comfortably and more importantly injury free ran out 39-0 victors and earn the right to play our nemesis Sydney Uni in the Major Semi Final on Friday night at Uni.

The spoils to the winner is a spot in the Jack Scott Cup Grand Final. Up the Wicks!

Fidel Tukel
Womens XV Co-Coach
Community Corner
Vale John 'The Spaniard' Mayo
Sincere condolences from all at Randwick Rugby go out to the family and friends of ex-player John 'The Spaniard' Mayo, who recently passed away, aged 78, after suffering a stroke. His funeral was held in Newcastle last Tuesday, September 8th.

John was a true stalwart and great character of the club, playing lower grades in the 60's and 70's and also went on the club's 1973 tour of the United Kingdom.

Despite their identities always being a closely guarded secret, a strong rumour has it that 'The Spaniard' was the head inside the famous Galloping Green Horse mascot suit, that led our First Grade Grand Final team's onto the field in the late 70's and early 80's!

Based on that incredibly successful period in the club's history, he was a very busy horse and galloped a lot! John was also very helpful to the club off the field and was responsible for the Sanyo sponsorship of Randwick Rugby that lasted many years.

John is survived by his wife Daniela and daughters Amy and Nicole
RIP John. God bless you, your family and many friends. Up the Wicks!
Red Cross Blood Challenge Update
Our Battle of The East Blood Drive has only 1 week remaining and sadly we are still 15 donations behind Easts. How can we go to Woollahra in Round 13, without completely losing face I ask you?

It's now or never time folks – so all Wick's supporters it is donate now or forever regret it. Remember your donation will be saving many lives, simply by doing so. Beating Easts is a just an added benefit.

Remember if you're donating the nominated blood bank for this challenge is "Randwick Rugby." To arrange your appointment to donate click here

Please roll up your sleeves and donate your myrtle green blood! Up the Wicks!

Dave Vea
Player Leadership Group
The Award-Winning Dr Cohen
Huge congratulations to club doctor Adrian Cohen and his business Headsafe, for winning the major Good Design Australia Award of the Year for their NUROCHECK system.

For context, Headsafe's NUROCHEK system is a portable device set to revolutionise the assessment of brain health. A world first device offering on-demand objective assessment, practitioners will now have long-term data and baselines to help assess brain health for injuries such as concussion and illness including dementia and PTSD within two minutes.

In conjunction with our Club Doctor Paul Raftos, Adrian and his Headsafe team have been looking after Randwick players head and concussion injuries for many years and we are blessed to have his expert help in managing our players neurological safety and welfare. Congrats once again Adrian.

Check out the Award Announcement
Round 12 Match Times & Venues
The Grades and Colts' boys have a BYE in Round 12, so can enjoy this long weekend off.

However, our Magic girls do battle for a Grand Final spot in the Major Semi-Final against Sydney Uni on Friday night with the details as follows:
Randwick Women's XV vs Sydney University - 7.30pm Friday October 2 at Sydney University Oval No 2.
It is free entry into the ground, so why not get along and support them
Good luck girls and Up the Magic!