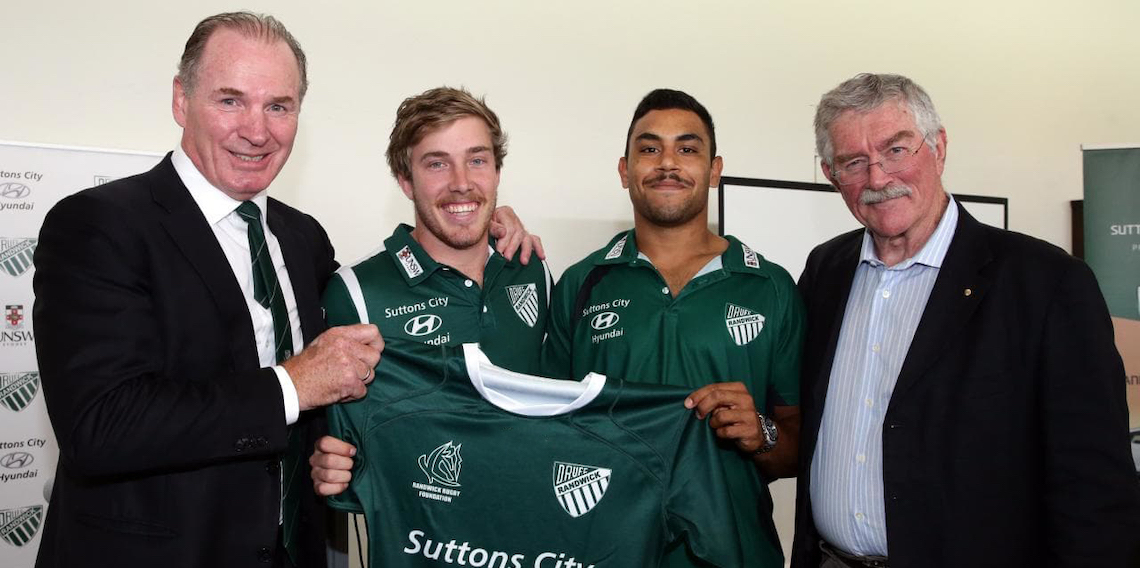 Randwick Rugby Foundation
Our recent 2018 AGM marked the end of an era for the Randwick Rugby Foundation
Peter Sweeney, our Chairman, retired as did Jeff Sayle and Peter Court; all have been made Honorary Governors.
For those who are not aware Peter had a double lung transplant a couple of years ago and he has been a major worker for the Randwick Rugby family for decades. Peter in fact was largely responsible for negotiating the large price for the old Randwick Rugby Club building and also in saving most of the funds which still remain in the Foundation.
Our current Foundation Directors and Members are:
Jon Collins - Chairman,
Brian O'Sullivan - Chairman of Investments,
Bob Coombs - Managing Director,
Doug Eggins - Secretary,
Alan Gaffney,

Des Sims,
Michael Jorgenson,
Michael Daley,
Ian North,
Quentin Olde,
David Park,
Frank Back,
Lorraine Gaffney,
Allen Stutchbury,
Who are all working hard to ensure that the Randwick Rugby family prospers.
I talk of the Randwick Rugby family because our support is to the main RDRUF Club and also to Randwick juniors and to Coogee SLSC, all of whom are responsible for looking after and nurturing our children in rugby, life-saving and producing wonderful Australian citizens.
Since 2004 the RRF has donated over $2million to those various recipients.
We believe in total transparency and as such I can reveal that we have about $2.5 million invested with Macquarie Bank with a strategy of 'protection of capital' and have made profits almost every year since 2004.
We also have the good fortune to have some great advisors including Simon Poidevin, John Tuxworth, Ian North and Brian O'Sullivan to guide us.
We have budgeted to provide grants totalling $100000 for 2019 and if the economy improves we may be able to increase this.

Extract via the 2018 Annual Report via Bob Coombs.