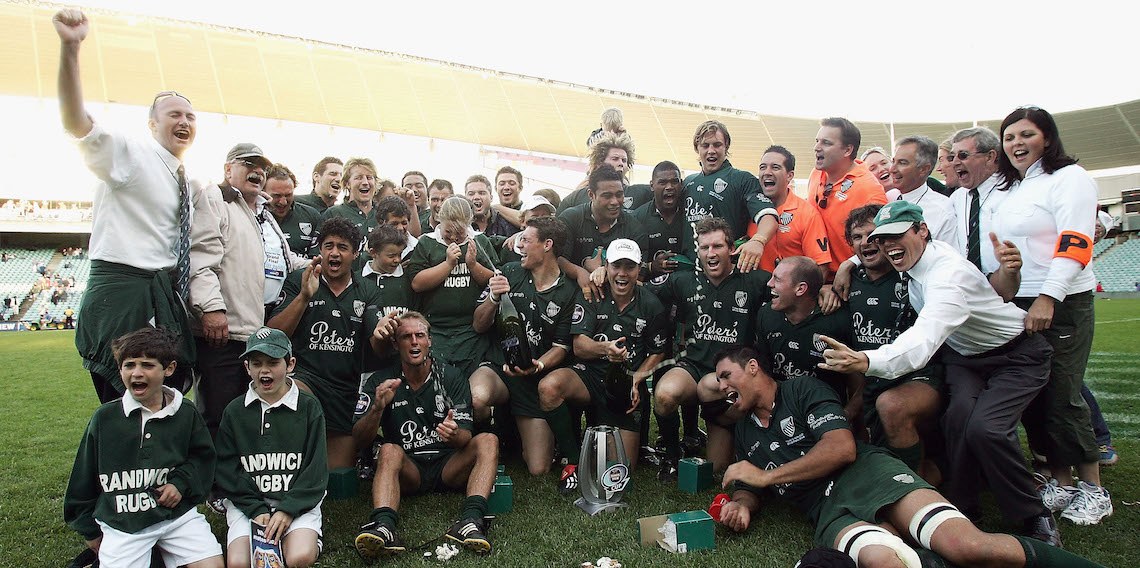 History of Randwick Rugby since 1882
Randwick District Rugby Union Football Club, also known as the Galloping Greens, is an Australian rugby union club which competes in the Sydney premier grade rugby union competition. The Club was formed in 1882 and admitted to the New South Wales first division in 1889. It was the leading club in the last decade of the nineteenth century winning 4 consecutive first grade premierships from 1894 to 1897, as well as 3 other first grade competitions. In those years the Club provided 26 representatives to NSW teams.
Its home ground was Randwick Reserve, now Alison Park, in Alison Road, opposite Marcellin College. Randwick was dropped from the first division when district football, as distinct from club football, was introduced in 1900, and played in what is now the sub-districts competition. Following the formation of rugby league in 1907, which took many players from the rugby union ranks, most district rugby clubs had problems in fielding lower grade teams. Randwick was invited back to first division football in 1908, fielding second and third grade sides in the NSW first division competition and, after some success in these grades, fielded a first grade side in 1914. All rugby in Australia ceased at the end of that season following the outbreak of World War 1.
After the war the Randwick Club was re-formed and played sub-districts football with success from 1919 to 1922 and in 1923 was re-admitted to the ranks of NSW first division rugby clubs. Its home ground was the small Randwick Oval, now part of the University of New South Wales, at the corner of High Street and Wansey Road, west and south of the Moreton Bay fig trees which are still there, and which overlook Randwick racecourse. In 1926 Randwick's home ground became Coogee Oval and has remained so ever since. In 1928 the club adopted its current myrtle green colours, replacing its previous red and white hoops. The change in the colour of the Randwick jersey arose in consequence of the admission in 1928 of St George Club into the first division competition when they were allowed to wear the traditional colours of their district. Randwick then transferred to myrtle green, the colour having been chosen from the destination signs displayed on the Coogee trams.
Randwick was the leading NSW club in the 1930s and 1940s and has been pre-eminent in Australian rugby since I959, dominating with 14 titles won from 1978 to 1996. Randwick's mantle as one of the traditional powerhouses of the Shute Shield competition, continues to mould Australian rugby by way of coaching, both domestically and internationally.
In the seasons from 1959 to 2006 Randwick missed making the first grade semi-finals on only 7 occasions, won 32 premierships, played in all grand finals from 1977 to 1992, won 5 successive premierships (1978 to 1982) and 6 successive premierships (1987 to 1992). Randwick has won the Australian Club Championship 5 times. In addition to its 32 first grade premiership wins, Randwick has won the New South Wales club championship — awarded to the club which is most successful in all grades — on 28 occasions, has won 77 lower grade premierships and 29 colts premierships.
In 1988 Randwick became the only Australian club side to play against an international side in the 20th century, the New Zealand All Blacks. The All Blacks, who were then World Champions, won 25 to 9, scoring 2 tries to 1. Randwick's performance that day exceeded the performances by the Australian national side against the All Blacks.
In the 1980s the Club produced many Wallabies, including the Ella brothers and Simon Poidevin. Its history has seen many of Australia's best players represent the Club, including the likes of Ken Catchpole, George Gregan and David Campese. In all, 105 Randwick players have pulled on a Wallaby jersey, and twelve have had the honour of captaining their country. Additionally, eight Randwick players have been inducted in the Wallabies Hall of Fame: David Campese, Ken Catchpole, Mark Ella, Wally Meagher, Simon Poidevin, Sir Nicholas Shehadie, Cyril Towers and Col Windon. Six Randwick players have been inducted to the IRB Hall of Fame, DI Campese, KW Catchpole, RSF Dwyer, MG Ella, GM Gregan and Sir NM Shehadie.
The Club's Patron Jeffrey Sayle OAM succeeded Sir Nicholas Shehadie AC OBE in 2003 while Rugby World Cup winning coach (1991) Bob Dwyer AM is the current Club President alongside Wallabies Hall of Fame flanker, Simon Poidevin.

Note from the editor: 2018-2020 Club Archivist and Historian Clarissa Luxford, with acknowledgment of the valued work of past Office Holders.
Click here to contact Randwick Historian, Clarissa Luxford.
Click here to view our Archive photo gallery

Click here to view the John Brewer Player listing - 1st Grade and 100 game+ players to 2008 incl.

Click here to view our History and Archives collection (WIP)
Click here for Honour Board, Hall of Fame, RDRUFC Wallabies, Milestones and Club Championships
About the Sydney Rugby and the Shute Shield
Click here to find out more about the history of the Shute Shield and Sydney Premier Rugby including promotion and relegations, history of of premiership winners, Catchpole medalist and more.
For more information, visit www.shuteshield.com.au or www.nswwaratahs.com.au.