Round 8 Wrap Up
Results, Reports & Highlights
Well the mountain stages of the Tour De Shute Shield are proving as challenging as predicted, with two losses on the trot, it now throws down the gauntlet to our senior playing group to respond.

In the end, Gordon proved far too solid on Saturday in First Grade and were deserving victors in the top of the table clash. However, we created enough opportunities, as we did against Eastwood, but just couldn't take of advantage of them with poor execution.

Fortunately, our excellent season start has us in competition points credit, as we have been hit with a significant number of injuries across the club – but we just have to deal with it. We are playing footy and not tiddlywinks after all, so that goes with the territory.

However, we welcome back Ben Donaldson and Mitch Short from the Waratahs, who will also be joined by Michael McDonald on debut in Myrtle Green. These super rugby boys will reinforce our 1st Grade ranks against Norths on Saturday.

Unusually we will take on Norths at of all places, 'Rat Park', with all 7 of our colts and grade games up at Narrabeen. Our Magic girls are heading out west, to face off against Campbelltown in the Jack Scott Cup.

There are plenty of tickets available for this Norths game at Pittwater Rugby Park, as they have a much bigger ground capacity allowed – which is acting as North's home ground this season, due to North Sydney Oval being out of action for rugby.

Click here to purchase your ticket

It is also the Channel 7Two TV Match of the Round, so if you can't get up to Narrabeen, then you can still catch the game at home on the couch.

Please read on to see all the full results against Gordon in all 8 grades, the coaches match reviews for all grades, colts and women's games - including a 52 year old mum debuting for the Magic. Plus in our popular community corner, read about The NeverRest Push-Up Challenge, which we participated in last week in conjunction with Gordon, to raise awareness for Cystic Fibrosis Australia.

Up the Wicks!

Mark Harrison
General Manager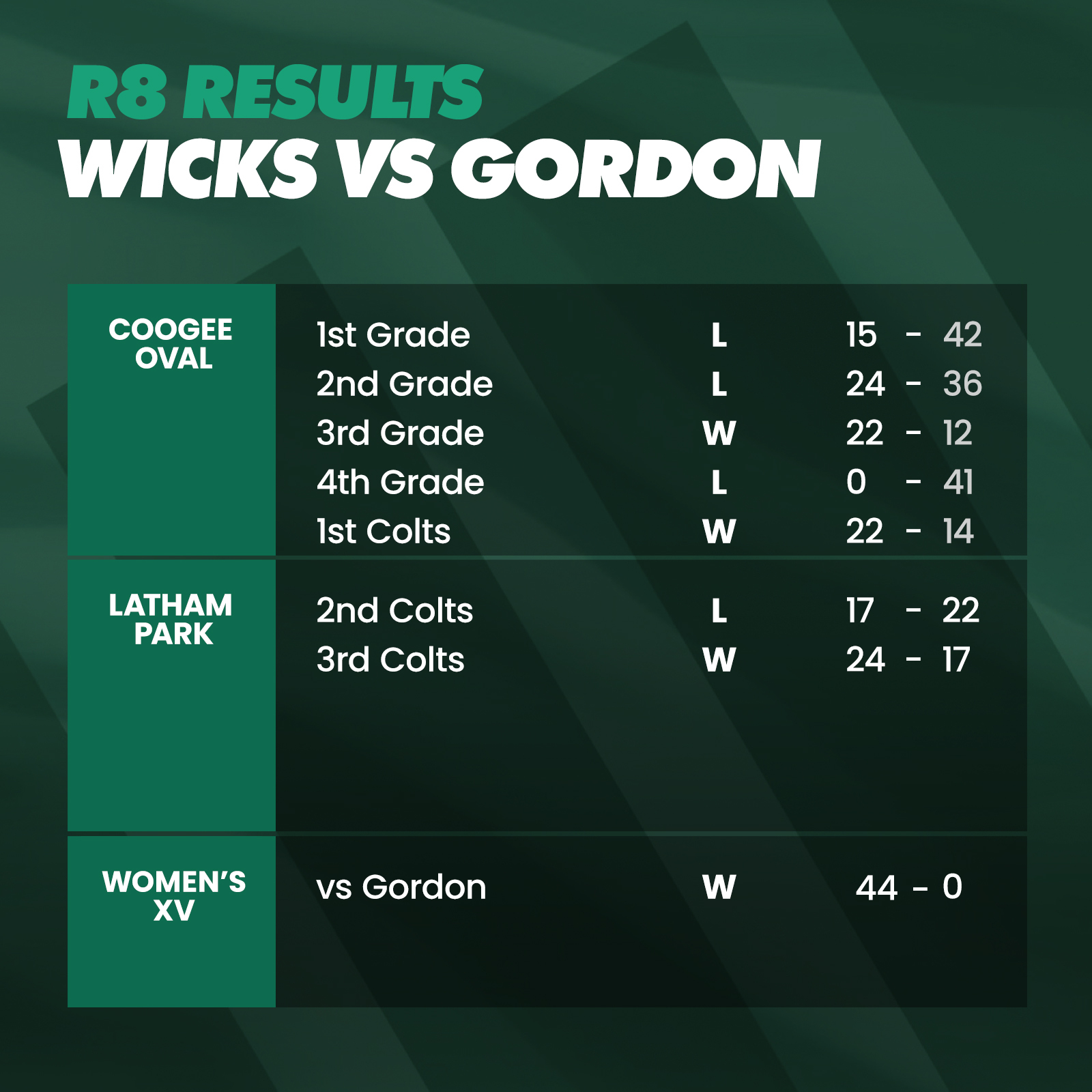 Coaches Corner
Morgan's Mail - Round 8 Club Review:
With the bar having been set so high thus far this season, Saturday, in our first true test of the Club's aspirations for October, was sobering.

The mid-morning highs of 3rd Grade and 1st Colts excellent victories were tempered either side by losses at Coogee Oval and Latham. Our Magic women and 3rds Colts wins bookended the day and made the ledger what in recent years would've been a respectable 4 wins a piece, against the ladder leaders.

But 2020 is not past years at Randwick and every team at the club received a true indication of the level that will be required to remain where we want to be, at the top end of the ladder.

Some great things about this current playing group right through our teams is their capacity for hard work, desire to improve and care for each other and the Club.

These qualities will be needed this week in preparing for Norths as we look to confirm what the players have made me believe.

This Club's great strength is not its results in the past, nor is it any longer a place. It's the bunch of special people and bloody good footy players who wear our colours every Saturday.

In that vein, we sincerely appreciated the visit to training last Thursday night from former greats of the club including Glen and Garry Ella, Warwick and Matt Wheeler, Kevin Phibbs, Greg Stores, Tommy Evans and Geoff James who shared their infinite wisdom and did a shift on the BBQ, which the players certainly enjoyed.

It's an integral part of our cultural reconnection for the current players to understand what makes Randwick Rugby tick.

IFHN and Up the Wicks!

Morgan Turinui
Club Coach

B1's First Grade Review:

Despite glimpses of brilliance at times, we were well beaten on Saturday by a Gordon side who played largely error and risk free footy.

We got off to a flyer when Tristan Reilly took an intercept and raced 70m for the first try, however, Gordon responded with an intercept of their own and then backed it up with a short-range try from a maul. We responded again with an exciting try from a turnover deep in our half, then after shifting the ball wide, Brooklyn Hardaker found space down the left edge, took off and delivered a kick pass to Maurice Longbottom to score in the corner.

But that was to be the end of our scoring for the afternoon, in what became a frustrating and error filled performance. Whilst we aimed up in defence for large portions of the game, unfortunately our ill-discipline and poor field management consistently gifted Gordon opportunities from close range and they capitalised with another maul try, a close-range charge down try and two tries off the back of us turning over possession in our own half.

If we are going to be successful this season against the absolute best teams, we can't afford to beat ourselves and gift opponent's territory and possession like we did on Saturday. However, the silver lining is that these things are well within our control, some adjustments, attention to detail and a consistent week of training should put us in a position to bounce back strongly against Norths.

Ben McCormack
1st Grade Head Coach
B2's Second Grade Review:
Gordon came to Coogee Oval fired up and headed home to Chatswood, having handed 2nd grade our first loss of the year, 36-24.

After a sensational start to the season, an unfortunate lack of patience in attack and poor execution at the breakdown proved costly. We were beset with injuries upfront in the lead-up to the match, which the Highlanders capitalised on, dominating the Wicks at scrum time and also punishing several of our mistakes with long-range turnover tries.

Despite this, we continued to create opportunities playing some positive and exciting rugby, scoring 4 tries in the process to secure a valuable bonus point and ensure we remain top of the table.

If the feeling of disappointment in the sheds post-game was anything to go by - expect a quick response this weekend, as the team looks to make a statement and bounce back in a big way.

Up the Wicks!
Ben Rutherford
2nd Grade Head Coach

Danny's Diary - 3rd Grade Report:
After a really disappointing loss to Eastwood in Round 7, 3rd Grade was really determined to atone for it, as we took on the undefeated Gordon on home turf.

Despite a club wide challenge last week with the unavailability of props and key forwards, our boys were focussed on getting off to a good start and giving our really talented backline enough opportunities and space to show their wares.

Following this script, we retained possession and patiently built phases and were rewarded with tries to fullback Henrik Anthony and winger Johnny Mitsias. We had more excellent chances which just couldn't convert. Ray Lesoa was causing havoc out wide and our undermanned forwards were in control, consolidating the midfield for the backs to express their creative flair.

However, we lost our way in defence allowing Gordon to score against the run of play, but we immediately hit back with a 2nd try to Johnny Mitsias. Then on the stoke of halftime Gordon were gifted a few piggy-back penalties and scored a converted try from a line out maul, reducing our lead to only 19-12 at the break - which didn't reflect our dominance.

The 2nd half was a complete arm wrestle and despite some challenges at the set piece, we still created a number of opportunities to score a 4th try and earn a bonus point, but were thwarted either due to our last pass execution, taking the wrong option, good scrambling defence from Gordon or some odd calls from the whistle blower.

As it turned out, the only score to either side after oranges, was a penalty goal to Jack Harrison to ice the game 22-12, enabling us to be the only team in grade to sing McNamara's Band on the day.

It was an effort that showed the true character of this team, to hold out the reigning premiers and spoil their unbeaten record this year. I want to give a big shout out to Ben Hunt, who played out of position at tight head prop for the first time, because we needed him too. It was truly inspirational that he put his team mates and our club first. Outstanding!

In a great team effort, there were also strong performances from Ray Lesoa, Johnny Mitsias, Matt Stead and Dave Akkersdyk. Congratulations boys, there is nothing better than beating Gordon… well except for doing it again and knocking over Norths this week!

Up the Wicks!

Danny Grant
3rd Grade Coach
The Apprentice's - 4th Grade Report:
Unfortunately, after the miracle comeback at Latham against Manly, it proved to be a very tough day at the office for the mighty 4's this week, as we took on a very well drilled and enthusiastic Gordon team, who were undefeated this season.

With a mounting injury list across the grades - particularly across the tight 5 positions - our depth was sorely tested up front. The issue was exacerbated when we lost our in-form prop Arturus Rachimovas in the first 5 minutes of the game to a pulled calf and a 2nd rower Tim Reeves not long after, with a very severe head gash requiring 12 stitches. Sew master, Dr Paul said it was one the best he had seen in a long while.

We then copped an early yellow card and all these things combined, forced us to play many lads out of position in the forwards and a couple of 3rd Colts boys to make up the numbers, which led to us being dominated by the Gordon in the set pieces. The scrum and lineouts were the platform they effectively used throughout the game to put us constantly on the back foot and starve us of possession.

To be honest, after being down by 30 at halftime, it could have been an absolute cricket score against the comp leader, but it was a great credit to the side, that they toughed it out in the 2nd half to restrict Gordon to a 40-nil victory.(imagine fingers aching as I type this…)

Despite all the issues, there is no denying it was a disappointing performance by a Randwick team in the current environment, where expectations are high. However, with a much, much stronger side available for selection this week, we are determined to redeem ourselves against Norths at Rat Park on Saturday and we will need to be up for it, to play finals footy this year. Up the Wicks!

A Fourth Grade Correspondent
Pete's Colts Review:
1st Colts. We knew that Gordon was a real contender and this match would be our first true challenge of the season – with the greatest respect to our previous opponents.

Early encounters were hugely physical with neither side giving an inch, before Ellis Hawker squeezed over the line after some dominant forward play after 10 minutes. Then after a sustained period of mid-field dominance and a greater share of possession, we were rewarded with a well worked short side try to Hugo Dempsey, increasing our lead to 12-0.

Another classy attacking raid resulted in Max Moore crossing, taking us to the break 17-0 up and seemingly well in command.

On the resumption Gordon took the initiative and hit back strongly with two tries, to reconfirm themselves as a serious threat. However, our boys lifted the tempo, as we sort to ice the game and seek a 4th try and a bonus point.

This was achieved after a mesmerising line break by Hugo Carr, finished off by a flying Winiata Cherrington scoring in the corner, taking us to a 22-14 lead, which we held until the final whistle.

Men of the match performances were put in by Hugo Dempsey at No.7 and Harley McGuiggan up front. It was a good victory in the end, but there is plenty we need to work on, as we prepare to face very strong Norths and Uni sides in consecutive weeks.

2nd Colts suffered their first loss of the season against Gordon, going down courtesy of an intercept try on the bell, after the scores were locked 17- all for most of the second half.

Gordon got away to strong start to lead 12 nil, after exploiting weakness not seen before in our set piece, with our first year colts getting their first taste of high-pressure rugby. However, some great individual efforts from no 8 Harvey Austin got us back in the match and we were able to play our brand of footy to square things up at 12 all at the break.

We dominated the first 20 minutes of the second half and took the lead 17-12, but critically we then missed a golden opportunity to put our winger over, when a simple 2 on 1 pass was fluffed and then we had a another try denied due to some ill-discipline.

After letting them off the hook, we then noticeably tired in the last 15 minutes and started making mistakes at the breakdown and falling off tackles, which stirred Gordon into believing they could win. They duly did so on the final play of the game, via the intercept try delivering them a 24-17 victory.

It was a disappointing outcome and clearly demonstrated against good sides like Gordon, the need to compete for the entire game to win - you simply can't afford to clock off.

3rd Colts had the tough 8.45am morning shift at Latham, we started well and took it to Gordon early, but struggled to capitalise on our early dominance.

Finally, we broke through with a try to Zane Misios in the corner, on the back of some relentless forward pack carries. Gordon then steadied and got into the match, but against the run of play Gage Phillips took an intercept and ran 80m to score untouched.

The game ebbed and flowed with scores traded in the second half, but the tries to Luke Hennessy and Heath Hall-Muir resulted in us delivering a 24-17 bonus point win.

Honourable mentions go to Will Smith and Lucas Dorrell in the forwards and Austen Routley in the backs who were outstanding throughout. After a few disappointing weeks not playing, it was great to see 3rd Colts back on the field and compete so well against such a testing outfit as Gordon.
Up the Wicks
Peter Dumbleton
Colts Director
Fidel's Womens Update:
With 14 players missing in action, the Randwick Magic crew struggled to scrape together a team on the weekend against Gordon. However, this didn't stop our youngest team ever fielded from absolutely dominating them at Latham last Saturday night.

With so many late withdrawals, we were forced to call on players to make their debuts for the Magic. This included Teina Tawhara a 17-year-old local junior, who hadn't played in a year and then most astonishingly 52-year-old Janine Hinds, a local touch football legend and our Randwick Magic Team Manager.

By Janine donning the Myrtle Green, we believe she broke many rugby records, the oldest player in Jack Scott Cup history and possibly the oldest player for Randwick – aside from Adam Freier of course. Plus, with her girl Tia already in the team, they also became Randwick's first ever mum and daughter combo to play together. Then Janine almost scored a try, in night to remember for the Hind's family.

Despite having little ball for the first 25 mins, we cashed in a soon as we did, with Darcie Morrison and Tia Hinds scoring in quick succession to see us lead 19-0 at the break.

We turned it on in the 2nd stanza and when our 45kg framed, 16-year-old halfback, Bronti Westaway found a hole and scooted 50 metres to help set up a try, the game was out of Gordon's reach and we went on to record a huge 51 nil victory.

This Saturday we play the Campbelltown Harlequins out west which is sure to be a physical and forwards dominated game. I am sure that our young baby Magic's will be more than a match for them for another week, until our rep girls return for the finals.

Up the Wicks!

Fidel Tukel
Co-Coach Womens XV
Community Corner
The NeverRest Push-Up Challenge...Completed!
Randwick Rugby have proudly supported Cystic Fibrosis Australia for a number of years now and this association continued again last Saturday, when we took part in The NeverRest Challenge.

The NeverRest Challenge was started by the Clarence family who unfortunately lost their brother Sean to Cystic Fibrosis early in 2019. They wanted to leave a lasting legacy to honour him in a way that people will remember and that will also help raise awareness to help find a cure.

The astounding fact is that 1 million Australians carry the Cystic Fibrosis gene, so very uniquely this creative NeverRest activity, challenged the community to pledge a donation of push ups rather than money to drive more awareness for sufferers of Cystic Fibrosis.

So nationally, the aim of this challenge was for 1 Million push-ups to be completed. Randwick Rugby delivered 10,000 push ups as our contribution to this target and also Gordon also chimed in donating 5000 push ups of their own – which we were greatly appreciative of their support.

Push-ups were madly going on at Randwick training sessions all last week, and then over 150 players from both clubs joined together on the field just prior to 1st Grade kick-off, to punch out another 20 push-ups each and enable both clubs to hit their target.

It is just another small way Randwick Rugby can give back to the community and continue our proud commitment to helping Cystic Fibrosis Australia find a cure. Well done to everybody from both clubs who took part.
Round 9 Match Times/Venues - Saturday, September 12
Pittwater Rugby/Rat Park - Main Field (Tickets Required)
1st Grade v Northern Suburbs - 3.10 pm (Televised live on Channel 7Two in NSW and 7Plus Nationally)
2nd Grade v Northern Suburbs - 1.25 pm
1st Colts v Northern Suburbs - 11.50 am
3rd Grade v Northern Suburbs - 10.25 am
4th Grade v Northern Suburbs - 9.10 am
To purchase tickets click here

Pittwater Rugby/Rat Park - Front Field (No tickets required)
2nd Colts v Northern Suburbs - 10.25 am
3rd Colts v Northern Suburbs - 9.10 am
Campbelltown Rugby Club (No tickets required)
Womens XV v Campbelltown - 12.00 pm
Good luck to all our teams on Saturday. Up the Wicks!