Round 7 Wrap Up
Results, Reports & Highlights
Firstly, it was an amazing day of rugby at Coogee Oval last Saturday, kicking off at 9am and still going strong at 5pm. There is no better place to watch the footy and the field looked as good as the SCG.

Unfortunately, 1st Grade lost their first game for the season against a massive Eastwood side. However, a wise man once told me 'you learn more from defeat than in victory' and I am pretty sure that was the case here.

It was a phenomenal game until the final whistle, as two quality teams just went at each other. My personal take from it is that we are the real deal in 2020. It wasn't out best performance, but we could have and likely should have won the game, as Ben McCormack's excellent analysis in his match report pinpoints.

It was wonderful to see Brooklyn Hardaker on debut score a try for the ages, but I was thrilled for Tom Serhon to get his deserved call up. For mine, it's the pathway creators dream for the Clovelly Under 6 kid, to fulfil a lifetime ambition to play in Myrtle Green at 3pm at Coogee Oval in the TV game.

I know Tom's dad Shane who was an old teammate of mine (unabashed 1984 Colt plug coming… bang…there it is!) was absolutely overjoyed and finally stopped sobbing with pride on Monday…. night!

From an overall club level my highlight was 4th Grade's incredible win, coming from 22 points down with 20 minutes left, to pull-off it out of the fire over Manly at Latham. That personifies our club in 2020.

So, despite the 1's loss, things are good on the field across the club and obviously excitement is again at fever pitch, as we return to Mother Earth on Saturday, against the undefeated Gordon – in the top of table clash. I don't even need to sell it up – as the tickets for this match sold out in 19 minutes on Tuesday morning after being released.

This coincided with our office phones and emails going into melt-down yet again, as every man and their proverbial dog begged us to pull a ticketing rabbit out of the hat.

Again, we sincerely apologise if you couldn't get a ticket this week due to the restricted crowd capacity of Coogee Oval and the number of tickets we are able to sell in the COVID landscape. I am truly very sorry, but it's completely out of our hands.

Here's an early tip - strongly consider getting a season ticket next year when they are released, so you get a guaranteed ticket to each of our home matches in 2021 and then you won't have to worry about playing ticket roulette each week.

Randwick Rugby proudly supports Cystic Fibrosis Australia and this year we are on board for The NeverRest Push-Up Challenge. We have pledged to do 10,000 push ups as our contribution to this cause and we've also managed to get Gordon involved as well on Saturday. So watch out for a push-up frenzy from both club's lower grade players and staff on the field just prior to 1st Grade.

Please read on to see all the full results against Eastwood, Manly and our Magic girls vs Uni, the coaches match reviews for all grades that played and what's happening in our busy and popular community corner – which is absolutely groaning this week.

We exclusively reveal Poido's joyous reunion with his missing Randwick Hall of Fame Jersey, more details on the The Never Rest Challenge, Bowie's mullet has finally taken shape as part as his fundraising crusade for Mental Health and finally Dave Vea's scoreboard update on the blood donation battle with Easts, which we are still losing. HELP!!

There are just so many great causes our club and people are involved in - it's becoming difficult to keep up with!
Up the Wicks!

Mark Harrison
General Manager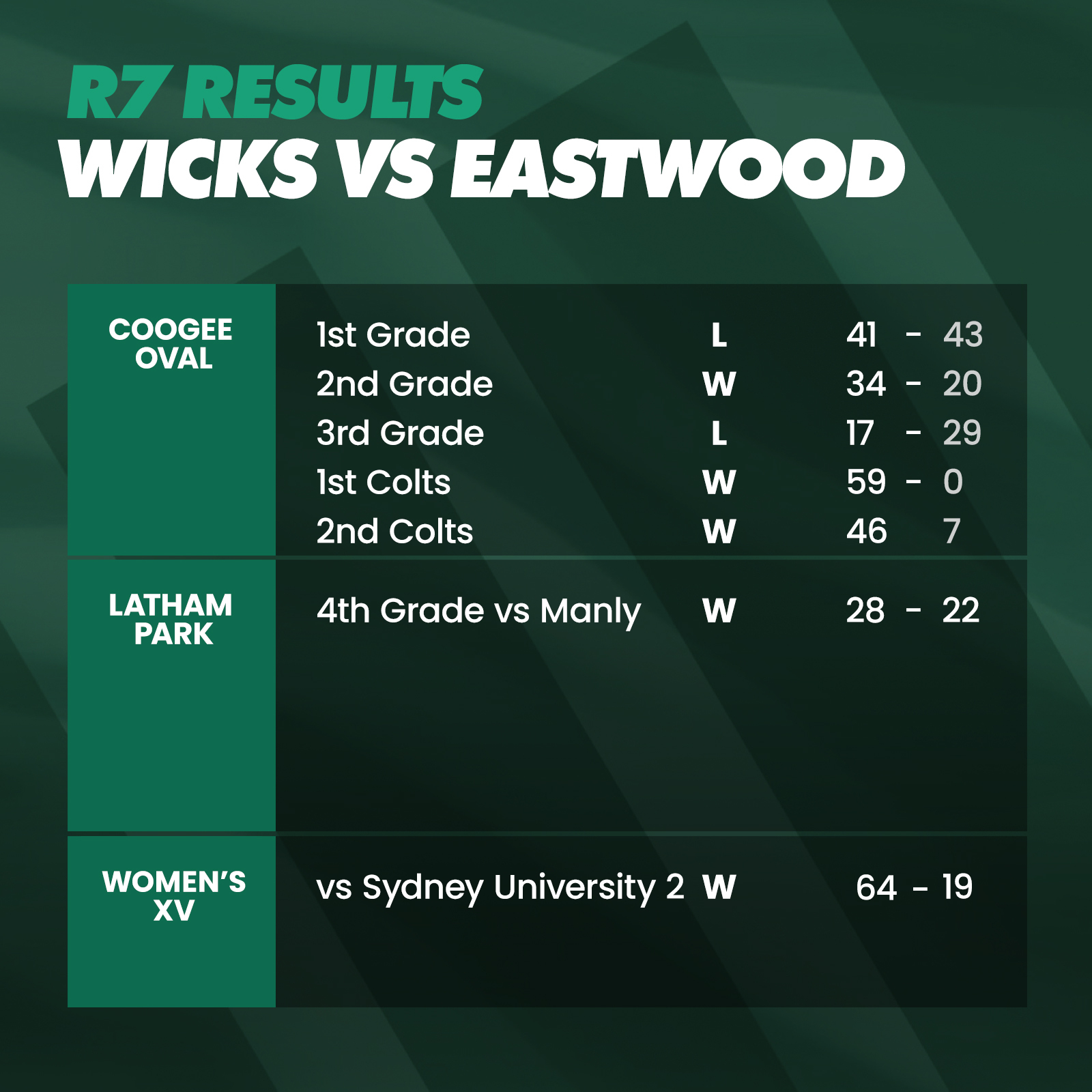 Coaches Corner
Morgan's Mail - Round 7 Club Review:
Round 7, was a mixed day for the club, winning 3 from 5 against Eastwood, but tempered by going down in 1st and 3rd grade, in games we could have easily won.

The Colts were imperious in their two big wins, displaying a brand of rugby that will be hard for other teams to suppress, even though we face off against the big guns in Colts rugby in the weeks ahead. It's a testament to 'The Professor' and his band of coaches, who are doing a great job with our up and coming talent.

As Eastwood didn't have a 4th Grade or 3rd Colts, 4's played Manly up at Latham and came from 22-0 down to snatch a famous victory. Giving the Club Coach (who went to Coogee Oval 22nil down…. you should have left earlier Morgs...) a timely reminder of the age-old tradition of Randwick teams never giving up and coming home like a steam train.

We were really disappointed that the 3rd Colts game against Manly got cancelled on Wednesday, as the Marlins struggled with numbers due to injury toll. Fortunately for the remaining 6 rounds of the season, we play clubs that have all 7 teams and so all grades will play live competition games.

3rds lost a game that was there for taking, while 2nd Grade carried on their merry winning way and remain on top of the competition table, in a high-quality game. The Magic girls also returned after the bye with a big win over Uni in the Jack Scott Cup

In 1st Grade an uncharacteristic defensive effort allowed Eastwood to keep the scoreboard ticking over and the proverbial steam train finish wasn't enough to get the win at home, even though we scored 7 tries to 6. The hard lessons of Saturday will stand 1's in good stead this week, in the top of the table clash against Gordon and for the rest of the season.

Congrats to Brooklyn Hardaker for as good a run-on debut in 1s as you will see and on scoring one of the best individuals tries ever seen at Coogee Oval. Also, a late-call up to local Clovelly junior Tom Serhon on Friday, saw him debut in the top team and what a great performance he put in as well.

The amazing support of the rest of our club on the day was highlighted by the joy everyone showed in such popular members of the club doing so well at highest level.

We also thank Warwick 'Drobe' Waugh for revving up our players before the game, as we continue to more strongly reconnect with and recognise our club history.

Gordon this week will be an even bigger assignment for our club, right through our 7s teams, particularly as our depth is also being increasingly tested in key positions, as the attrition rate with injury builds.

However, if you were lucky enough to secure one of the golden tickets for Saturday, then get there early and enjoy the brand of rugby we will put on across all grades. Up the Wicks!

Morgan Turinui
Club Coach

B1's First Grade Review:
Saturday's result was a tough pill to swallow; our first defeat of the 2020 campaign and one that could have definitely been avoided. Ten seconds into the match we gave away a poor penalty and gifted Eastwood immediate entrance into our 22m zone. We then defended our line and did not touch the ball for 6 minutes of play, before conceding another penalty and a soft maul try, so it was clearly not the start we were after.

We did bounce back quickly however, with a well worked try to Dylan Pietsch and then an opportunistic try to Simon Kennewell. But poor field management and further ill-discipline saw us consistently under pressure and we conceded more close range tries and also lost two players in consecutive periods to the sin bin.

Whilst we didn't have a lot of possession we did see some nice tries at the back end of the first half, including a cracking one to Kyle Harris, after being put thorough a late gap beautifully by tight head prop George Hendry, with all the creative flair of the late great Arthur Beetson in his prime.

And also, a brilliant solo effort form Brooklyn Hardaker after taking a cross field kick 'Brooky' turned the Eastwood fullback inside out with a good old fashioned in and away to get his first of two tries for the afternoon. With plenty of points, it was an eventful and see-sawing affair and we went in 26-24 down at the break.

The second half was almost a replay of the first - Eastwood grafting and damaging the line with big carriers waiting for a penalty, kicking for the corner looking for a rolling maul or a pick and drive, until they found an opportunity for points. With 3 tries to 1 early in the second half Eastwood might have thought they had broken our backs but in true Randwick spirit, we scored 3 late tries to be down by 2 points in the final play, and whilst I thought we might still get there, but it wasn't to be and Eastwood held on.

Whilst we outscored Eastwood 7 tries to 6, an off day with the boot and a tackle count of Randwick 212 to Eastwood 98, clearly told the story of weight of possession, which was a reflection on our ill-discipline and unforced error rate.

A sharp readjustment will be required to topple a Gordon team who are flying high and undefeated on top of the ladder, particularly with our depth tested with a number of injuries to key troops.

Congratulations to Brooklyn Hardaker and Tom Serhon who made their starting debut and debuts respectively. Brooklyn was presented his jersey by Warwick Waugh who spoke to the whole group about the importance of not hesitating and going at 100% with every decision, which Brooklyn clearly headed the advice bagging a double and setting up a third in a very good performance.

Tom Serhon is a product of the great Randwick Development system. A Clovelly Eagle, a Myrtle Green Warrior, a Randwick Junior Academy graduate, Colts premiership winner and now a First Grade Player. Tom's father and ex-player Shane (84 Colt) presented his jersey on Saturday and gave a stirring speech which the whole group enjoyed. Tom is an extremely hard worker and has worked his way through the grades over the last 18 months and deserved his chance, acquitting himself extremely well, with a hand in two tries and a work rate to be proud of.

Also, congrats to our talented 1st Colt, Ellis Hawker also made his 1st Grade debut off the bench, coming on at 9 late in the game and showing he was well and truly up to the level.

I look forward to seeing you at Coogee on Saturday as we take on the only undefeated team and clear number 1 seed for the Shute Shield. I can assure you will be ready for them!
Up the Wicks!

Ben McCormack
1st Grade Head Coach
B2's Second Grade Review:
Round 7 brought yet another new challenge with Eastwood visiting Coogee on an absolutely sensational winter day.
Facing off against a much larger opposition forward pack and some hard-charging backs, the first half was a torrid back and forth affair, with both teams going to oranges 17 all.
With a focus on lifting the pace of the game and increasing the physicality and communication in defence, your Wick's responded by scoring a further 17 points. More importantly, the only points we conceded to the visitors were from a penalty goal, helping secure a satisfying 34-20 win.
The key focuses moving forward will be an improvement in discipline and smarter decisions under pressure, especially as we ramp things up and head into a tough block of games against quality opposition on route to the finals.
Up the Wicks!

Ben Rutherford
2nd Grade Head Coach

Danny's Diary - 3rd Grade Report:
3rd Grade started off the game very positively, with good structure executing our set pieces, which allowed us to constantly get over the advantage line in the early skirmishes. We held onto possession, which enabled multi phases play and that pressure eventually rewarded us with a try in the corner by Johnny Mitsias.
Unfortunately, a series of minor mistakes and some poor execution allowed Eastwood to hit straight back with a converted try and they consolidated their lead further with a penalty goal and held it until half-time.
After the break we mounted more pressure and maintained some field position which resulted in a try to our halfback Halcyon Price. Yet again, Eastwood hit back quickly to reclaim the lead.
However, after a sin-binning and then a very contentious call against us, the momentum of the game completely changed and Eastwood surged away with two quick tries, to set-up a match winning lead as it turned out.
We looked dangerous when we maintained possession, but didn't enjoy great field position for much of the second half. Similar to the week prior, our kicking game wasn't well supported, with a fractured kick chase defence and we also had some poor misses in the middle of the ruck at times.
A great backline movement saw Bailey Collins make a magnificent break and backed by Ray Lesoa to score under the posts. Despite the forwards maintaining possession at the back end of the half, it was too little too late, as we ran out of time and Eastwood shaded us 29-17.
We are very keen to make up for this defeat against Gordon on Saturday.
Up the Wicks!
Danny Grant
3rd Grade Coach
Cattos Call - 4th Grade Report:
Firstly, thanks to Manly for travelling to Latham Park on Saturday to enable both sides to get a game. Whilst it always is, it definitely was in practise here, a game of 2 halves, with Manly leading 15-0 at halftime and then scoring soon after, to race out to a seemingly unassailable 22-nil lead.

Despite a couple of calls that didn't go our way, which contributed to the score line being way worse than deserved, we were still left perplexed, how we had gotten ourselves in this position. At this point some spectators had said seen enough and left for Coogee Oval – including our Club Coach, but this proved to be the turning point. (Morgan leaving Catto?)

However, where it actually matters - on the field - there was no panic by the players, as they kept their cool and went about executing the game plan, that was so enthusiastically rehearsed on the training paddock during the week.

Every player lifted the intensity and suddenly with a run of possession, the points started to come in a rush – the beauty of the Randwick style of rugby. In a 20-minute blitz, we scored 28 unanswered points – rewarding the true believers who remained, with an incredible come from behind 28-22 win.

Rampaging prop Arturas Rachimovas was the try scoring hero with 2, ably supported by Kevin Keane and Tim Reeves who scored 1 each. From the tee, Ryley Angles-Corke proved the difference with a flawless kicking display, converting all 4 tries.

All credit to the mighty 4's for never losing heart and what a comeback it was. Congrats to all on a fantastic victory and one to be very proud of. Up the Wicks!

John Catterson
4th Grade Co-Coach
Pete's Colts Review:
Coogee Oval has never looked so good and our Colts players fortunate enough to step out on the glistening turf, did not disappoint performance wise.
2nd Colts
, were first cab off the rank with an early 9am kick off time. It was clear this was not going to be an easy fixture, as the Eastwood side were primed, eager and physical from the first whistle.
The early exchanges were more a battle of field position, rather than generating legitimate scoring opportunities, as both sides fought hard in the close contact jousts.
Handling errors, compounded by poor line break decisions and options taken, cost the young Wicks side guaranteed tries and kept the game closer than expected at half time.
The second half however was a different story, as we finally found our mojo and ran in 5 tries to puff up our chests with a dominant 46-7 victory. Special mention goes to Bailey Collins for an electric display on the wing and local junior Will Dyster for his tireless effort in the front row.
1st Colts
knew the importance of continuing to set the pace at the top of the Colts Ladder.
Eastwood were extremely unlucky to just go down to Sydney University in their last hit out, so our group was under no illusion of the tough task we faced – particularly with former Randwick 1st Grade Coach Craig Morrison guiding them.
From the start of the warm up it was clear that the size and physical nature of the Eastwood players would test our defence and this was the case within the opening 10 minutes of the match.
Tight plays and hard running lines saw us have to constantly repel the Woods early onslaughts and the larger bodies of their players.
It was not until the 14
th
minute, that the Wicks displayed our attacking prowess and a fine multi-phase try by Dan O Brien and got the ground announcer into the game.
Execution and field position were the main focus chat of the morning and fly-half Reihana Leuii had his magic directional wand out, steering the side from pillar to post throughout.
This coupled with big game day performances from skipper Saxon Gillies and immense number 8 Max Moore in the forwards, saw the floodgates open and brilliant tries scored to deliver us an outstanding 59-0 victory.
Like in 1
st
Grade, a huge top of the table clash awaits us this Saturday when we welcome Gordon to Coogee. We also look forward to the challenge in the other colts games at Latham.
Up the Wicks!
Peter Dumbleton
Colts Director
Fidel's Womens Update:
Our Randwick Magic girls were up against Sydney Uni's second team last Saturday at Chatswood Oval, with over 8 representative players unavailable. Uni as always, made sure they had the best chance of a win, with 8 of their first team players backing up against our young girls who had an average age of just 19.

With 6 debutants, it didn't deter our attacking flare, with two early tries coming off some great work by our young forwards, who earned the right to move forward and our backs finished it off in the best possible way with our Aussie youth wingers Darcie Morrison and 'BB' Terita crossing.

To Uni's credit, they came back strong later in the half, applying consistent pressure on our line with their massive front row, which we resisted but couldn't hold forever. Uni eventually crossed twice, but we still lead at the break 26-10.

The flood gates opened in the second stanza, as we piled on the points and eventually ran in a 65-17 score line. 'BB' scored yet another hat trick and Darcie a double – in a best on ground performance.

This week we tackle Gordon at Latham Park, kicking off at 5:30pm. I have no doubt our very young squad can keep it rolling, until our established stars return in the lead-up to the finals. Up the Wicks!

Fidel Tukel
Co-Coach Womens XV
Community Corner
The King's Jersey Returned
In emotional scenes last Sunday at Coogee Oval, Simon 'King 'Poidevin was reunited with his long-lost Randwick Hall Of Fame Framed Jersey, after an exhaustive investigation by 'Wickstoppers 'and Todd Mison – the President of our local partner in sport, Coogee Surf Lifesaving Club.

To cut a long drama short, the King's Jersey - he donated to Coogee Surf Club to display - went MIA after the Club was almost sunk by monstrous waves, in 'that' storm 4 years ago.

It was simply a case of the framed jersey being put away for safe keeping, by being hung up on the rescuer's poolroom wall! A totally understandable misunderstanding your honour!

As we can see in the reunion photo below all is well that ends well, with a delighted King.

To quote another famous personality of French origin, Inspector Clouseau, 'the case is solvid!'
The NeverRest Push-Up Challenge - this Saturday!
For the past 2 years Randwick Rugby have proudly supported Cystic Fibrosis Australia by wearing red socks during a first-grade game each year. but this year, we are on board The NeverRest Challenge.

The NeverRest Challenge was started by the Clarence family who unfortunately lost their brother Sean to Cystic Fibrosis early in 2019. They wanted to leave a lasting legacy to honour him in a way that people will remember and that would help raise awareness to help find a cure.

The astounding fact is that around 1 million Australians carry the Cystic Fibrosis gene, so very uniquely NeverRest has challenged the community to pledge a donation of push ups rather than money to help sufferers of Cystic Fibrosis.

Their overall target is 1 Million push ups to be completed by this Saturday, September 5.
It could be a shoulder surgeon's dream!!

Randwick Rugby has pledged 10,000 push ups as our contribution to this target and we've also managed to get Gordon on board for the challenge too, who are donating 5000 push ups of their own. We are very grateful that they will push-up us along.

Push-ups have been madly going on at Randwick training sessions all this week, but we are aiming to hit the 10,000 target, just prior to 1st Grade commencing on Saturday. Lower grade players from both clubs will enter Coogee Oval and punch-out another 20 push ups each, to reach each club's respective goal.

It is just another small way Randwick Rugby can give back to the community, in some pretty difficult times and continue our proud commitment to helping Cystic Fibrosis Australia find a cure.

For more information about The NeverRest Challenge visit: www.neverrest.com.au
'Bowie's Mullet for Mental Health Crusade - Update
As you know, club legend's Matt "Bowie" Bowman was on a mission to raise $2,500 but is now upping the ante to $5,000 for the Black Dog Institute – specifically to help reduce the level of suicide in Australia which are growing at alarming rates.

Those fabled locks of his have now been fashioned into a mullet – as part of Black Dog Institute's Mullets for Mental Health. Please read his update..

Dear all,

The time finally came. On Monday I had my first trip to the barber shop in many years and Richie from Jack Rabbit Slims did not disappoint. He shaped my mighty mop into a late 80's classic!!

As I walked home I thoroughly enjoyed the fresh breeze flowing through the vacant side panels of my dome, however I enjoyed even more the quizzical looks of my children as they set eyes on my brand-new look. The fierce judgment of the youth made me think of how the lads at training would embrace the new do. I mean isn't this hairstyle now just for the young and the cool?? However, to my surprise, my arrival at training was met with strange delight, the boys somewhat bemused that a coach could quite possibly have the best mullet in the club!

And to think that the fun has only just started!

Because, although I am already feeling attached to my new coiffure I am thinking that I will stay with the Billy Ray style only for a week or so and then look to shift it up again as we progress through September. I have only just begun to realise how versatile the magnificent mullet can be!!

Again, a massive thank you to all that have contributed. I have smashed past the original goal of $2500 and have set my sights on a $5000 target by the end of the month. So, throw it out there far and wide and help us get there.

Any contributions are always welcome. But as I always say, the conversation is the most potent tool we have in this fight. So please, have that chat or check in with that mate you think may not be travelling too well and be that shoulder for someone you care about in their time of need.


Talk soon & Up the Wicks!
Bowie

To support Matt's Mullet Crusade and in his quest for achy-breaky heart immortality please visit: https://www.teamblackdog.org.au/fundraisers/matthewbowman
Vea's Red Cross Blood Donation Challenge Update:
Randwick Rugby are proud to be part of Lifeblood Teams, the group blood donation program from Australian Red Cross Lifeblood, and right now, our Randwick donor team needs your help.
As you know Easts challenged us to see which club can save the most lives by donating blood. We have accepted the bait and it has set the stage for the Battle of the East blood drive, which will run until to October 10.

Please see this update from our First Grade Hooker and Club leader David Vea..

Calling all Wicks!

I just wanted to give you a quick update, at the half way mark of the "Battle of the East Blood Drive" Red Cross Blood Donation Challenge, it's been an outstanding result so far, we saved an incredible 162 lives collectively as a result of both club's efforts.

In saying, that we are still lagging badly behind Easts whose donations are at 37 to our total of 17, but there is still plenty of time to get in and chase this 20-donor deficit down. After all, 4th grade was 22 behind Manly on Saturday and overtook them in less than 20 minutes!

Please remember that the blood donation is not only limited to Randwick players and staff, supporters, sponsors, family, friends and even enemies are also encouraged to donate blood to our Blood Bank "Randwick Rugby". To book a time for your donation visit www.donateblood.com.au

If you do, I promise not to get another yellow card this weekend… or this season even!
Up the Wicks!

Cheers
David

David Vea
Randwick First Grade Player
Fixtures for this Saturday, September 5
Coogee Oval and Latham Park fixture times are below, unfortunately there are no tickets available for sale for the Coogee Oval games against Gordon.

Again we are extremely sorry, but please understand it's completely out of our control.

Coogee Oval - Round 8
1st Grade v Gordon - 3.05 pm
2nd Grade v Gordon - 1.25 pm
1st Colts v Gordon - 11.50 am
3rd Grade v Gordon - 10.25 am
4th Grade v Gordon - 9.10 am
Latham Park (no tickets required)
Womens XV v Gordon - 5.30 pm
2nd Colts v Gordon - 9.55 am
3rd Colts v Gordon - 8.45 am
Good luck to all our teams on Saturday. Up the Wicks!