Round 6 Wrap Up
Results, Reports & Highlights
I hope you are well. It would seem as the rugby bar raises higher each week of the Shute Shield season, the Wick's keep rising with it.

To go down to Forshaw Park and win 7 from 7 across the grades against Southern Districts and take out their in-form First-Grade team, in the clinical manner we did and in doing so achieve a 6-0 record for the season, spoke volumes of what this club is about in 2020.

The most unusual phenomena at Forshaw was the eerily silent home crowd, which progressively became even more silent as we spoilt the Back to Souths Day party! Akin to Daryl Kerrigan in The Castle, I had a 'Oh, the serenity' moment - with the powerlines backdrop and all!

However, drawing an analogy to Le Tour De France - the second biggest global sporting event on Saturday - we have mostly cycled through some of the flatter stages of the course and now hit the mountains stages, as we face with Eastwood, Gordon (the actual heavy Shute Shield favourites – nice try DC), Norths and Uni in consecutive weeks. This period will be the true test of our mettle, depth and premiership credentials.

But I must say, it's amazing what winning does for the constitution, confidence and popularity. My own included. I reckon 500 of my long-lost friends and one's I didn't know I actually had, have reached out by every communications channel possible this week, trying to get tickets to the Eastwood game on Saturday.

Unfortunately, this Eastwood match is already sold out, due to the restricted crowd capacity of Coogee Oval and the number of tickets we are able to sell in the COVID landscape. I am truly very sorry, but it is completely out of our control. I know that is disappointing on so many fronts, but I can assure you there is no-one more disappointed than our infamously frugal treasurer!

Don't despair though, because this is the match of the round and will be broadcast live on TV from 3pm on Saturday on Channel 7 Two in NSW or Channel 7 Plus across the rest of Australia. So if you have missed out on a ticket, you can still watch us go around live from the comfort of home.

It's exciting for our players, coaches, staff, volunteers and supporters to enjoy this type of limelight - its been while. It's also a great reward for our loyal sponsors who have stuck by us during this unrelenting period – for which we are so eternally grateful. But in this caper, you are 'only as good as your last game' and we need to keep this resurgence going.

Read on to see all the full results against Souths, the coaches match reviews for all 7 grades and what's happening in our busy and popular community corner.

This week we hear about kids rugby, from our tireless Juniors President, Arthur Spellson; Bowie gives us an update on his mullet fundraising crusade for Mental Health and read Dave Vea's call to arm's on the Red Cross Blood Donation Challenge - which we are still losing to Easts. C'mon folks Randwick blood is worth bottling so let's get around it and support this initiative – ironically, it's our only thing in the red this season.

In late breaking news, Wickstoppers has made a breakthrough in the search for King Poido's long-lost Hall of Fame jersey! All will be revealed next week.

Up the Wicks!

Mark Harrison
General Manager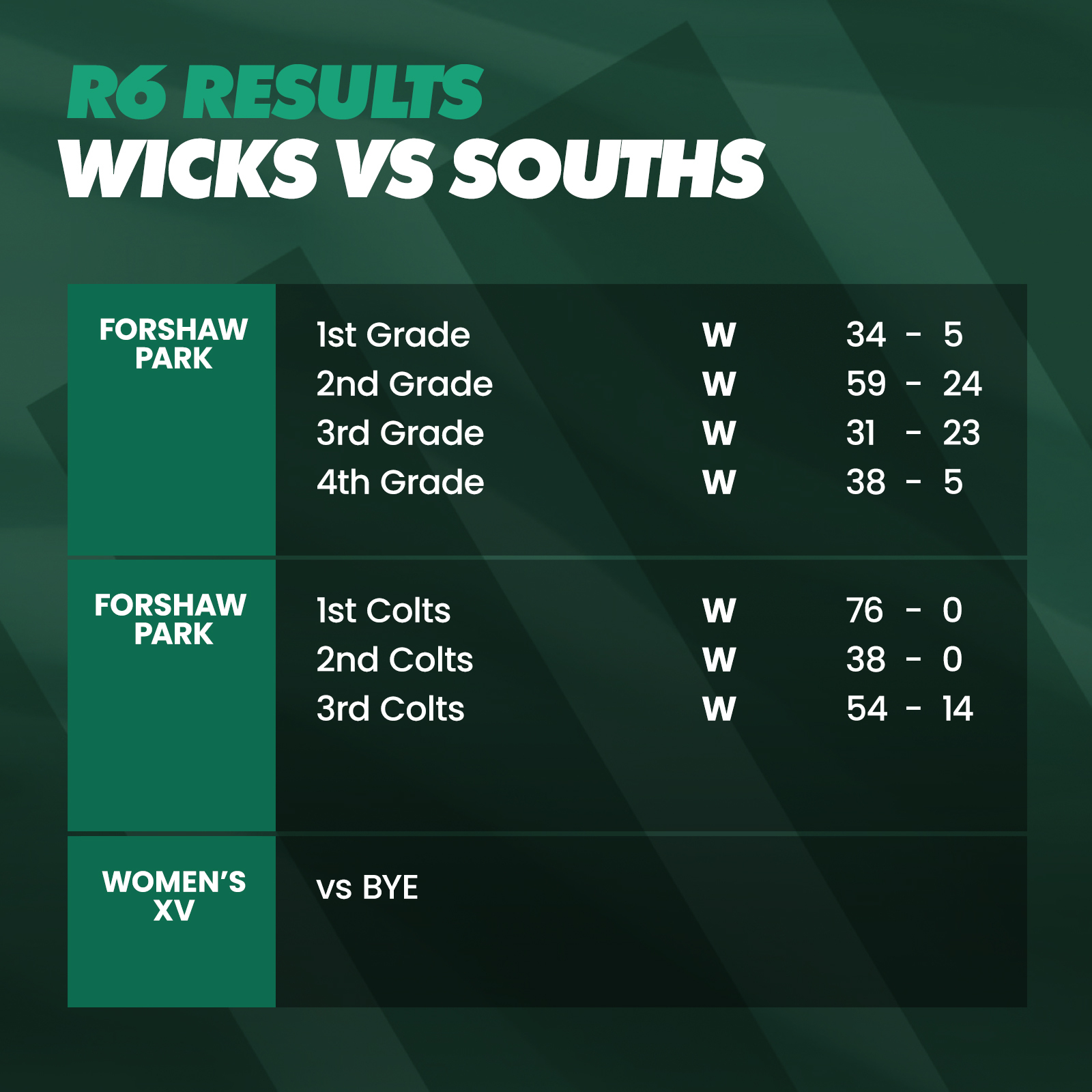 Coaches Corner
Morgan's Mail - Round 6 Club Review:
Saturday was an excellent day for Randwick Rugby. Winning 7 from 7 is always our aim, but a rarity to accomplish. However, to do so against a resurgent Southern Districts and away at Forshaw Park, was a quality validation of how our Club is progressing in 2020 – both on and off the field.

Right through our teams and grades, the level of raw talent we know we have in this club, was only surpassed by the performances exhibited by those talented players on Saturday.

Two things stood out for me on Saturday, the enjoyment our club had in performing well at a place we don't have many happy memories in recent years and the thirst our players have to continue to build off this solid base. They are talented but are working so hard to achieve these results.

A great day was capped off with 1st Grade capturing the Sir Roden Cutler Shield, a first in nearly a decade and deserved recompense for our start to this year.

Now it's back to work for our teams with ever-increasing challenges ahead over the next month – starting with Eastwood at home on Saturday. Up the Wicks!

Morgan Turinui
Club Coach

B1's First Grade Review:
We headed to Forshaw on Saturday to take on a Rebels side that was riding high after beating Sydney Uni after the buzzer the previous week. Forshaw has not been a happy hunting ground for us in recent history – last year we lost Sean Connor to a season ending ankle injury courtesy of a pothole in the warm up area. In the spirit of Groundhog Day, Christian Poidevin repeated the dose this year by rolling his ankle in the same place. After 11th hour repairs from Physio Di and Dr Paul, Poido was able to take his place and bravely gave his usual wholehearted effort for 60 minutes, before succumbing to his injury.

Sadly, Tiaan Tauakipulu was not so lucky however, helped from the field in the first 5 minutes with what we now know to be a season ending knee injury. Our thoughts and best wishes are with Tiaan who had surgery yesterday and our club will be sure to get around him for support during his rehabilitation period.

Fears of a domino effect of bad luck were put to rest though, as we applied plenty of early pressure to the Rebels who were uncomfortable playing in their own territory. This soon turned into points when after some sustained forwards pressure, Maurice Longbottom skipped brillantly across field and put Dylan Pietsch into the corner for the opener. It wasn't long before we crossed again through some great offloading and a final pop pass off the ground from Kristian Jensen, to put Simon Kennewell under the posts

Souths struggled to get into any rhythm, with Dave Horwitz and Kristian Jensen consistently turning them around and forcing them to play out of their own half, putting on a clinic in field game management. When all try scorers were from the backs, it would be easy to assume a free flowing and backs dominated game, but it was quite the contrast. Souths when in possession kept things tight and tried to run through us with their big pack but they were consistently battered back, by a defensive performance to be very proud of.

Tom Piroddi and Joe Feltis on his starting First Grade debut were the standouts without the ball and as a team we made 197 tackles this week compared to 86 against Penrith. We also tackled at 93% efficiency, which explains the sore bodies this week, but this defence culture is proving critical to our success as a team. A long range try to the flying Moz and a second to KJ after a great off-load by prop Jake Turnbull, capped off a terrific team performance.

Moving forward there is plenty to do, if we are going to consistently beat the quality opposition we face in coming weeks. Eastwood have some of the biggest and most physical backs in the competition and a hard-working quality pack providing their possession source.

We have to improve again and need to come out firing, if we are going to extend our current season record, but I guarantee we will be working our tails off to do so.

Up the Wicks!
Ben McCormack
1st Grade Head Coach
B2's Second Grade Review:
A 59-24 win over Southern Districts, on a bitterly cold and windy day at Forshaw Park, added to a hugely successful day for our great club.

Featuring plenty of attacking footy and exciting tries, led again by try-scoring machine Christian Yassmin with a double - the highlight for mine was the huge defensive effort in the last 15 minutes of the first half. The score line doesn't do justice to the commitment and physicality shown across the team to keep Souths from scoring and this all bodes well for the future.

We now head into a tough block of games, starting against Eastwood at Coogee Oval on Saturday. After a strong start to the season, it's a perfect opportunity to test ourselves against a strong club like the Woodies and we really excited to bring it on.

Up the Wicks!

Ben Rutherford
2nd Grade Head Coach

Danny's Diary - 3rd Grade Report:
Despite the very challenging weather conditions that greeted us, the mighty 3's started the game extremely well. On the back of good set pieces and patiently building phases, our high-quality backline then took full advantage to score some cracking tries in the first 10 minutes and fly out to a 14-nil lead. At this point things looked decidedly ominous for the Rebels.

This attack was backed up by really solid defence, particularly in the 20/30 channel. However, as our confidence grew, we began to push the envelope by trying to score on every play, which invited them back into the game. This was compounded by some poor counter attack/kick chase defensive lapses, which saw us go to oranges down 18-14.

Despite this set-back, we got off to a good start in the 2nd half, which led to more opportunities and we took full advantage of them to score some really attractive tries and kick away again..

We always looked in control, but then a few mistakes crept in deeper into the half, which gave Souths another sniff. Mercifully we switched back on again, as our big men re-established supremacy in the middle and our backs ran through the extra space this created out wide, to end up 33-21 winners.

The standout performances were from Sam Lolo, Tui Manoa, Dave Akkersdyk and Tom Molloy. Low and behold like in 4th Grade, we also had a classic 2-minute cameo from Adam Freier – in what was a busy day for 'Haas'. Not sure if he was too old to have a run for Colts as well!

It was pleasing to get the win down there and like everyone else, we look forward to jousting with Eastwood at home on Saturday. Up the Wicks!

Danny Grant
3rd Grade Coach
Cattos Call - 4th Grade Report:
Our 4th Grade group have been training hard and were keen to get a live competition game against Souths last Saturday. They didn't hold back, with each member of the squad contributing well and resulting in an emphatic 38-5 victory over the Rebels.

The forwards provided the platform with strong set pieces which allowed our backs to show their skills – an impressive backline it is at this level.

In one instance, Souths were pressing our line, but our forwards repelled them, then Adam 'Haas' Freier (look what the cat dragged in... again) gracing 4th grade with his vast experience, came up with a crucial turnover, to create a counter attack which passed through 10 pairs of hands, resulting in the try of the match. Matt Stead who scored a hat-trick himself handled in 3 of those 10 exchanges with Kevin Keane scoring in the end. (Phew!)

It was also a great effort by the entire squad and it was pleasing to get all 8 reserves onto the field to get some meaningful game time and contribute to the end result.

We look forward to playing Manly in 4th Grade at Latham on Saturday and will work hard this week to continue this momentum. Up the Wicks.

John Catterson
4th Grade Co-Coach
Pete's Colts Review:
3rd Colts were ecstatic to be back involved with the entire colt's cohort last weekend and enjoyed the support of all their club mates in a very early start at Forshaw Park.

The game was physical from the get go and neither side was taking a backward step, with the score keeper untroubled until the 15th minute. Then a series of hard carries finally compressed the Souths defence and allowed Blayk Bragg to bulldoze his way over.

In the second half we really showed our class, with outstanding performances from James Clout at 10 and Duncan Evans in the pack. This laid the platform for another big score and an impressive victory 52-14 over Souths.

2nd Colts looked slightly ring rusty in their opening encounters on the very dicey back field at Forshaw – which was more akin to a battleground than a rugby one. It was clear Souths fancied a big scalp (ours's!) and brought that intensity from the opening whistle.

Pressure was continuous on the Wicks line early and eventually a clearing kick from Dan Andrews got our tails up and the field position we desperately needed to be in. Possession was key and as the Wicks constructed a multi-phase attack structure (sounds complicated Professor) it was increasingly noticeable that the Souths defenders were beginning to tire as quickly as a hotel security guard on quarantine watch does in Melbourne.

Another 2nd half blitz saw the mighty 2's put on a real show and finished the game with a 38-0 score line. Big performances from Lachie Saar and the returning Hudson Berry, will give our coaches headaches on selection decisions over the next few weeks - yet again!

1st Colts. The Wicks unbeaten run in all Colts games was accomplished by a hugely dominant performance, this time by the 1's, enjoying the powerlines on the main field.

From kick-off, a surge of tries and non-electrical support lines were the order of the day. The major focus for this expansive side was to ensure our hosts were kept quiet and scoreless.

Defence is a key focus and yet again the proof was in the pudding, with a big duck egg on South's scoring ledger. It was huge to have Saxon Gillies back in the side and he along with Winiata Cherrington were the pick of this funky bunch. The rest of the boys also followed suit to carve the Rebels up 76 nil.

Both Colts 1's & 2's eagerly await our assignment against Eastwood on Saturday home at Coogee Oval, while our 3rds have a date up the hill at Latham against Manly.
Up the Wicks!
Peter Dumbleton
Colts Director
Randwick Juniors Update - Arthurs Analysis:
It is fantastic to see all our kids back out on the footy field with modified competitions now in action for all age groups from Under 6 right up to opens and also including the girl's.

Normally our final weekend of the season would have been last weekend, but with the COVID induced delay we are only just half way through our 9-round season, with another 4 rounds to go. This takes us up until the end of the school term in late September.

While the supporter numbers on the sidelines are down, the numbers on the field are up, with some age groups fielding more teams than last year and it's especially healthy to see good numbers in the U6s and U7s. It has been great to see the enthusiasm from the kids (and their coaches!) once they were finally able to strap on the boots again.

It feels like there are nearly as many rules for spectators this year as there are for the players and the COVID safety rules are nearly as vague as they are at the breakdown in rugby. We have more people wearing Fluro vests than not and more hand sanitiser flowing at Nagle and Latham Park than tomato sauce at the BBQ.

All that said everyone is doing their best to adapt to all the changes and we thank all involved for doing so and helping us keep on the field. The club presidents and their committees have had to work even harder than normal and we appreciate all their efforts. Running junior sporting clubs is a challenge at the best of times but this year has taken it to a new level. Well done all you volunteers and keep up the good work.

A huge positive from this season has been the way the Juniors and Seniors have been working seamlessly together. This increased collaboration has been a great help and we thank Mark Harrison and Melissa Stone for all their assistance. We can't wait to get back to Coogee Oval in big numbers and cheer on the Wicks and hopefully by grand final time we can do just that.

On behalf of all Randwick juniors, I extend our best wishes to all for the rest of the season and please stay safe. Up the Wicks!

Arthur Spellson
President
Randwick District Junior Rugby Union
Community Corner
Bowie's' Mullet for Mental Health Crusade.
As we told you last week, club legend's Matt "Bowie" Bowman is on a mission to raise $2,500 for the Black Dog Institute – specifically to help reduce the level of suicide in Australia which are growing at alarming rates. Those fabled locks of his will soon be fashioned into a mullet – as part of Black Dog Institute's Mullets for Mental Health. Please read his update...

Dear Wicks,

Firstly, a huge thank you to all of you in the Randwick family who have contributed to my 'Mullets For Mental Health' fundraiser. We are closing in on the $2500 goal and looking to push through that barrier and beyond.

The day for sculpting my long mop into a thing of beauty is almost upon us. I have a Monday booking at the barber shop and I know that Ian 'Speed' Kennedy will be very excited that after 3 years this day has finally come. However, the result won't be the short back and sides Speed was hoping for. I am thinking that my initial cut will be a Billy Ray Cyrus inspired mullet and from there I will slowly work back toward a more traditional 'Dunedin' cut of shaved up front with maximum length at the back. The possibilities are endless!!

So, folks watch this space and thanks again for all the contributions. This cash can go a long way to funding the help that people so desperately need and whilst there is no doubt about how important that money is, don't forget it is the conversation with your mate or loved one that can really make the change.

Many Thanks
Bowie

To support Matt's Mullet Crusade and sponsor him in the quest for hair-styling perfection please visit: https://www.teamblackdog.org.au/fundraisers/matthewbowman
Blood Donation Challenge - Randwick vs Easts.
Randwick Rugby are proud to be part of Lifeblood Teams, the group blood donation program from Australian Red Cross Lifeblood, and right now, our Randwick donor team needs your help.

As you know Easts challenged us to see who can save the most lives – simply by donating blood. We have accepted the bait and it has set the stage for the Battle of the East blood drive, which will run until to October 10. Please see this update from our First Grade Hooker and Club leader David Vea.

Calling all Wicks!

Just a quick update as we are approaching the mid-way mark of the "Battle of the East Blood Drive" Red Cross Blood Donation Challenge, it's been an outstanding result so far, we saved an incredible 108 lives collectively as a result of both club's efforts.

In saying, that we are still behind the 8-ball with Easts contributing to saving 72 lives to us 36, there is still plenty of time to get in and chase them down on the second half of the challenge and no doubt we can do that.

It'll be bloody amazing (or even plasmatic David?), when we rock up to Woollahra Oval for the last round on October 10 and beat them both on and off the field.

Please remember that the blood donation is not only limited to Randwick players and staff, supporters, sponsors, family, friends and even enemies are also encouraged to donate blood to our Blood Bank "Randwick Rugby".

To book a time for your blood or plasma donation visit www.donateblood.com.au me know if you have any questions, via emailing office@randwickrugby.com.au

Please note I will be busy between 2 and 5pm this Saturday dealing with that other pesky East named team…Eastwood! Up the Wicks!

David Vea
Randwick First Grade Player
Our Retro Jerseys are Making the News!
Our Retro Jerseys are so popular they have even made the Daily Telegraph today, as can be seen by the image of Sam and Julia below.

We have a very limited number of these hot fashion items left online so click here to visit 'The Wick's Shop' today to ensure that you do not miss out!
Fixtures for this Saturday, August 29
Coogee Oval, Latham Park and Chatswood Oval fixture times are below, unfortunately there are no tickets left for sale for the Coogee Oval games against Eastwood.

Again we are extremely sorry, but please understand it's completely out of our direct control. Next season you may consider purchasing a season ticket pass to guarantee entry into all our home games and avoid the ticket lottery that COVID has beset on us.

Coogee Oval - Round 7
1st Grade v Eastwood - 3.10 pm
2nd Grade v Eastwood - 1.25 pm
3rd Grade v Eastwood - 12.00 pm
1st Colts v Eastwood - 10.30 am
2nd Grade v Eastwood - 9.10 am
Latham Park (no tickets required)
3rd Colts v Manly - 11.35 am
4th Grade v Manly - 10.15 am
Chatswood Oval
Womens XV v Sydney Uni No 2 - 3.00 pm
Good luck to all our teams on Saturday. Up the Wicks!