Round 5 Wrap Up
Results, Reports & Highlights
I hope you are well. I have to admit to a slight feeling of trepidation as the COVID-19 threat re-escalates and restrictions begin to tighten on community sport and more generally across the state. However, for the moment, it is business as usual at Shute Shield rugby level and I hope we can continue to play into the foreseeable future.

Our 1st & 2nd Grade and 1st Colts teams impressively maintained their undefeated season records, in our matches against Penrith last Saturday, making it 5 wins on the trot for each. As alluded to, by all our coaches in their reports below, we thank Penrith for coming to Coogee and appreciate their fighting spirit. There is no doubt that having less than two months to prepare for the season, put them at a significant disadvantage compared to the other Shute Shield clubs – but still they have a crack and try hard until the end.

With Penrith only having 3 teams, our 2nd and 3rd Colts teams were all dressed up with no were to go, so decided to dance against each other on Saturday in an internal trial match, which was first up on a sparkling Coogee Oval. The ground was looking in as good a condition as it has ever been in, thanks to the Green Options boys.

It turned out to be a very entertaining and willing contest, greatly enjoyed by our early morning crowd, which showcased our depth of talent in our colts' program – with the 2's just prevailing over the 3's.

On the other hand our 3rd and 4th Grade lads had their final day off for the year and will be on deck for our remaining matches, as we take on the bigger clubs who have more teams and depth in the harder side of the draw.

There was also huge excitement on Saturday night at Latham Park when our Randwick Magic girls lined up against Sydney Uni in the 2019 Grand Final replay. This was shaping up as the biggest rematch since the Ali and Frasier's Thriller in Manilla and so attracted a massive crowd. This included all our grade and colts' players - in a boisterous and enthusiastic show of solidarity to their Magic sisters.

Unfortunately, there was huge disappointment when the Latham Park lights short circuited about 15 minutes into the game and we were all plunged into darkness, which saw the game having to be abandoned. The match was replayed at Nagle Park last night and certainly lived up to the hype, but the girls just went down 14-7 to Uni in an epic battle – even running the ball from their dead ball line in the last minute to try and pull off a miracle escape in true Randwick style. They almost did, but at least the lights stayed on!

We have also seen some fantastic performances from the Randwick boys in Super Rugby AU with James Ramm, Ned Hannigan and Patrice's son Will, all very impressive for the Waratahs and Andrew Deegan and Kellaway likewise for the Rebels. We also congratulate Ben Donaldson on making his long-awaited Waratahs debut a few weeks back. In recent weeks we have gladly welcomed back both Triston Reilly and Tiaan Tauakipulu to club rugby and First Grade from the Tah's squad.

This week we journey to Taren Point for our Round 6 clash against Southern Districts, where we have all 7 grades in action, all in competition games. From now until the end of the season (touch wood…) involves clubs who all virtually have a full roster of teams.

Unfortunately, Souths have a 500-ground capacity limit into Forshaw Park, so there are no tickets left available for this Saturday's games and there was no allocation of tickets specifically set aside for our players families and or supporters. I am truly very sorry folks, but it is completely out of our control.

Read on to see the coaches Round 5 match reviews and what's going on in our community corner – including Poido's missing Hall of Fame jersey, 'Bowie's' fabled locks being remodelled for a great cause, our retro jerseys making the newspapers and the blood donation challenge we are now losing to Easts - HELP!!

Up the Wicks!


Mark Harrison
General Manager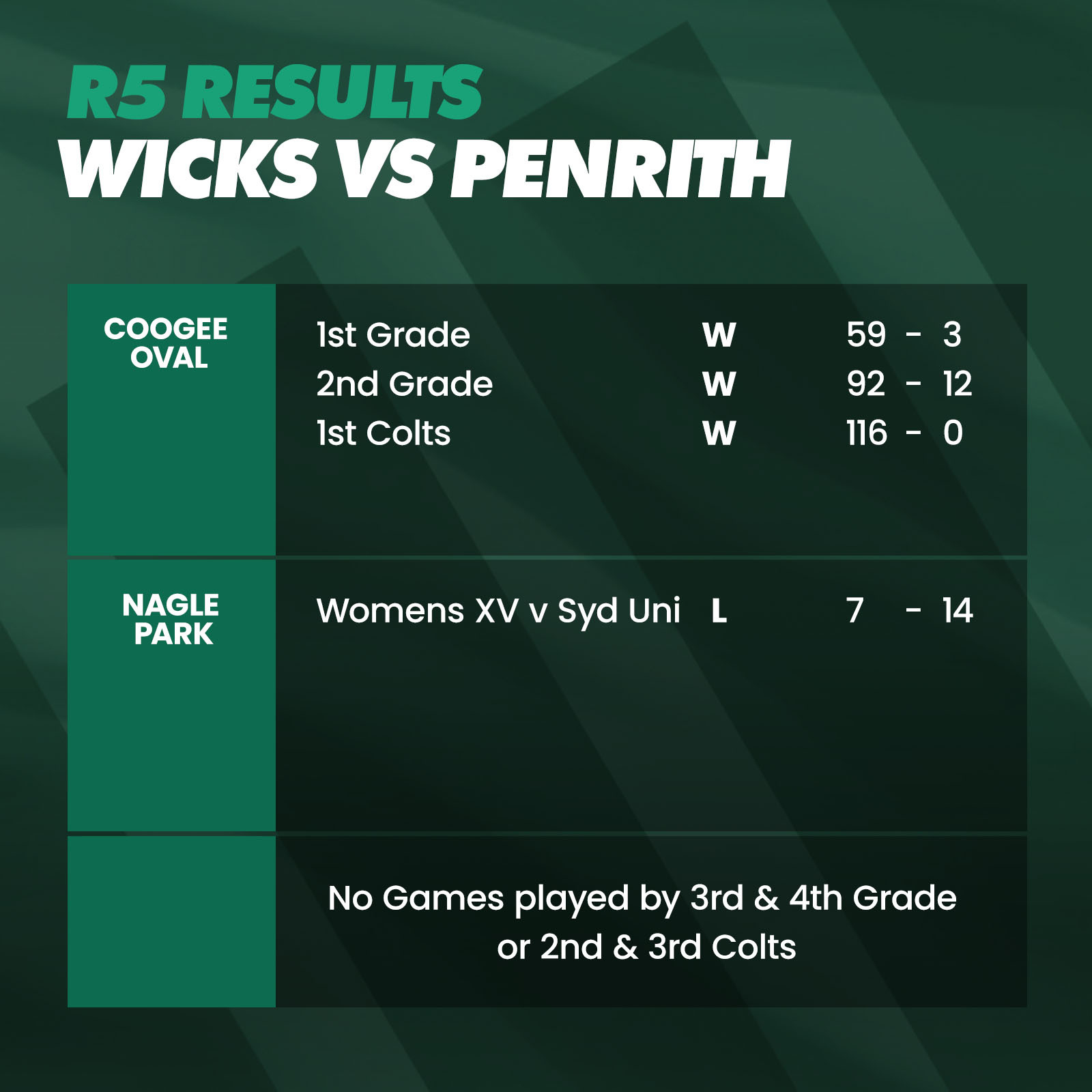 Coaches Corner
Morgan's Mail - Round 5 Club Review:
Another strong weekend for the club with the big 3 recording convincing victories over Penrith. All sides were as pleasing with the ball as without it, across the day against brave Penrith sides, who played the full 80 minutes in each match with intensity and effort.

3rds and 4ths without a game had a searching hit out Thursday night which concluded with Toby Browne and Dave Parsons turning back the clock in a traditional Thursday night touch game. An internal trial between 3rds and 4ths Colts kicked off Saturday's entertainment and will help both sides prepare for the consistent run of games to come.

Southern Districts, fresh off victories over Uni in 1s and 2s and undefeated so far this season, are ably led by former Randwick player and coach Todd Louden. They will provide our sternest test thus far in season 2020.

This weekend away at Forshaw Park we will see if the starch and style we have shown in patches can be produced for the full 80 minutes across our teams, as this is what will be required to achieve our desired results.

It was also great to get Ian 'Speed" Kennedy in to present our debutants their jerseys last Saturday at Coogee Oval, before the Penrith games and Alan 'Riff' Gaffney down from Terrigal on Monday night to do an attack training session with our best and brightest youngsters as part of the Rohrig EDP program we are running.

Culturally, we love having legends of our club back reconnecting with our players and coaches, plus we are blessed to have so many to call upon at Randwick to do so. I know the boys were suitably impressed having 'Speed' and 'Riff' in their midst and soaked up every ounce of their wisdom. Up the Wicks!

Morgan Turinui
Club Coach

B1's First Grade Review:

It's a tough ask to find and assemble a side to compete in the Shute Shield in just 8 weeks, therefore the Penrith coaching team of John Muggleton, Dan Geurs and Doug Ryan have done a fantastic job putting the Emu's together. Whilst they haven't won a game yet, there are positive signs about the talent and potential in their group, which was on clearly on display in the first half on Saturday.

I certainly believe they will roll a team or two before the year is out and that the Western Sydney derby in Round 8 with the Two Blues will be a cracker.

The Emus started really well on Saturday and we took a little while to adjust to their tactics, which saw them lead 3-0 after 25 minutes. They dictated terms early, being tactically very smart around set piece which foiled many of our opportunities to score and they also slowed the game right down to the pace they wanted to play at. Once we recognised and addressed those issues we kicked into gear, played some nice footy and were rewarded on the scoreboard.

It was good to welcome Tiaan Tauakipulu back into the fold and make his eagerly awaited debut for us, after being released from the Waratah bubble and he really benefited from some much-needed game time. Zac Carr was good in his first start for the year and Sam Croke had some nice touches in there as well, which led to both our tries just prior to halftime.

Our resident senior citizen, Adam Freier, came back from injury off the bench, for his third decade of representation in First Grade and put in a good shift. His experience is great for our group and he has an uncanny knack of being able to reconfigure his running lines without anyone noticing and so quickly arrive at the action - especially when there's a sniff of a try.

All in all, we were happy to get the 5 points and continue our solid start to the season with our 5th successive victory. We're looking forward to a much tougher challenge this weekend against Southern Districts, who chased down and beat a good University side in the 85th minute on Saturday. Our draw gets harder from here on, so it's time for our guys to show their wares against the better teams in the competition, so we can consolidate our position at the top end of the table. Up the Wicks!

Ben McCormack
1st Grade Head Coach
B2's Second Grade Review:
On a sensational winter day at Coogee Oval, 2nd grade produced a dominant 92-12 win over Penrith in Round 5.

The side scored 14 tries in total, with a hat-trick each to five-eighth Ben Starkey and winger Christian Yassmin, along with a double to back-rower Joe Feltis. Returning from injury, reserve back Lachlan Anderson slotted seven conversions (many impressively from the sideline) in the second half.

Whilst we'll take the positive for and against record, I think it's fair to say no one enjoys seeing teams beaten the way Penrith were on Saturday across the grades. It's sad to see the ladders in different competitions feature Penrith, West Harbour and Western Sydney Two Blues at the bottom, however, credit where credit is due - they continue to front up every week and try.

Let's hope for the future of our great game, decision-makers can be creative and invest out west, looking to unearth future stars and produce quality opposition that are competitive on a regular basis. For the moment though, we have Round 6 issues to address out South on Saturday at Forshaw. Up the Wicks!

Ben Rutherford
2nd Grade Head Coach

Coma's First Colts Prose:
Coogee Oval is a special place in the world and on Saturday for four young Randwick men, a dream came true. With great pride and excitement Zane Misios, Ben Zucchiatti, Luca Martin and David Tejcek all made their first-grade colts' debuts. What marked this special occasion was the jersey presentation to them by our Life Member and club legend, Ian 'Speed' Kennedy. All four names are worth marking down as players of the future.

The team had a clear game plan for our matchup against Penrith. We aimed to play to our standard and our focus points. It's truly a great pleasure to sit back and watch this group of young men work hard for each other and hold each other accountable for the Randwick style of play - ball in hand, play up-tempo and support your mate. Our attack took care of itself with our key focus was your defensive side of the ball.

Head coach Pete Dumbleton (the artist formerly known as 'The Professor') was as happy as an Irishman could be on St Patrick's Day, particularly with zero points scored against us. A lot can be learnt about a team with what they do without the ball in hand and their attitude to protecting and working hard for each other. This group is building in the right direction, but are still far from the finished product.

A tip of the hat must go to the lads from Penrith, who, despite the scoreboard ticking over at a rate of knots, never stopped trying and we would like to wish them well and encourage them for the rest of the season.

On a sad note, unfortunately Conor Molloy suffered a badly broken forearm during the game and was operated on last Saturday night. We sincerely thank Dr Wade Harper for prioritising him on his surgical list and our own Dr Paul for coordinating it all. We wish Conor a speedy recovery as he is a fine young man and will be a key member in the colt's program next season. Up the Wicks!

Nathan 'Coma' McMahon
First Colts Attack Coach
Pete's Colts Review:
While we celebrated a big win in firsts, our 2nd and 3rd Colts were left without a game last weekend, as Penrith can only field 1 team at colts' level. Therefore, we decided to pit both sides against each other, to ensure all our boys got a run and for these lads to have the privilege of playing on Coogee Oval.

Despite the internal nature of the contest, this did not detract from the level of competition and indeed the pace at which the game was played out. It gave all players a real opportunity to stake claims for future selection in higher grades and showcase their skill sets on a live stage and none of the early spectators into the ground would have been disappointed with what was displayed.

In a titanic battle, 2nd Colts finally got the chocolates, winning by the narrowest of margins, over the 3rds by 26-21.

The competition within this elite program was clearly evident throughout and selection headaches for the coaching staff have now greatly increased. We also sincerely thank Joel Ellis for his excellent refereeing of the game, despite not engineering a drawn result.

We look forward to our trip down south this weekend where all sides play in live matches.
Up the Wicks!

Peter Dumbleton
Colts Director
Fidel's Women's XV Review:
Well… just before we were so rudely interrupted after the Latham Park lights blew out on Saturday night, in front of the big crowd, 10 minutes in… we finally got to finish the replay of the replay of the Grand Final replay at Nagle Park last night.

It was billed as the Jack Scott Cup game of the year and it sure lived up to its lofty billing.

We started the match with some ill-discipline and an escalating penalty count against our forwards, gave Sydney Uni the bulk of possession and territory in the first 20 minutes. This pressure ultimately resulted in Uni scoring in the 22nd minute and taking a 7-nil lead.

Showing real grit and determination our Randwick girls fought hard, but without much ball, we just couldn't get our backline involved to the level we planned. Despite the big hint of a forward pass, Uni scored again on the stroke of at half time to take a decisive 14-0 lead into the break.

In the second half, our girls came out flying reverting back to what they know best - using their speed and skill to create a higher tempo game, that the bigger Uni team struggled to keep up with.

In sync, with our forwards beginning to dominate the exchanges in the middle and with more ball our backs started to flourish and create their usual havoc. After sustained pressure Eva Karpani scored n the 50th minute to make it 14-7 and with 20 mins to go, it was game on.

However, the reigning premiers held on in a nail-biting finale to the contest to hold us out and win. This was despite a colossal effort from our girls, which was beyond expectation, considering we were missing four starting forwards, Aaliyah Fa'amausili, Ryshe Fa'amausili and Moniqca Mo'ale and Rhiannon Byers to injury. Our young bench that covered for them, showed huge determination and ability, but were up against a very well drilled and vastly more experienced Sydney Uni team.

There is not much doubt that these two great rivals will face off again at the business end of the season. I'm sure our girls will have gained so much confidence last night, which will help us turn the tables on them next time we do battle. Up the Wicks!

Fidel Tukel
Randwick Magic Co-Coach
Community Corner
The King's Missing Hall of Fame Jersey
Following on from our yarn last week on the belated presentation of 'Randwick Hall of Fame Jersey' to Johnny Brass from a decade earlier, I also received the following letter from Simon of Coogee who is looking to be reunited with his hard earnt one as well.

Looks like another RHOFJ cold case investigation is in order….

Dear Mark,

Your excellent piece last week on the Johnny Brass "Randwick Hall of Fame" framed jersey reunion reminded me of my search for my own "Randwick Hall of Fame" framed jersey.

To cut a long story short, after being approached to do so, I donated it to the Coogee Surf Life Saving Club many years ago, to be displayed in the clubhouse, but it never was and now the jersey has gone missing in action.

I am still making enquiries with the the surf club, but I would appreciate you asking if anyone else has any clues where my jersey resides now? I would obviously love to get it back!

Cheers
Simon Poidevin

So, we have the King's Speech sorted, but can anyone help us now with the King's Jersey!
If you have any information please let us know by emailing Wickstoppers here.
'Bowie's' Mullet for Mental Health Crusade.
We wish to draw your full attention to our club legend's Matt "Bowie" Bowman's quest to raise $2,500 for the Black Dog Institute – specifically to help reduce the level of suicide in Australia which are growing at alarming rates.

For those not aware 'Bowie' was an uncompromising prop, famously scored the last-minute match winning try in the 2000 Grand Final against Uni and is also our much loved and long-serving club scrum/forwards coach – so if he is calling us to support him, then we should, particularly for such a worthy cause.

Those fabled Game of Throne style locks of his will soon be fashioned into a mullet – as part of Black Dog Institute's Mullets for Mental Health, challenge so please read his personal motivation for doing so.

Hi all,

As a PE teacher and football coach there have been many occasions I have regurgitated the sad statistic of how many Australians a day take their life. It used to be 6. Shifted to 7. Now it's 8.

This gentle creep has gone about almost silently and this is why I'm taking part in the Black Dog Institute's Mullets for Mental Health. Surely, we can't sit around and accept that soon the statistic we will hear will be 9 or 10 lives lost a day.

The time to talk and raise awareness is now. So, on the 31st of August I will be sculpting my long locks into an absolutely hideous mullet. I will adorn this thing of beauty for the month of September to raise money and show our support for mental health research.

Please donate and support my mullet and empower everyone in Australia to look after their mental health. Thanks in advance and thanks for continuing the conversation that could not only help, but most importantly also save lives.

Regards.
Matt Bowman

It's another example of the excellent work being done in our community by Randwick Rugby folks, so to support Matt's Mullet Crusade and sponsor him click here to do so.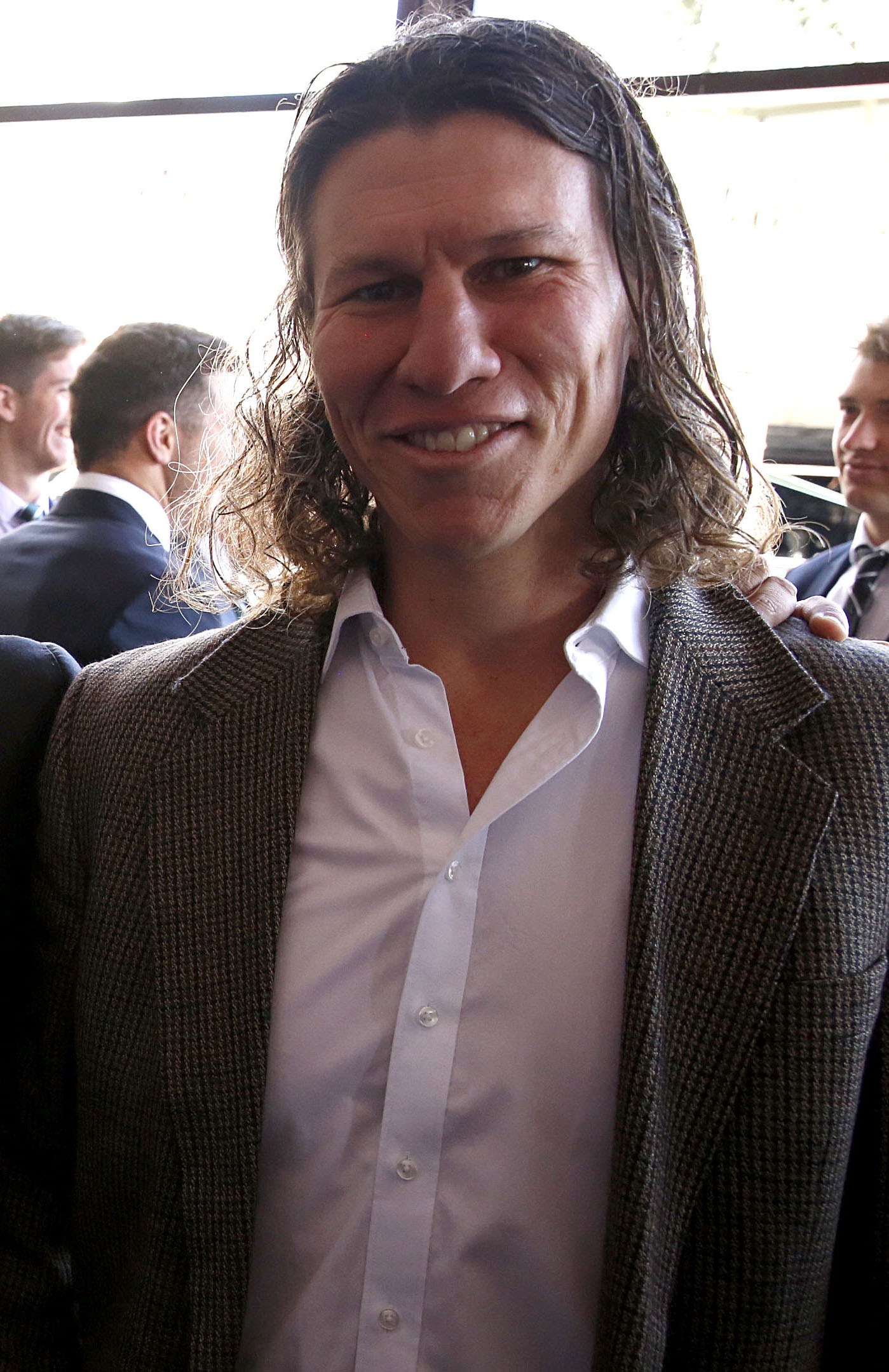 Our Retro Jerseys are Making the News!
Our Retro Jerseys are so popular they have even made the Daily Telegraph today, as can be seen by the image of Sam and Julia below.

We have a very limited number of these hot fashion items left online so click here to visit 'The Wick's Shop' today to ensure that you do not miss out!
Blood Donation Challenge - Randwick vs Easts.
Randwick Rugby are proud to be part of Lifeblood Teams, the group blood donation program from Australian Red Cross Lifeblood, and right now, our Randwick donor team needs your help.

As you know Easts challenged us to see who can save the most lives – simply by donating blood. We have accepted the bait and it has set the stage for the Battle of the East blood drive, which will run until to October 10.

Sadly, as of today Easts are beating us 24-12 in a combination of whole blood and plasma donations! DOH! However, the positive news is that approximately 108 lives would have been saved as a result of this donation from both clubs which is the primary motivation for us all doing so.

The bad news is that we haven't progressed from our total last week – so come on Wicks – let's get around this. We want to beat Easts at every opportunity, so we urge all and any Randwick player, official, volunteer or supporter to get involved too and donate blood here.

To book a time for your donation visit www.donateblood.com.au

Fixtures and Tickets Details for this Saturday, August 22
Forshaw Rugby Park fixture times are below, unfortunately there are no tickets left for sale for these fixtures. We are very sorry, but please understand it's completely out of our control.

Field 1 (Main)
1st Grade v Southern Districts - 3.00 pm
2nd Grade v Southern Districts - 1.25 pm
1st Colts v Southern Districts - 11.50 am
3rd Grade v Southern Districts - 10.25 am
4th Grade v Southern Districts - 9.10 am
Field 2 (No tickets required)
2nd Colts v Southern Districts - 9.10 am
3rd Colts v Southern Districts - 10.25 am
Our Womens XV Team have a BYE this weekend.
Good luck to all our teams on Saturday. Up the Wicks!