Round 4 Wrap Up
Results, Reports & Highlights
Well, it was an interesting week with COVID-19 rearing its ugly head again and forcing the late cancellation of our 4 lower grade games against Sydney Uni last Saturday, after Uni advised that a dozen of their players were forced into self-isolation and mandatory testing after being in a COVID hotspot venue.

It was obviously disappointing for those teams to miss out on playing, but in the current environment it's simply not a risk that can be or is worth taking. We understand all those boys have subsequently proven negative which is a relief for all concerned.

Our 1st & 2nd Grade and 1st Colts teams were unaffected by this and their matches against West Harbour proceeded as programmed. We had another successful day in the office and all 3 sides maintained their undefeated record for the season. First Grade are on track for their best start to season in recent memory and will be aiming for 5 in a row against Penrith on Saturday at home.

Wests have proven to be one of our bogey sides over the years, so whilst slightly disappointed we didn't score a fourth try and earn a bonus point, we were grateful to win a tough match 22 nil and accept the Suttons City Motor Cup for the first time from our generous and loyal sponsor Suttons.

Pat Borg was on deck from Suttons presenting us the cup as my astrologist fearlessly predicted. He was also at his diplomatic best as the sponsor of both clubs, trying to feign sympathy to Wests.

The juggernaut that is our women's team continued on with a big win over Easts on Saturday night and then finishing runner up in Round 2 of the Shute Shield 7's tournament on Sunday. They take on Sydney Uni next Saturday night at Latham in the 2019 Grand Final replay.

Early last week we welcomed back some famous old Wicks to teach the next generation of talent who are part of our Elite Development Program, the dark arts of their respective positions. This program is completely funded by our sponsor Rohrig Construction and the very generous support of Glenn Rohrig.

It was great to see Matt Bowman, Pat Phibbs, Mark Giacheri, Steve Holies, Adan Freier (soon to be retired... yet again!) Glen Ella and Morgan taking time out to coach our best and brightest in the Rohrig EDP and also give them a true sense of the history and essence of Randwick Rugby.

This week we return to Coogee Oval for our Round 5 fixture against Penrith. Aside from our season ticket holders, life members and sponsors who are guaranteed entry, sadly we only have Council approval to sell a further 400 tickets for this match - which must be pre-purchased online.

If you would like to go please click here to purchase your ticket online and I would advise you do so ASAP if you don't want to miss out. Unfortunately, with COVID induced council limitations on crowd capacity at Coogee Oval, it's a case of first in best dressed and we can't sell any tickets at the gate.

Read on to see all the full results, coaches match reviews, community corner, a tribute to the late Dick Tooth, the story of John Brass's missing jersey and more ticket purchase information for Round 5 at Coogee.

Up the Wicks!


Mark Harrison
General Manager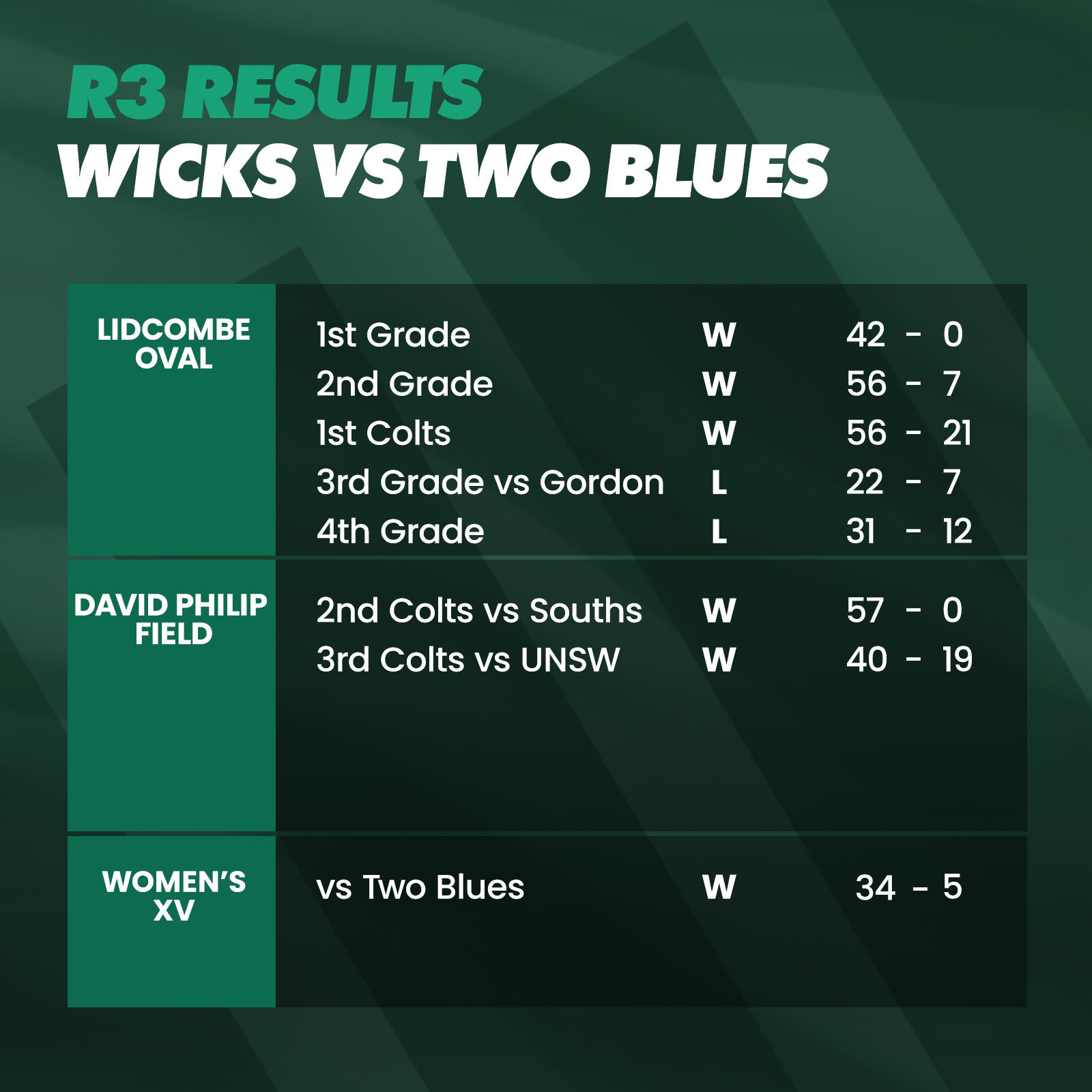 Coaches Corner
Morgan's Mail - Round 4 Club Review:
Well it was another challenging weekend in trying to provide opportunities for all 7 of our teams to play rugby.

We unfortunately had to cancel the Sydney University lower grade games scheduled for last Saturday due to a significant COVID-19 scare at Uni last Friday, In the end, Mark and I made the call, in consultation with the RA chief medical officer, that our players, staff and spectators safety trumps all and no risks would be taken.

Satisfyingly, our 3 teams that did play 1s, 2s and 1st Colts were all successful against West Harbour. All three head coaches, the two Ben's (B1 & B2) and Peter have identified some critical areas that will require improvement and they will need to be, if we are to be a real force in this competition, when the whips are really cracking.

Our Magic girls continued on their merry way with yet another strong performance against Easts and ran out impressive winners after a dominant first half.

In Round 5 we return to Coogee Oval this Saturday against Penrith for those same teams, while our 2nd & 3rd Colts will play an internal trial, but 3rd and 4th Grade will have the day off. From Round 6 onwards we play opponents who either have a majority of or a full complement of 7 teams, which will make life easier and the rugby more meaningful for all players and coaches.

Being undefeated so far in 1's, 2's and 1st Colts means the expected level of performance needs to be raised again and it is important that we measure ourselves against our agreed benchmarks, no matter who our opponents are.

We look forward to seeing you down at Coogee Oval this Saturday for the Penrith games or up at Latham to watch girls in their grand final replay against Uni.

Up the Wicks!

Morgan Turinui
Club Coach

B1's First Grade Review:

Drummoyne Oval provided a beautiful backdrop for a game of footy against West Harbour. Our lads came into the match confident, but also very aware that whilst the Pirates are yet to register a win they had a number of talented players in their roster, so we would need to play well to get the job done. Wests are also home to a number of ex-Wicks players, who had a point to prove playing us, which added some spice to the contest.

The first half was promising with some clinical play. After a well-executed set piece and multiple phases by the forward pack to get us within meters of the line, halfback Tyzac Jordan slipped a nice pass from the base of the ruck to winger Dylan Pietsch who finished the try in the corner. Not long after with West Harbour trying to run the ball out of their own half, David Horwitz firstly plucked an intercept and ran 30 for our second try and then kicked a penalty goal to take us to oranges up 17-0.

The second half was a tough slog, both teams playing an expansive game at times either to be foiled by last pass execution or scrambling defence. Another Wicks try was scored by Triston Reilly on the opposite wing but was again a result of the hard graft of the pack before a slick release of hands in the backline. West Harbour then brought on ex Super Rugby and current Japanese contracted fullback Jack Debrazini and they threw caution to the wind in an effort to chase down the lead, throwing the ball from edge to edge, offloading and testing our resolve. But our defence blitzed and scrambled too well for them in the end, keeping them scoreless.

Dylan Pietsch was again a standout and player voted MVP on the right wing, with some great plays on both sides of the ball and many bone rattling hits leaving some pirates very sore and sorry. Our skipper Nathan Den Hoedt and lock Tom Piroddi put in high quality knocks doing much of the grunt work in the middle and Simon Kennewell was impressive at outside centre.

We took another small step forward and there were some pleasing aspects of our game this week, however there is still plenty to work on and improve as we strive for more complete performances.

However, 4 wins from 4 so far is a great start and we look forward to improving our record further against the mountain men from Penrith on Saturday at home.

Up the Wicks!

Ben McCormack
1st Grade Head Coach
B2's Second Grade Review:
A change of scenery from the traditional Concord Oval to Taplin Park at Drummoyne Bay didn't distract 2nd grade from a comprehensive 41-10 victory over West Harbour.

Challenged to play an up-tempo, attacking style of footy - the team responded well scoring some great team tries and produced a rock-solid defensive effort to lead 24-0 at half time.

The second half saw a drop in intensity and execution but some strong scrambling defence. Two soft West Harbour tries was disappointing but the good guys scored three more to seal the deal and a bonus-point win with zero injuries. The focus now shifts to Penrith at Coogee Oval on Saturday.

Sadly, we farewell our very popular hooker Hugo Camp who is returning back home to France after being offered a professional contract there. We wish him well and will miss him on and off the field. Bonne chance et adieu Hugo et up les mèches !

Up the Wicks!
Ben Rutherford
2nd Grade Head Coach

Pete's First Colts Review:
After the disappointment of the Uni games being cancelled late on Friday, this left only our 1st Colts' team fly the flag last Saturday. We made the journey to picturesque Drummoyne to face off against the Pirates, with our build-up focused on combating a fast starting and hard-hitting opponent and West Harbour did not disappoint on that front.

Our first try went to winger Matt Dutaillis, who scorched the turf to score untouched in the corner. However West Harbour hit back almost immediately, and this continued to be the scoring pattern for the rest of the first half, with both teams going toe to toe on the scoreboard. Despite Aston Vaiotu and Hugo Dempsey also scoring we were behind 19-17, the strong winds blowing off the Parramatta River making it very difficult for goal kicking, but then two late tries to Max Moore and Connor Molloy gave us a 29-19 lead at the break.

The forwards really begun to take control in the second half and really went to work at scrum time, creating two early tries – one being a penalty try. This dominance really helped us open up in attack.

The boys relished the opportunity to defend on their line and then throw the ball around when they finally got their chance, in the end running away with the game. The second half tries belonged to Max Moore, The Front Row and Hugo Dempsey and in all honesty many more opportunities to do so were left out there, due to some poor finishing courtesy of ordinary last pass executions.

The Colts look forward to getting back to Coogee Oval on Saturday to face the Penrith Emus, who have turned a few heads in their return to the Shute Shield. 1st Colts will be looking to add to our unbeaten start and thrill the crowd at the best rugby ground in Sydney, with our brand of attacking rugby. We hope to see you there!

Up the Wicks!

Peter Dumbleton
Colts Director
Fidel's Women's XV Review:
Our Jack Scott Cup Randwick Magic girls made it 3 from 3 in 2020 after they tactically dismantled last year's Semi Finalists Eastern Suburbs 45-15, in front of a huge crowd under lights at Woollahra Oval.

With 3 debutants, including Australian 7s Olympic gold medal winning captain Shannon Parry, our girls put on a masterclass against a very strong and seasoned Easts team. With an early double to the form back rower in the competition, 17-year-old Ryshe Fa'amausili and some great kicking and passing from our Randwick backline, the girls led 38-0 at the break.

Easts started to find a bit of form in the mid sections of the second half, but when Wallaroo prop Eva Karpani broke the line to score, she put the final nail in the coffin.

Unfortunately, the great win was overshadowed by a sickening head knock to our winger Zali Dymock, resulting in a very serious concussion, which ended the game prematurely. Zali has since progressed well after observation and our best wishes go to one of our finest young players for a speedy recovery. We sincerely thank Easts for their medical assistance in attending to Zali initially at the ground.

This week we face Sydney Uni at Latham Park in the top of the table clash and a replay of last year's Grand Final replay. Both teams are undefeated this season, in what it is sure to be the game of the year in the Jack Scott Cup. (Sounds like a promoter's dream Fidel!)

On Sunday and in the most atrocious weather conditions possible, we backed up and ventured down south to Forshaw Park, for the 2nd Round of the Shute Shield 7s competition.

Starting the day with a squad of 14 players, a terrible run of injuries saw only 8 girls remaining for the final. Unfortunately, the most serious being an ACL rupture to our 7s vice-captain and stalwart of the women's program since day 1, Montana Walters, which will end her season. Our thoughts are with you "Monty".

Despite all of these setbacks we somehow still made the final against Southern Districts, but paid the price with a lack of bench players seeing us lose 14-0 to the hosts, who we congratulate for taking out Round 2. Round 3 will be held in two weeks at Shalvey Park.

Up the Wicks!

Fidel Tukel
Randwick Magic Coach
Community Corner
Vale - Richard 'Dick' Tooth
Former Wallaby captain, Waratah, Galloping Green, all-round sportsman, pioneering orthopaedic surgeon and devoted family man, Dr Richard 'Dick' Tooth, died on Wednesday evening aged 90.

Originally from Bombala and then a product of Newcastle Boys High School, Dick was awarded an academic scholarship to study Medicine at Sydney University. He played rugby for Uni for many years, until seeing the myrtle green light and joining Randwick in 1956. He was already a Wallaby by then, but played 19 First Grade games for us in his two seasons at Coogee and was our captain in 1957.

Dick was selected for NSW in 1950 and for Australia in 1951, becoming the 383rd Wallaby in the process. He went on to play 10 Test matches and was captain twice, both against the All Blacks in 1957, making him the 41st Wallaby test captain.

One of rugby's greatest mysteries is why, as the incumbent Australian captain, he was not selected in the 27-man Wallaby tour of Britain, Ireland and France in 1957. His omission was and to this day is gobsmacking, considering his utility value as a five-eighth, centre and fullback.

He moved to Britain to further his medical career, playing First Division in England and Northern Ireland, before returning to Australia to coach at Uni. He became a pioneer in Orthopaedic Surgery and was instrumental in the development of less intrusive arthroscopic surgery in Australia.
Most notably, Dick also performed the first ever full knee reconstruction in NSW on a famous rugby league international, Johnny Greaves. He also operated on Australian soccer legend, Johnny Warren enabling him to continue playing and captain the Socceroos into the 1974 World Cup.

Dick was also a single figure golfer, an A-grade tennis player, represented NSW in surf lifesaving and squash. He was also a Sydney-Hobart sailor as well as being an accomplished pilot. It seems there was absolutely nothing this man couldn't do – he was straight out of the Boys Own Manual!

Dick was revered by his former teammates in both sport and medicine and will be sadly missed.

Despite his considerable talents and success, Dick was reputed to be an extremely humble man and is undoubtedly one of the great Australians, who has left an amazing legacy.

Our deepest condolences go to his wife Marianne and his children Robyn, Chris, Liane and Kate who were at his Hunters Hill bedside with him when he passed away peacefully.

RIP Dick. God bless you, your family and many friends.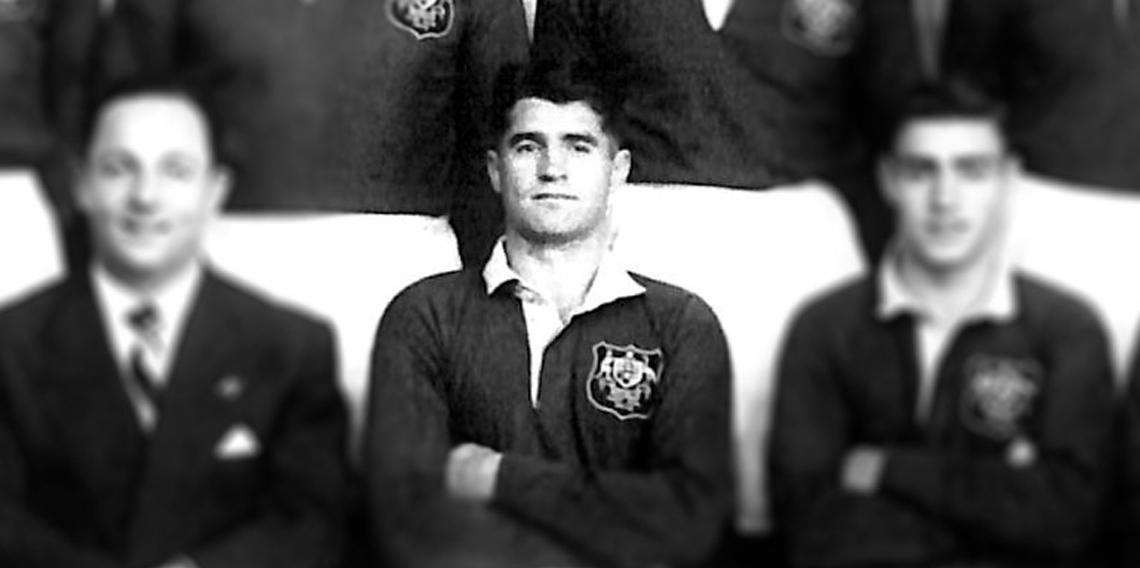 John Brass - Hall of Fame Jersey Finally Goes Home
When I first started in the GM role at Randwick, I wondered why there was an enormous framed jersey in our humble office at Coogee Oval, stationed just above my head. On closer inspection it was the Randwick Hall of Fame jersey for the legendary John Brass.

For context John was selected as the inside centre in the Original Randwick Hall of Fame team that was announced at a gala lunch held at the Hilton Hotel Sydney in 2010.

Due to some breakdown in communication he was unable to attend the lunch as he lived in Queensland and then inexplicably he was never presented the framed jersey, that went to all members of that illustrious team.

Fast forward to Jeffrey Leonard Sayle's wake almost a decade later and John approached me and politely enquired if I knew the whereabouts of his jersey. Funny you should mention that John I said, I did exactly know where it was currently residing and how about we present it to you at the first home game at Coogee in the 2020 season.

Over a couple of beers at the Coogee Bay Hotel that day, a plan was hatched and then COVID came along and scuttled it all. I spoke to John again a few weeks back, locked down in Queensland and he asked if his daughter Nikki could come down and pick it up on his behalf instead.

So, on Tuesday we finally presented a very proud Nikki, her dad's framed Hall of Fame Jersey at Coogee Oval, 10 years after the event, as can be seen in the photo below.

Belated congratulations John Brass – Hall of Famer for both Randwick Rugby and the Eastern Suburbs Roosters and a dual international. Up the Wicks!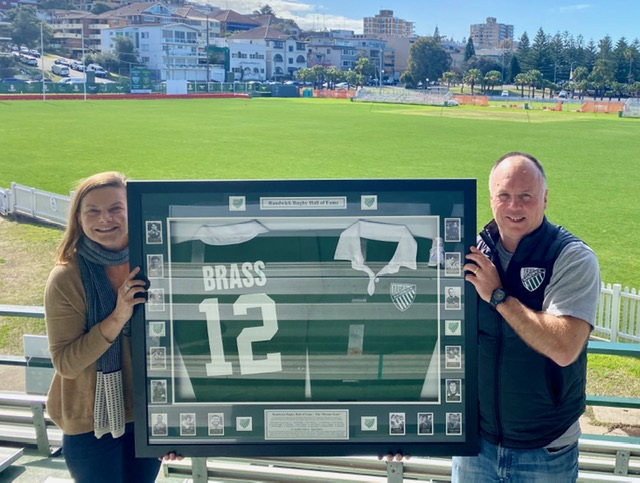 Blood Donation Challenge - Randwick vs Easts.
Randwick Rugby are proud to be part of Lifeblood Teams, the group blood donation program from Australian Red Cross Lifeblood, and right now, our Randwick donor team needs your help.

As you know Easts challenged us to see who can save the most lives – simply by donating blood. We have accepted the bait and it has set the stage for the Battle of the East blood drive, which will run until October 10.

Sadly, as of today Easts are beating us 19-12 in a combination of whole blood and plasma donations! DOH! However, the positive news is that approximately 93 lives would have been saved as a result of this donation from both clubs, which is the primary motivation for us all doing so.

However, we want to beat Easts at every opportunity so we urge any Randwick player, official, volunteer or supporter to get involved too and donate blood – we need you.

To book a time for your donation visit www.donateblood.com.au

Fixtures and Tickets Details for this Saturday, August 15
Coogee Oval match times are as listed below, for games against Penrith this Saturday in 1st & 2nd Grade & 1st Colts. Unfortunately, Penrith do not field teams in any other grades.

Aside from our season ticket holders, life members and sponsors, we only have Randwick Council approval to sell a further 400 tickets for this match - which ALL need to be pre-purchased online.

Please note tickets will not be sold at the ground on the day.

Please click here to purchase your tickets!

Coogee Oval Schedule
1st Grade vs Penrith - 3.00 pm
2nd Grade vs Penrith - 1.25 pm
1st Colts vs Penrith - 11.50 am
Latham Park
Women's XV vs Sydney University - 6.00 pm
Good luck to all our teams on Saturday. Up the Wicks!