Round 3 Wrap Up
Results, Reports & Highlights
Well it was another pleasing weekend on the field for the Wicks with 6 wins out of 8 matches playing 4 different opponents - Two Blues, Gordon, Souths & UNSW.

Currently we head the Shute Shield First Grade standings and tie with Sydney Uni on the Club Championships table, which this year is based on 1st & 2nd Grade and 1st Colts only due to the interrupted season and not all clubs being able to field teams in all grades.

It's nice to be up there, but it's like getting excited with a lap to go of the Melbourne Cup (if there will be one this year...) with so much to play out on and off the field.

We thank Craig Morgan from the Two Blues for hosting us at Lidcombe on Saturday, including our 3rd Grade game against Gordon and for affording Jeffrey and Changa a minute's silence before the main game. It was both touching and greatly appreciated.

We also thank our long-term partner UNSW for hosting two of our Colts games at David Phillips Field at Daceyville. This year it is a struggle to get our lower grades on the field each week, particularly early in the draw for us when we play clubs without a full compliment of teams, so we got 2nd Colts a game against Souths and 3rd Colts pitted up against an older UNSW side.

I also saw a really impressive performance by our Women's 1st Grade XV team against a gigantic Two Blues team on Saturday night, with many players backing up in Round 1 of the Shute Shield 7's tournament on Sunday and were undefeated in the 5 matches they played. There is no doubting the skill, toughness and durability of our Magic girls.

This week we only have 3 opponents – our primary one is West Harbour for 1st, 2nd Grade and 1st Colts at Drummoyne, but as they don't have any other teams, the rest our lads will be playing Sydney Uni at Uni. The girls are on the night shift at Woollahra against Easts.

As both West Harbour and Randwick are generously sponsored by Suttons City – in fact as you all know they are our much-loved major sponsor and have been so for over 5 years now – the First-Grade teams will be doing battle for the Sutton City Cup.

Apparently, we haven't won it, but that will change on Saturday. Nick Fraad and Pat Borg are already excited at the prospect of presenting it to us, so my astrologist told me.

West Harbour have kindly released a limited amount of tickets for our supporters to attend this match – so if you want to be there to see us go for 4 wins in a row, then click here to pre-purchase your ticket online.

Read on to see the full results, the coaches match reviews, our community corner, this weekend's draw and further ticket purchase information.

Up the Wicks!


Mark Harrison
General Manager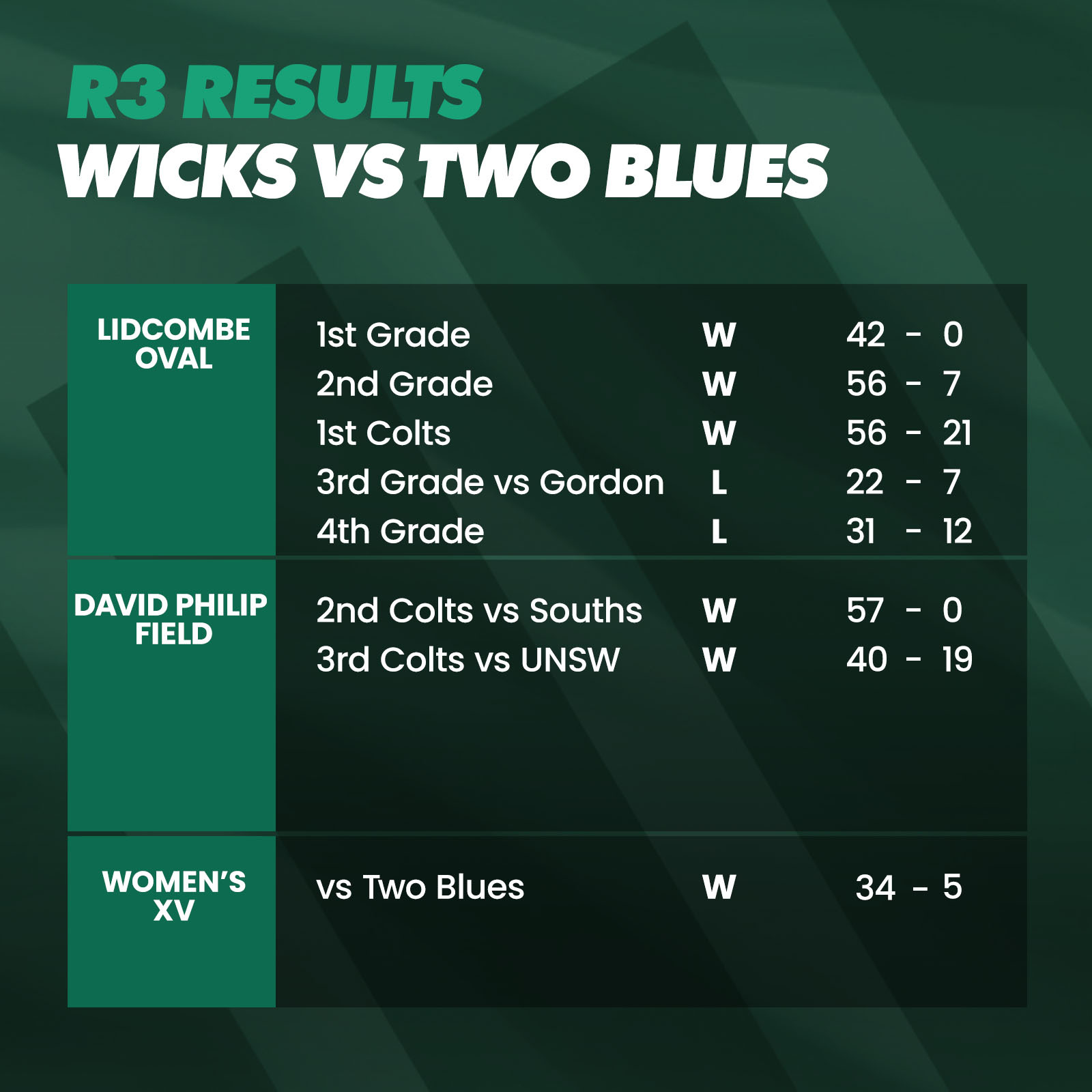 Coaches Corner
Morgan's Mail - Round 3 Club Review:
There were mixed results in last weekend's fixtures vs Western Sydney Two Blues.

Plus, there were significant logistical issues involving 2nds and 3rds Colts playing separately to 1st Colts and 3rd Grade playing Gordon at Lidcombe Oval, but before 4th Grade and everyone else that played the Two Blues there. Confused?

3rd Grade went down to a well drilled Highlanders team in a match that unearthed some key areas of improvement to focus on for the Grant/Parsons/Browne coaching triumvirate.

4th Grade lost to a high quality Two Blues outfit that included half a dozen former first graders and ex- Wallaby Tatafu Polota-Nau no less – it was akin to a maiden racehorse taking on Winx at level weights in terms of the class and experience difference. This match was a good measure of where the 4s will need to be by the end of the season.

2nd Grade were the best performed men's team on the day dominating all facets of the game for an impressive and confidence building 49-point victory.

1st Grade's game of two halves achieved the 5 competition points we were after. An underwhelming first half was superseded by a flurry of points in the second stanza with some excellent long range tries and skills exhibited. They continue their search for consistent, disciplined performances, but there is quality across the board in the rugby they and the coaching staff are producing.

Our Women's XV rounded off the day with an imperious display of powerful, running rugby to great support with the undoubted highlight being 5 blistering tries to Bienne "BB' Terita – who is still only 17 and runs like the wind. This is encouraging many of us, myself included, to plan for the mad dash across town this Saturday evening from Drummoyne Oval, to see them play our mortal enemy Easts at Woollahra at 4:50pm.

Much thanks to the Western Sydney Club for hosting the Gordon game and their touching minutes silence for Chang and Sayley before 1st Grade kick-off. It was a gesture that was much appreciated and encapsulates the great respect between our two clubs.

Up the Wicks!

Morgan Turinui
Club Coach

Ben's First Grade Review:
We headed west on Saturday expecting an ambush. Envisioning scenes from the late 70's and early 80's when the rough and tough Western Suburbs Magpies league team made a name for themselves by terrorising and ambushing their opposition at Lidcombe Oval, fired up by a pre-match face slapping ritual made famous by legendary characters such as Roy Masters and Tommy Raudonikis.

With former Randwick 2nd Grade Coach, Joel Rivers now at the helm, the Two Blues did not let us down. Unfortunately, whilst we knew it was coming, we were unable to rise to the occasion in the opening exchanges, with the Two Blues out enthusing us in all aspects for the first 30 minutes of the match. If we were really honest the nil all half-time score line probably flattered the Myrtle Greens.

At oranges, after an honest appraisal (code for a decent spray Ben?) of our performance and a few tactical tweaks we challenged the group to show a sharp attitude adjustment. The lads responded as good teams should and in exhilarating fashion, ran in 42 unanswered points in a second half battering.

Strong performances from inside centre Kristian Jensen and tight head prop George 'agent zero' Hendry were pleasing to see; however, Dylan Pietsch was a unanimous choice as the players MVP. Dylan was outstanding on the right wing leading in both attack and defence, finishing with two tries.

Whilst 42-0 looks good on paper, we were far from impressive and need to keep our feet firmly on the ground. Plenty of hard work is in store over the coming weeks, to ensure we can build longer periods of concentration and applied pressure on our opponents.

Huge congratulations also go to Blaise Barnes and Ben Houston who made their First-Grade debuts for this famous club, coming off the bench on Saturday.

West Harbour will present a similar challenge this weekend - big and physical, they will look to take us on up front and rattle our cage. However, I am confident based on the key learnings from last Saturday that we will be ready to rumble from the start.

Up the Wicks!
Ben McCormack
1st Grade Head Coach
Pete's Colts Review:
Last Saturday, a schedule including a mixture of venues and 3 different opponents forced the brotherhood of Colts to undergo a Siamese-twin like separation.

The 1st Colts trekked up the Hume Highway to Lidcombe Oval for a date with the Two Blues, while on the other hand, our 2nds and 3rds stayed a tad closer to the coast at Daceyville, where they took on Southern Districts and UNSW respectively.

Due to a large injury list across the program, our 3rd Colts were always going to be up against it playing against an older UNSW side who were unbeaten in their opening 3 fixtures. This game also clearly displayed the great alliance that our club has with UNSW – without doubt the best university in Australia and we hope to have more opportunities to play their teams again soon. We also thank UNSW for generously hosting both our games at David Phillips Field and most particularly to Nick Sykes the president of UNSW Rugby who drove it all with our GM Mark.

On the field UNSW were indeed a strong outfit but the 3rd Colts boys were up to the challenge with a couple of classic tries from fullback convert, Gus Spence, backed up with strong performances in the engine room from Lachie Saar and Blayk Bragg.

2nd Colts then ran on and kept up our 100% strike rate with a comfortable 57-0-win against a spirited Souths team, who to be fair, were missing some personnel. The platform was again laid up front, with key performances from both William Dalton and Luke O' Shannessy. The backs added the finishing touches with Gerang Gerang - spotting his new dreads scoring two and Luca Martin notching up a hat-trick. Our expansive attacking game perfectly illustrated the brand of rugby Randwick is renowned for playing.

This week the stakes get higher for the 2s & 3s with a trip to Sydney University (not as good a campus as UNSW mind you...) and all hands will need to be on deck to take our nemesis on.

1st Colts had an early kick off at Lidcombe Oval, as the prelim match for 1st and 2nd Grade against a massively physical and unsurprisingly massive Two Blues side. There must be something in the water out there! However, we got off to an ideal start with our multi-phase attack reaping rewards and Nick Chan crossing after only 4 minutes. The Two Blues to their credit continually threatened in attack with their big bodies close to the ruck and displayed some dazzling off load skills out wide.

Superbly directed by our skipper Max Moore, the boys began to find their feet and then dominated the score board with 10 tries in total. Special mention goes to both Luke Hennessy and Oliver Ferguson, - both Randwick Juniors, who made their First Colts debut at hooker and wing respectively. Their village clubs and the Junior Academy would be very proud. We certainly are.

The First Colts green machine goes marching out to Drummoyne on Saturday with another testing fixture against West Harbour.

Up the Wicks!

Peter Dumbleton
Colts Director
Fidel's Women's XV Review:
It was a huge weekend for the Randwick Magic girls, who were undefeated in both their First Grade 15's match and in their 7's tournament assignment.

In the Jack Scott Cup, our Women's XV came up against easily the largest team in the competition - the Western Sydney Two Blues, but our much smaller girls really turned it on.

Still missing our captain Georgie Friedrichs and enforcer Waratah Aaliyah Fa'amausili, our girls were not fazed. After being stonewalled by some very strong defence from the Two Blues early in the game, Bella McKenzie instead opted to kick for space and had our 17-year-old Aussie Youth 7s superstar Bienne 'BB' Terita run the ball down and beat 2 defenders to run 60 metres for the opening try.

In a bruising first half our girls held out multiple raids from the Two Blues girls and kept them scoreless to go to the break 29-0 – the score not reflecting the intensity of the game.

In the second half the tempo slowed incredibly and with a large penalty count against us, we barely had any ball, but showed tremendous courage and toughness to restrict their big girls to only one try, despite them being camped on our line for long periods.

Bienne Terita crossed again for our only points in the half, giving her 5 tries for the night in a player of the match performance, in our 34-5 victory. Next week we travel to Woollahra Oval to play a very strong Eastern Suburbs team in Round 3.

Last Sunday, we then journeyed to Boronia Park, Hunters Hill, for Round 1 of the Shute Shield Women's 7s competition, which saw our very young, but very experienced 7s team win Division 1 comfortably. With Aussie 7s star Dominique Du Toit and captain Montana Walters driving us on, the Magic girls lived up to their name by going through the day undefeated and in the process taking down Easts, Manly, Sydney Uni and Souths.

This is truly an astonishing result considering the amount of professional Aussie 7s players the other teams had playing for them and the huge majority of our team being under the age of 18. Plus, most of the girls also backed up from the very physical battle against Two Blues the night prior. It was indeed a great weekend.

Fidel Tukel
Randwick Magic Coach
Community Corner
'Changa' Farewelled
Last Thursday many of Randwick's old guard gathered to farewell Terry 'Changa' McMahon at St Brigid's Church at Coogee. Many more would have come except for the COVID restrictions in place.

As a mark of respect, we put 'Changa's' photo up on the Coogee Oval scoreboard for the day and later in the afternoon a small group of his family and friends gathered in front of it toast his life. It was a beautiful day and a touching scene as the photo attests. RIP Changa.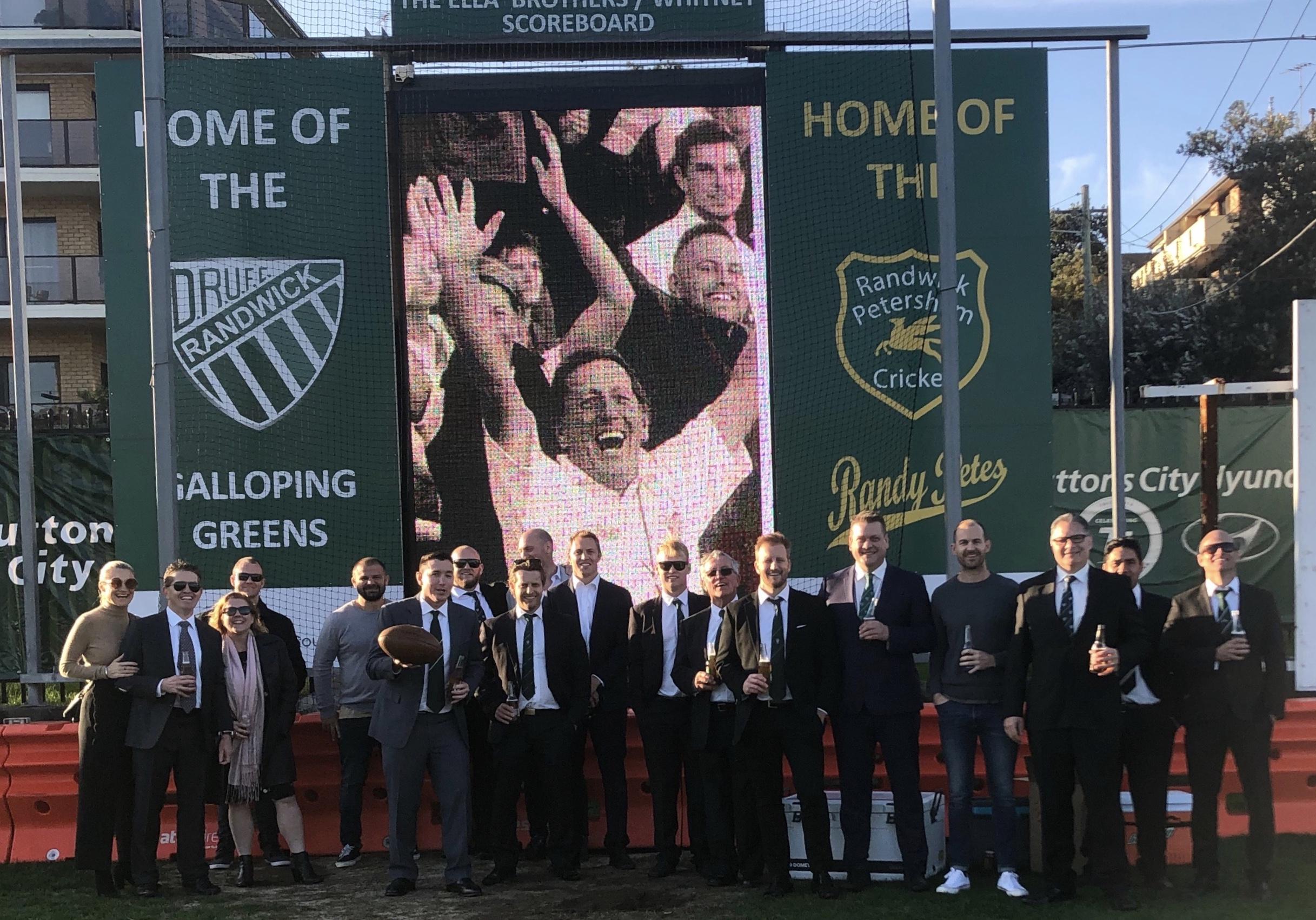 Blood Donation Challenge - Randwick vs Easts.
Randwick Rugby are proud to be part of Lifeblood Teams, the group blood donation program run by the Australian Red Cross, and right now, our donor team needs your help.

Easts Rugby have challenged us to see who can save the most lives – simply by donating blood. We have accepted the bait and it has set the stage for the Battle of the East blood drive, which will run from now until to October 10.

Our first-Grade hooker David Vea is the driving force of this and it provides yet another example of the positive impact our players make in the community and off the rugby paddock. It's a great cause and we tremendously proud of our boys for their initiative here.

Our Club Captain Nick Wilkinson even took one for the team by fainting while donating his – but what do you expect from an outside back! In late breaking news, even our Local Member for Coogee Marjorie O'Neil, is avoiding the parliamentary bloodshed in Macquarie St and has instead booked in to spill some claret, as part of the Randwick donor team!

Any Randwick player, official, volunteer, or supporter can get involved too and donate blood – plus we need all your help to beat the bloody Beasties!

To book a time for your donation and join our team visit www.donateblood.com.au

Dylan's Boots
Anyone that watched Randwick First Grade on Saturday would have been impressed by the performance of Dylan Pietsch and his incredible footwork. Dylan is a proud indigenous man and the story of his amazing football boot design had me intrigued. I would like to share his story with you with his permission..

"My boots were made by Jason Phillips and his family (Mandy, Eli, Ally & Millah) and are all about connection. My mob is the Narrung people and our totem is the Eastern Bearded Dragon.

My dreaming and birth is the Thiniwan in the sky (Emu in the Sky). The emu is in the Mirrabooka (Milky Way) this is where our old people are looking over us. The sides represent the Thiniwan walking toward the Eastern Bearded Dragon symbolising connection with family.

On the inside of the boot there is a symbol of family along with my family's names to keep them close and safe" Dylan concluded.

Randwick Rugby has had a long and proud association with indigenous players, which continues to this day. Our First-Grade team on the weekend, aside from Dylan consisted of a number talented first nation players including Maurice Longbottom, Triston Reilly, Locky Miller and Tyzac Jordan, plus, we have many more talented indigenous boys across the club in our colts and grade programs, who we love having at the Wicks.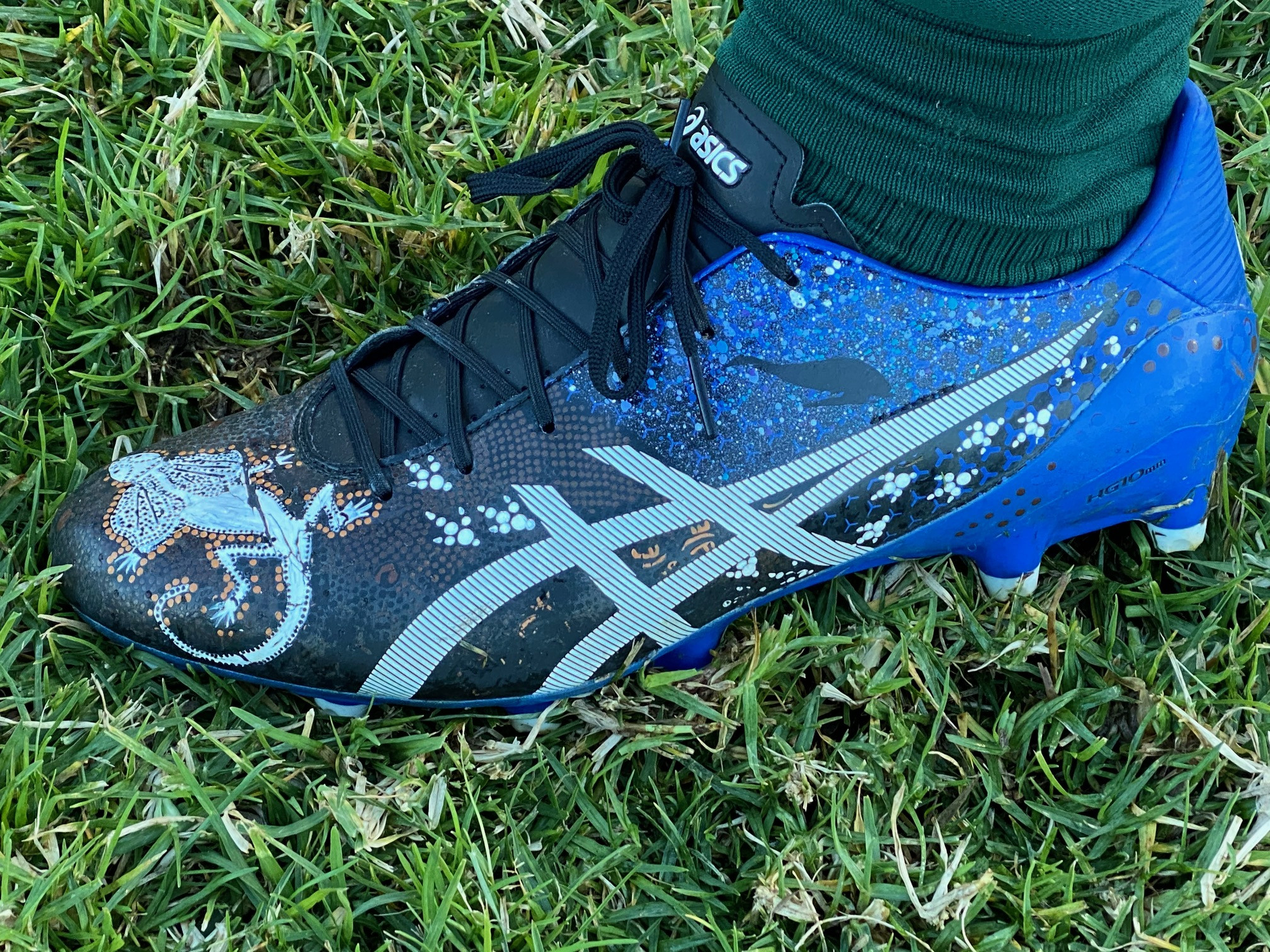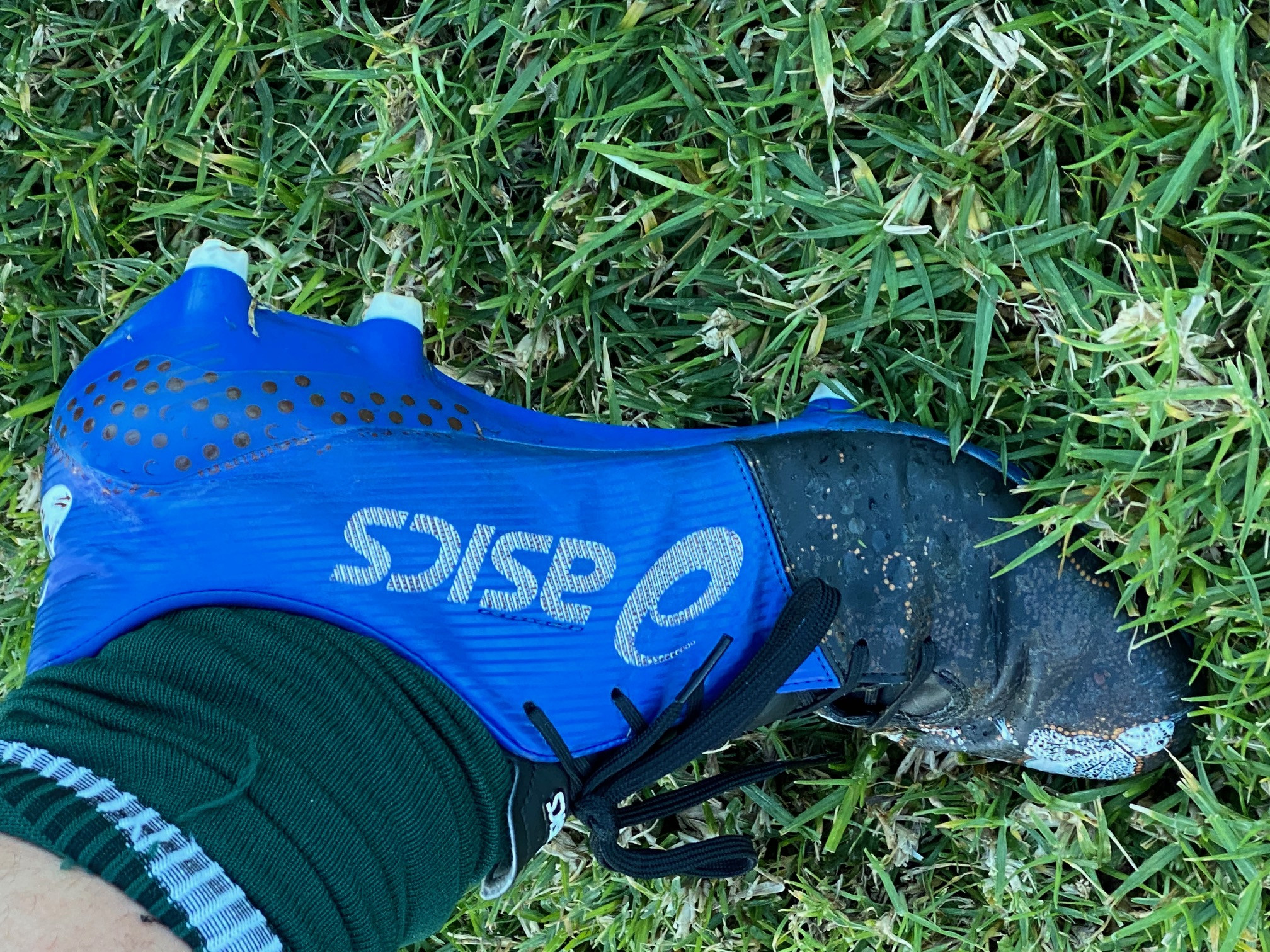 Fixtures and Tickets Details for this Saturday, August 8
Match times are as listed below and as you will see the boys are only forced to play 2 clubs this weekend – West Harbour in 1st & 2nd Grade & 1st Colts and Sydney Uni in the lower grades.

The Randwick Magic girls are up against Easts in the Woollahra Oval evening game.

Our primary Round 4 opponent is West Harbour at Drummoyne Oval and a limited number of tickets are available for sale on a first come first served basis by clicking here.

Randwick v West Harbour at Drummoyne Oval
1st Grade vs West Harbour - 3.00 pm
2nd Grade vs West Harbour - 1.25 pm
1st Colts vs West Harbour - 11.50 am
Randwick v Sydney University at Latham Park
4th Grade vs Sydney Uni - 9.40 am
3rd Grade vs Sydney Uni - 10.50 am
3rd Colts vs Sydney Uni - 12.15 pm
2nd Colts vs Sydney Uni - 1.30 pm
Randwick v Easts at Woollahra Oval
Women's XV vs Easts - 4.50 pm
Good luck to all our teams this weekend. Up the Wicks!