Your Galloping Greens had a successful return to Shute Shield competition last Saturday, winning 5 from 8 games we played against Warringah in Round 1, including a hard fought 22-15 victory in First Grade to retain the URM Cup that both clubs joust for. Plus, we had a very dominant win in 2nd Grade which augurs well for the Top Squad in the club.

Tuxy articulated last week, a belief we were ready and clearly, we were with 5 wins against a club the quality of the Rats at home, which is as tough a road trip as there is in rugby.

Bravo all, but we move on to the Hunter Wildfires in Round 2, in the spirit of 'you are only as good as your next game' we have to back it up. The Wildfires only field 3 teams - 1st, 2nd Grade and 1st Colts, so the rest of our boys get the Easter weekend off. Lucky them.

We also play Hunter on Good Friday (April 7) and ticketing details also follows in the update. If for some reason you have something better to do on Friday, than battling the Easter M1 traffic to support us, then don't worry the matches will be live-streamed either on Stan or NSW Rugby TV. Get your fish and chips and relax on the couch to catch the rugby.

There is much to cover off here with the return of Coaches Corner – with all the match reports and insight from our coaches on Round 1 Rats action, along Ric's fabulous pics!

Plus, it's not too late to get a SeasonTicket, with our first home game still a week away on April 15. They are selling briskly so click here to get yours. Also don't forget to get your supporters gear and myrtle green up for the season online at The Wicks Shop. The retro style corduroy caps are massively popular in the spirit of everything old is new again!

We also marvel at the amazing achievements of our partner in sport Coogee Surf Club at the Australian Surf Lifesaving Championships last week in Perth – across all disciplines and age groups they blitzed it. Plus, ditto to Wicks offspring Ali Day who retained his Open Australian Ironman title brilliantly for the third year in succession. Congrats Ali – his dad and former Wicks 200 gamer Ross 'The Animal' Day is very proud indeed.

There is plenty to see here this week, so read on and enjoy. We wish all our teams, players, coaches and staff all the very best in Round 2 vs the Wildfires.

For everyone else enjoy your Easter weekend break and time with your loved ones.

Up the Wicks!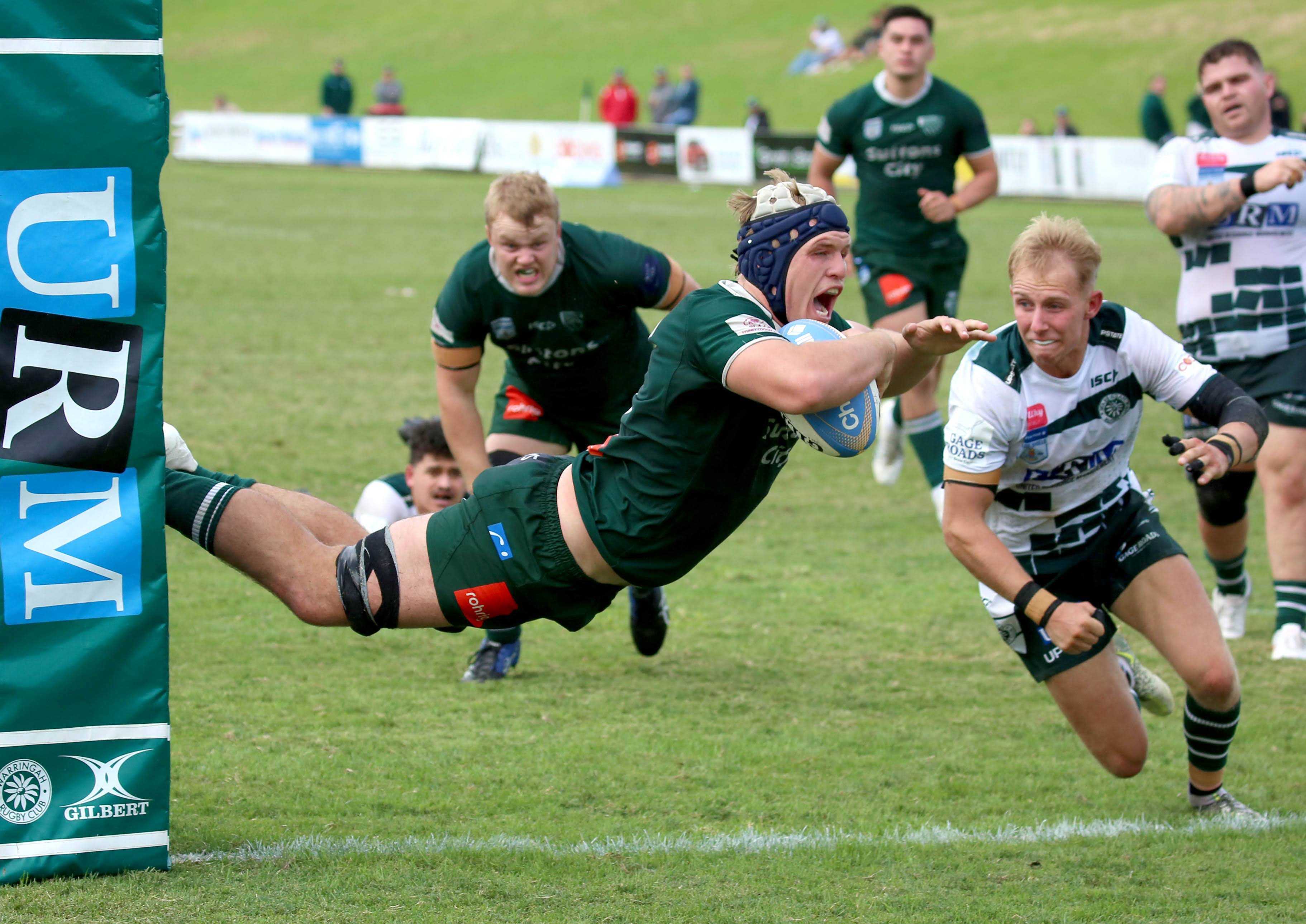 Coaches Corner
Hoilesy's - 1st Grade Report
An away game up at Rat Park has always been regarded as a very challenging road trip, so it's very pleasing to leave Pittwater with a win after a tough and physical encounter.
We had 11 players make their First Grade debut (9 starting and 2 off the bench) for us. Some of these new players have come from other parts of the world, while others have come through our junior pathways & academies, the Rohrig EDP and our colts' system. It is pleasing to see the variety of new players wearing the Myrtle Green.
That alone tells you we have lots of new faces at the club and the club has done well to build depth in key positions over the off season. The score line of 22-15 shows how tight the game was and at no stage do we ever feel like we had the game wrapped up. We continued to fight hard right up until the final whistle to secure the win.
So, while our attack may not have been flowing perfectly, we still created several opportunities, scoring 3 tries as well as having 3 tries disallowed. We are confident that if we keep working hard at training and in the next few games, that all these new combinations within our squad will soon click as the season unfolds.
Our set piece was put under huge pressure in the first half against a well drilled Rats pack so it was very pleasing that we managed turn that around late in the first half and maintain a solid and at times dominant platform for the second half. The most pleasing aspect of the day was the discipline and defence from all players.
We will need more of this again as we travel to Newcastle to face the Wildfires who are another tough physical side, full of confidence after a strong win over Manly in Round 1.
We look forward to the challenge on Good Friday. Up the Wicks!
Steve Hoiles
1st Grade Head Coach
The Wee Scotsman's - 2nd Grade Report
2nd Grade journeyed up to Warringah to take on the always formidable Rats with a new coaching cohort and many new faces pulling on the famous Randwick jersey for the first time. However, there was also a mix of experienced players who have been there and done that for us over many years, which naturally installed calm confidence in the group.

It was pleasing to see the players, captained by Tom Serhon, come out of the blocks fired up and adapting to the wet conditions well. Clinical kicking from Dylan Dowling, Alfie Orchard and Liam O'Connell created excellent opportunities for Randwick to build and capitalise on sustained pressure.

Our well-drilled pack also had multiple stand-out performances from Ben Paxton Hall, Max Moore and Ben Sugars, to name a few. All this synergy combined across the park saw us 29-0 up at halftime and well in control.

Our bench came into the game and also added continuity and pace to both attack and defence. Despite a couple of missed opportunities early in the 2nd half, we still ran out solid 39-12 victors and were happy to get maximum competition points.

Clearly it was a strong start, but the group is very much aware that we have plenty of growth in us and look forward to further demonstrating that point against Hunter this Friday. Up the Wicks!

Matthew Clark
2nd Grade Coach
The Hoyles not Hoiles - 3rd Grade Report
3rd Grade started the day well as the rain began to fall at Rat Park. An excellent clearing kick by Jack Harrison and a follow up clearance from Dom Moretti saw us move 90m down field and retain the ball which set up the first try of the game.

Unfortunately, this was our only try of the game and as the rain got heavier, we started making incorrect decisions and along with a few dubious referee decisions for both teams resulted in Rats getting the rub of the green. Full credit to them for capitalising on that and eventually running out 21-7 winners over us.

We know we have more in us and in an error ridden game it was a welcome wakeup call in how tough the opposition is going to be throughout the competition this season.

Some positive takeaways from the game were big defensive efforts from Louis Robinson and Ollie Smyth. We look forward to the week's break and the setting ourselves up for a big positive weekend against Norths in Round 3 at Coogee. Up the Wicks!

Rob Hoyles
3rd Grade Coach
The Chubbs - 4th Grade Report
After what has been a spirited preseason, there was a sense of excitement to finally get underway with Round 1 at Rat Park on Saturday against Warringah, and the privilege of being the first Randwick side to take the field to fight for competition points in 2023

One of the positives of playing pre-dawn at Warringah is the absence of the 100km southerly winds, famous for that part of the world. We lost the toss, and kicked off to apply early pressure.

We controlled the game well early however were unable to capitalise on a couple of scoring opportunities due to a spirited Rats defence or penalty. It was in the 12th minute that Lachie Anderson's anticipation and brilliance snagged an intercept pass and was off to the races to open our try scoring tally for 2023.

We continued to control the game well with strong carries from Will McDonald, and in the 25th minute Latu Sofele steamrolled the defence to score a long range run try, which took us to a 12-7 led into half time.

Our forward pack really took to Warringah in the second half with multiple strong carries from Will McDonald, Campbell Reid, and Ben Keogh, but the game was in the balance. Leading 15-14 with only seconds remaining, the Wicks forward pack showed what a Joe Picone coached scrum tends to do obliterating the Rats scrum, winning against the feed, (the by-product of pushing a scrum machine endlessly up a steep grass hill Chubbs?), then Ethan Cusick gliding through the Rats defence to score a late converted try.

This secured the mighty 4's a great 22-14 victory, with strong performances from Will McDonald, Lachie Anderson and Campbell Reid. I would also like to acknowledge our players who came to Rat Park, but didn't get a run. You are to be congratulated for that win as well as we have a lot of depth which is great, it's a long season and your efforts at training and preseason were reflective of that win. Up the Wicks!

Lachlan 'Chubbs' McKay
4th Grade Coach
Tessa's Tales - 1st Colts Report
The guys had a buzz leading into Round 1, after a long preseason there was enthusiasm to get play and compete for competition points. The Rats have become one of our colt's program's most intense rivalries over recent seasons, most matches being intensely fought and generally close on the scoreboard, with occasional spiteful flare-ups on the field.

Our 1st Colts' fixture was certainly intense, although played in the right spirit. The wet weather didn't allow us to play our preferred style of rugby, however the guys adapted to the conditions over the opening 40 mins, and took a narrow 8-3 lead into the halftime break. The lead was built on a strong and stable scrum, which probably should have earned more pay for our dominance. The wet ball limited our attacking opportunities; however, captain Hayden Maher was good enough to score from close range after a period of pick and drive from the forwards.

Our scrum deteriorated in the 2nd half, and with this Warringah gained momentum. On a wet day with plenty of dropped ball, scrums become critically important, and after dominating this area in the opening 40 minutes, we were soundly beaten at scrum in the second half. We kicked more in the second half (into a headwind) than in the first half (with a decent tailwind), and Warringah managed to control territory off the back of our high error rate and some poorly executed exits. We gifted Warringah a couple of penalty goals in very kickable positions to keep them close on the scoreboard, and then a Warringah try in the 60th minute gave them their first lead. Over the final stretch, our lack of front row depth was compounded by a yellow card to Hooker Baxter Flynn, and we were stretched and tested at the set piece and around the park. Warringah's massive pack got their tails up, and they finished the game much stronger.

A late scrum penalty conceded gave the Rats a penalty kick from in front, and the final margin of 8 points. It was a disappointing start to the season, but there were positive signs. Strong performances from forwards Jack Barrett and Theo Mayell in their first games for our club were highlights, and captain Hayden Maher was inspirational in defence and at the breakdown. In the backline fullback Aaron Dimovitch looked threatening in attack with limited moments, and playmakers Charlie Worthington and Zac McConnell mixed brilliant moments of play with some uncharacteristic errors.

Onwards and upwards to Round 2 in Newcastle, in pursuit of our first competition points. Up the Wicks!

James Tesoreiro
1st Colts Coach
Dono's Diary - 2nd Colts Report
Challenging conditions and a tough first up opponent greeted us at Rat Park as we arrived early for our Round 1 match against Warringah - which doubled as a Grand Final replay from last year. They must feed their men plenty of red meat up on the peninsula, with size and physicality definitely not an issue across the four Warringah Colts teams.

With a brand new team and numerous first year Colts playing, the coaches were eager to run their eyes over our new players. Pleased to report that they all performed well, with Niu Fuka, Andre Ahovelo, Cooper Stynes and Max Dempsey leading the way up front. Ollie Townsend controlled the game well at 10 with a calm head and a clever kicking game.

The end result was a gutsy 15-14 win to the good guys (not the Rats) with tries to Canadian import Ben Beauchamp and super-sub Cameron (CJ) Vakauta with Ollie Townsend contributing to the score with a conversion and penalty goal. Like last year, our win was built off the back of our relentless and resolute defence.

An impressive start to our season but obviously early days. With a bye this week due to Hunter only having 1 Colts team, we look forward to building on last week's game with another strong performance against Norths in Round 3. Up the Wicks!

Stu Donaldson
2nd Colts Coach
Clarkey's Call - 3rd Colts Report
It was an early start to the first game of the season with a long drive up the northern beaches to take on the Rat's at Rat Park. Despite a cool start to the morning, the sun was out for the start of another rugby season and there was NO where else I would rather be.

3rd Colts were the first to start our Colts program on the outer field, coming up against a large and well drilled Warringah opponent.

Your Wicks started well but were shortly down a key player with Grant Stein going down early in the game with a serious knee injury. This was the start of a bad period for the boys, and we didn't get much quality possession that we could attack with.

Poor discipline hurt us in the first half, and we were on the back foot. However, good defence helped us stay in the game, right until the Rats scored the first try and converted. Our line outs struggled to win any ball, which made the going hard for us to any traction.

At halftime we were down 10 nil down, but after the break we could not seem to shake the issues that were plaguing our game and the Rats took full advantage of this, piling on three tries to completely shut us out of the game and win 29-0.

Looking at the positives, our defensive lineouts were good as well as our scrums, but it was clearly not the start to the season we were hoping for. The boys will take key learnings from this and work hard at training to turn it all around for our Round 3 clash against a tough Northern Suburbs outfit. Up the Wicks!

Michael Clarke
3rd Colts Coach