It's been a little while since our last major update, so there is much to cover off. In terms of the rugby, after completing an intensive 5-week pre-Christmas training block, your Wicks re-grouped in early January, and with no COVID concerns or even weather interruptions, training has been excellent with big numbers in attendance.

In recent weeks our grade players have joined our Junior Academy boys and girls doing run swim runs at Clovelly and then last weekend assaulted the dreaded hills and steps of South Coogee. Let me tell you there will be lots of sore calves and quads on Sunday!

We now are only a few weeks away from trial matches with our first hit out a distinct ACT flavour in Week 1 against the Brumbies Runners and Tuggeranong Vikings down in Bowral on March 11 and then vs the grand finalists Gordon on March 18.

These trials lead us into our Round 1 appointment vs Warringah up at Rat Park on April 1 and then we go up to Newcastle on Good Friday to take on the Hunter Wildfires on April 7 in Round 2. The full season draw follows below in the newsletter.

In the interim we have 7's squads heading off to various 7's tournaments - the Colts are at Warringah tomorrow and then grade will head to the iconic Kiama 7's, once a cornerstone of our program and a large part of our history.

Our Annual Fund-Raising Lunch is on Friday March 17 at Dockside, Cockle Bay Wharf and while tickets have been selling rapidly, we have still space for you if you want to get a seat or table at it. A great day is always assured, particularly with Morgan MC'ing, Hoilsey selling the dream, Charlotte Caslick, Terry Kennedy and a host of other sporting identities to entertain you. Click here to get your ticket.

In terms of Girls & Women's Rugby we warmly welcome both senior and junior girls, of any age who are interested in trying Rugby in 2023, to our FREE Girls Play Rugby event at Coogee Beach, tomorrow morning (Sat, Feb 18), between 8.00-10.00am.

There you can meet our coaches and lots of Australian 7's stars including the fab Levi sisters - Maddie and Teagan along with our own Bienne Terita, learn some basic skills, plus have lots of fun with loads of activities and a free BBQ! So, girls, get down to Coogee Beach tomorrow morning, to give it a go!

It's also the perfect time to lock in your season ticket if you have done so already, with 9 massive games at Coogee Oval in 2022 or to get your supporters gear and myrtle green up for the year online at The Wicks Shop.

Also, with many new players coming to town from the country or OS, we are always on the lookout for both short and medium term accommodation (a bed or room for a few weeks) and also bits and pieces of furniture to help get these peeps started in their new digs.

We also have players and even their spouses, new to the area looking for employment opportunities, so please shout out if you need new recruits in your business or organisation. If you can help in any of those ways then please let us know via email at office@randwickrugby.com.au

Plus, we also congratulate our much-loved ex First Grade Coach Ben McCormack and his much more loved wife Lisa on the birth of their bouncing baby boy Thomas last week – all are doing exceptionally well. The circle of life meanders on!

In our next edition Club Coach, Channel 9 & Stan Sports commentator and breakfast snack salesman Morgan Turinui will give us his thoughts on the season, tell us about our new recruits and players to watch across the club. So, we look forward to that.

For this week there is plenty of meat on the bones so read on…

Up the Wicks!

Regards
Mark

Mark Harrison
General Manager
Randwick DRUFC
KEY EVENTS AT COOGEE OVAL FOR YOUR DIARY
First Home Game at Coogee: Round 3 – Saturday April 15 v Norths
Anzac Commemoration Match: Round 4 -Saturday April 22 vs Easts
Ladies Day: Round 6 - Saturday May 7 vs Two Blues.
Back to Randwick Day Weekend – Friday May 26, Ex-Players Reunion at Clovelly Surf Club & Saturday May 27 vs Eastwood at Coogee Oval.
More details on each day/event will be released in coming weeks via email, on our website and social platforms, so please keep an eye out for it.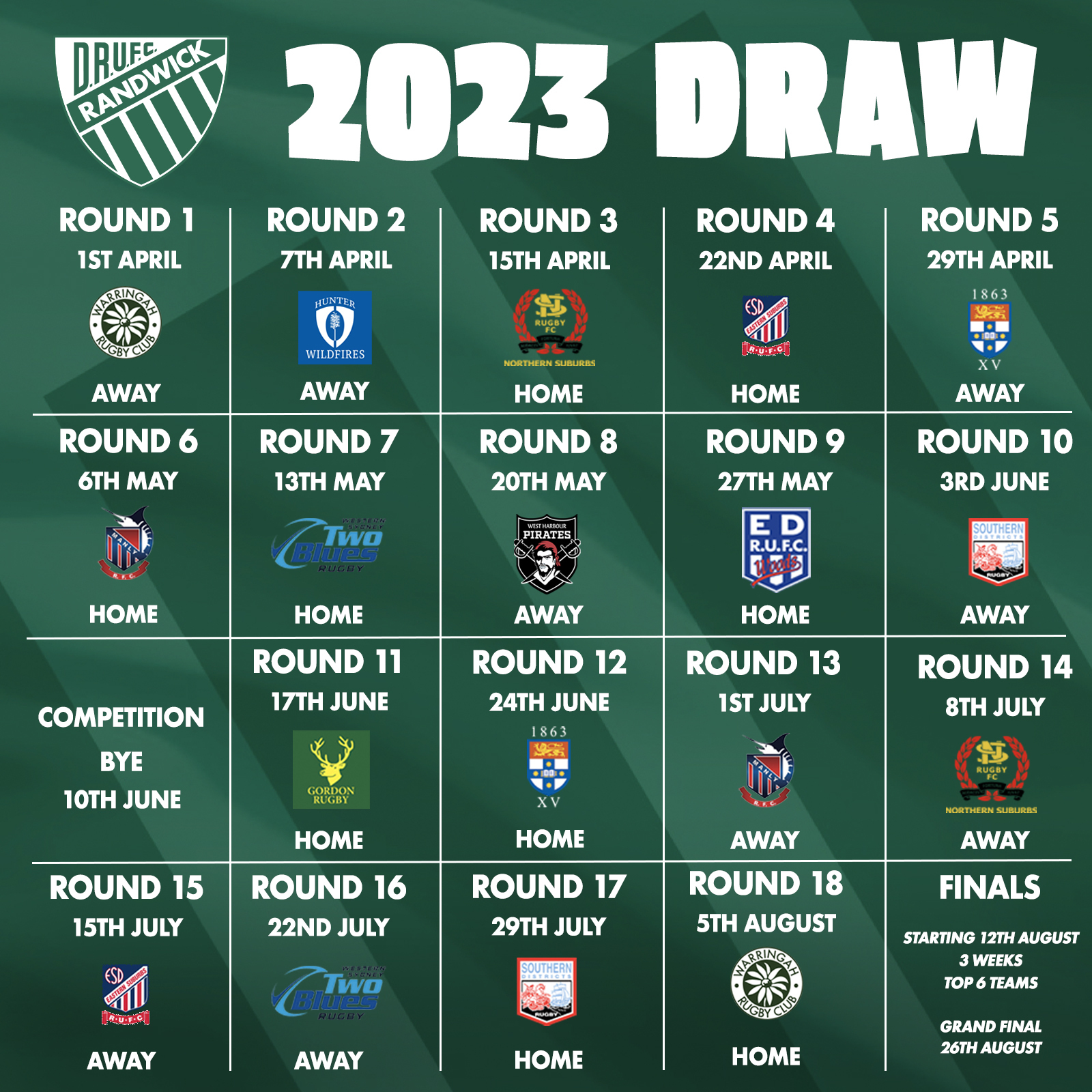 This is a reminder to buy a ticket to attend our 2023 Randwick Rugby Annual Lunch to be held at 12pm on Friday March 17 at Dockside, Cockle Bay Wharf.

Just to recap we will preview the 2023 Shute Shield and have a brilliant sporting panel sharing their secrets. Remember, this is the major fund raiser for our club and all proceeds raised will make a huge difference to the lives of our grade, colts, women's and junior players on and off the field.

We hope to see you there on the day as it will be a cracker!

For full details or to book your seat or table simply click here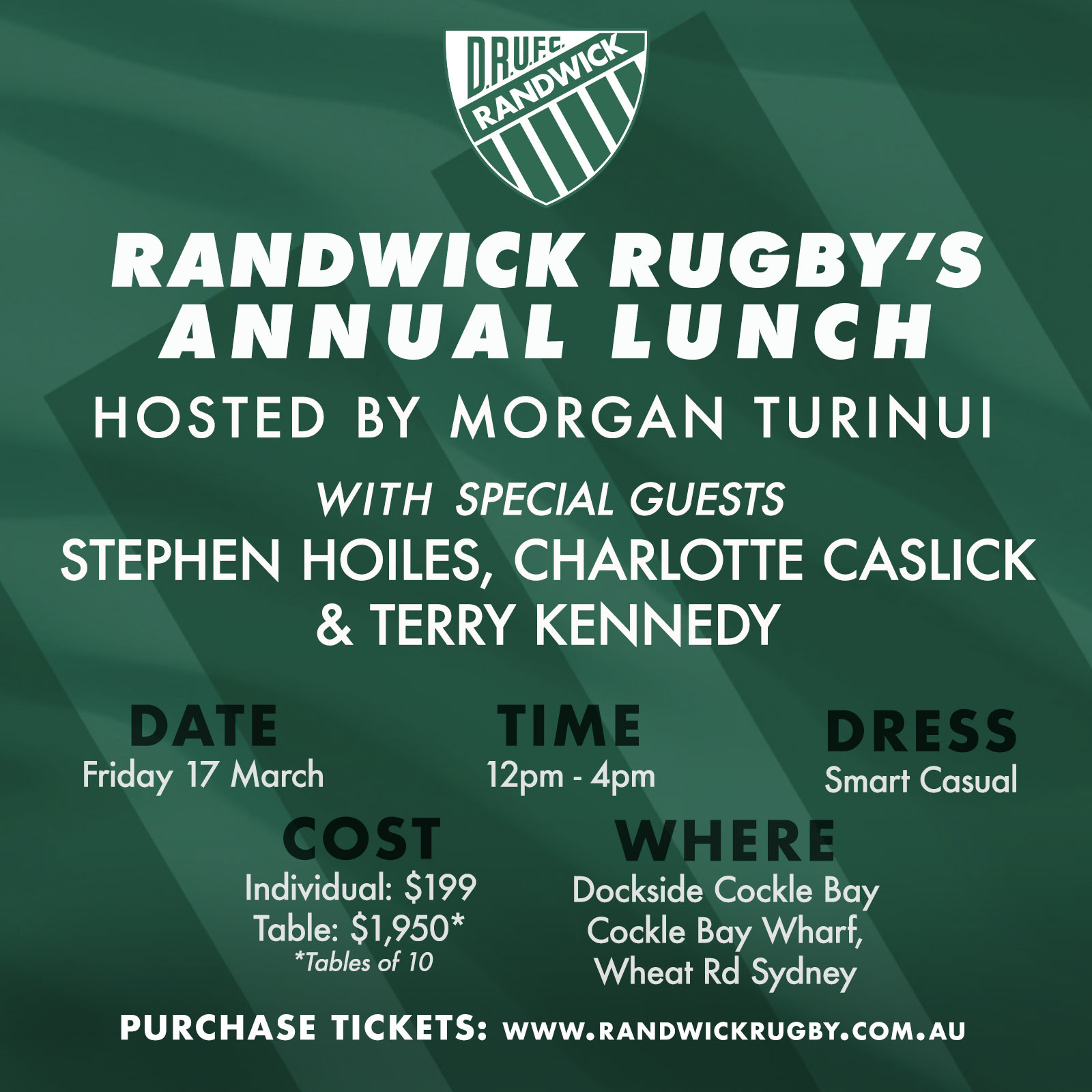 GIRLS PLAY RUGBY EVENT - TOMORROW AT COOGEE BEACH
Randwick Rugby warmly welcomes all girls, both seniors and juniors, of any age who are interested in trying Rugby in 2023, to our free Girls Play Rugby event at Coogee Beach tomorrow (Sat, Feb 18) between 8.00-10.00am

There you can meet our coaches and lots of Australian 7's stars including the Levi sisters – Maddie and Teagan along with our own Randwick Magician Bienne Terita, learn some basic skills, plus have lots of fun with loads of activities and a free BBQ!

We would love to see you there at Coogee Beach tomorrow, to give it a go!
THE RANDWICK JUNIOR ACADEMY
The 2022/23 edition of Randwick Junior Academy, will soon come to an end, after another successful summer and after its 12th year in operation.

Over 350 boys and girls aged from 10-18, attended these sessions over the summer months at Latham Park and at various locations across the Eastern Beaches and beyond. Simply it is a program that is the envy of all other districts.

Huge thanks go to Stu Donaldson for his mammoth efforts in pulling it all together and co-ordinating the stellar cast of 35 odd volunteer coaches and other helpers who make this program tick – again we greatly appreciate everyone's efforts and all the time given.

We look forward to seeing all these boys and girls demonstrate their improved skills and fitness on the rugby field this year when they turn out for their village clubs and in our junior rep teams. We thank the Randwick Rugby Foundation for their continued support of our Junior Academy and Junior Representative Program throughout the season.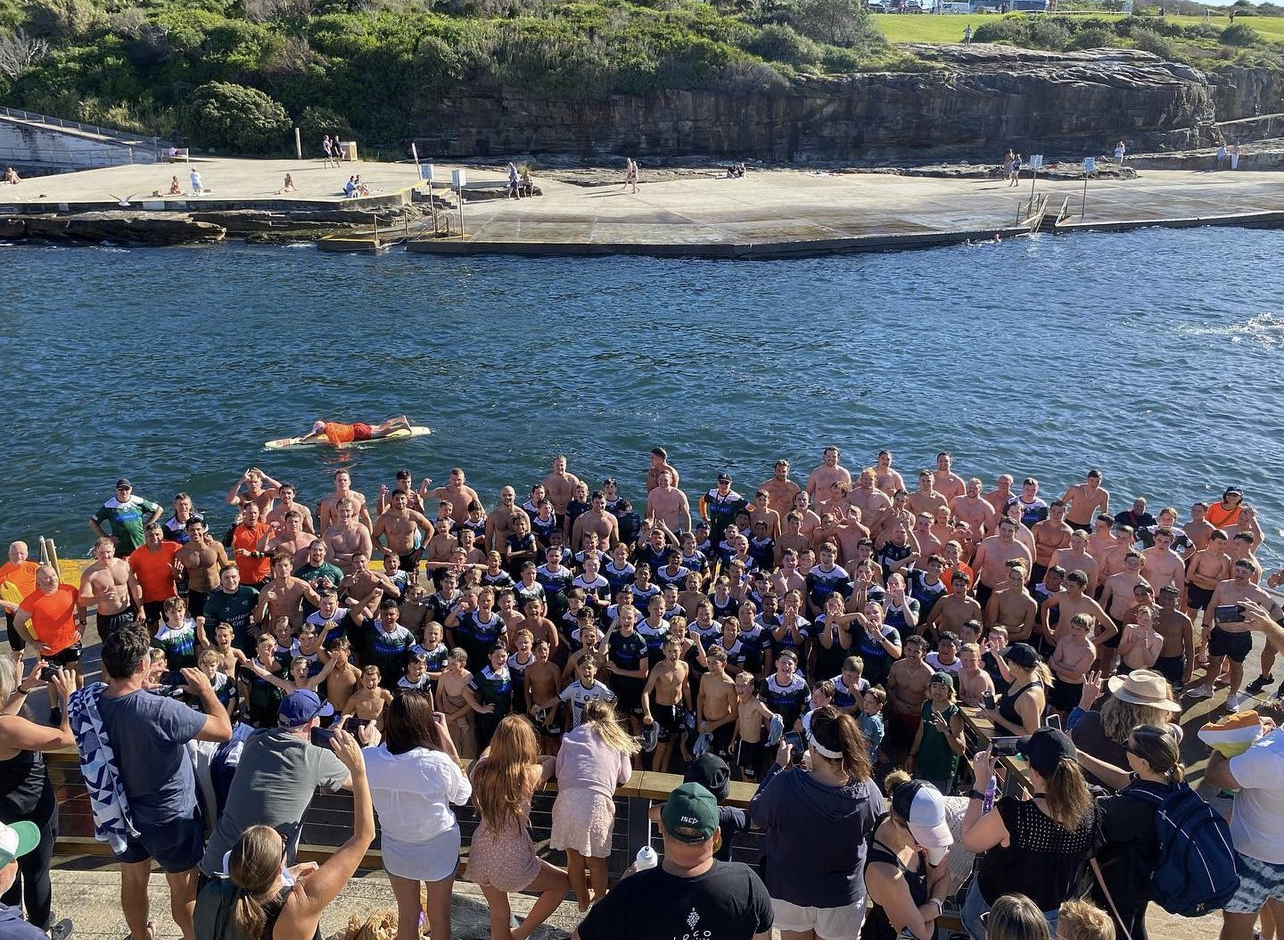 THE ROHRIG EDP GETS UNDERWAY
Our Rohrig Elite Junior Development Program (EDP), commenced with a camp at UNSW facility held early in February, where some of our best and brightest Colts, a couple of first year grade and some local junior prospects were invited to take part for both on field and off field personal skills development. This excellent program now runs each Wednesday until the start of the season.

We sincerely thank our very generous sponsor Glenn Rohrig from Rohrig Constructions for his incredible financial support of our elite development pathway and his passion for our club. This program continues to go from strength and it is not possible without Glenn!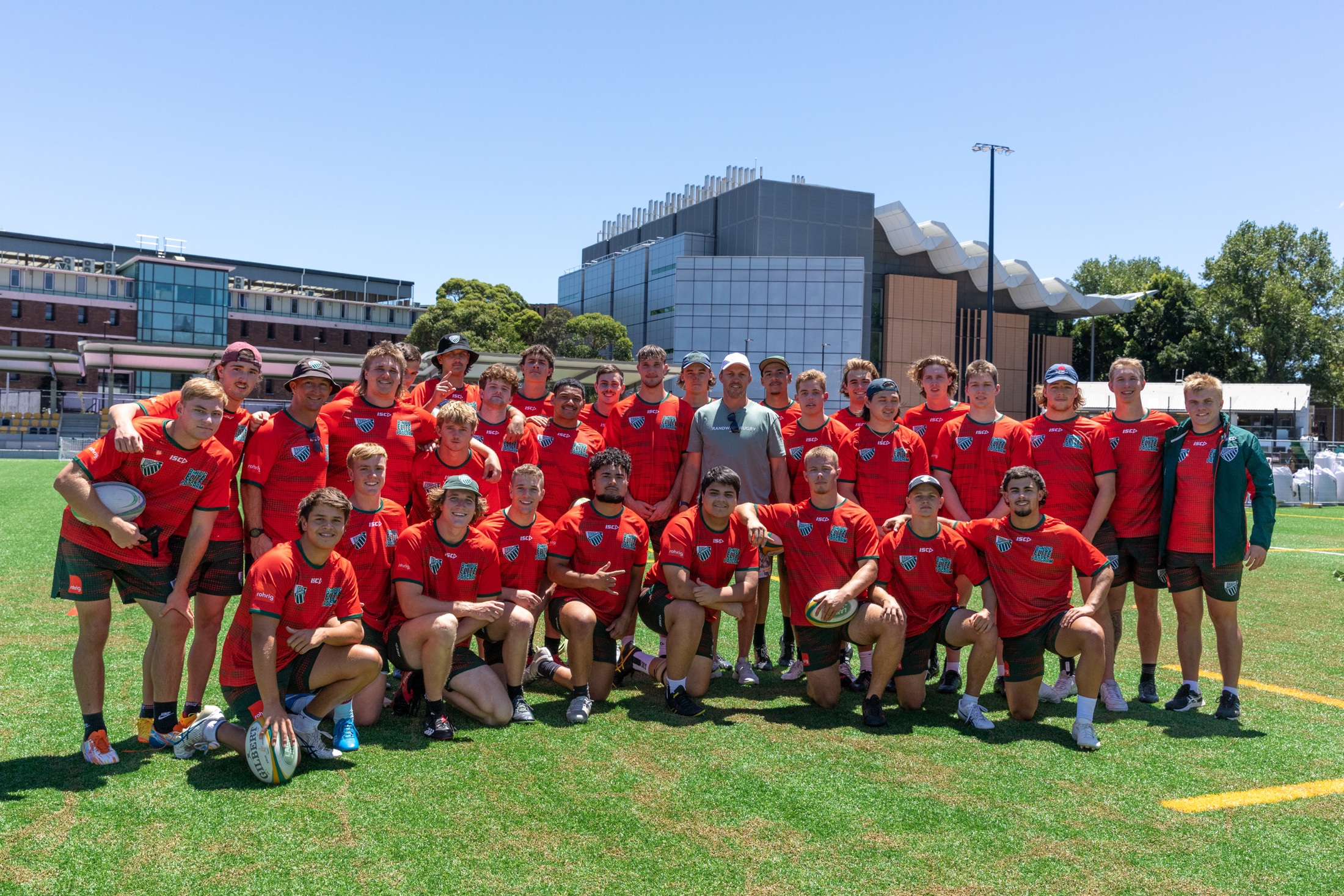 2023 SEASON TICKETS - THERE IS STILL TIME TO BUY!
Firstly, our hugely popular Sayle Season Ticket package is for the Wicks true believers, who intend to go to most of our 9 home games at Coogee Oval in 2023 and also enjoy other attractive benefits such as fabulous discounts on club merchandise and with some of our popular local business partners – such as Maloneys Grocer, Crowne Plaza Coogee Beach and Chargrill Charlies at Coogee Beach.

Secondly, we again offer our Out of Town Supporters Ticket for those who do not live in Sydney, but wish to come to the odd game and are always keen to support us. This covers off entry into two home matches and similar benefits/offers as outlined in the Sayle Season package to take advantage of when you are in town.

For full details on each Season Ticket package or to purchase one, simply click here.

For those generous souls that have already purchased season tickets, we again thank you, but advise that ground entry passes are due in from the competition ticketing supplier by the first week of March and then we will distribute them to you straight away! You will have them in plenty of time prior to our first home game at Coogee Oval on April 15 v Norths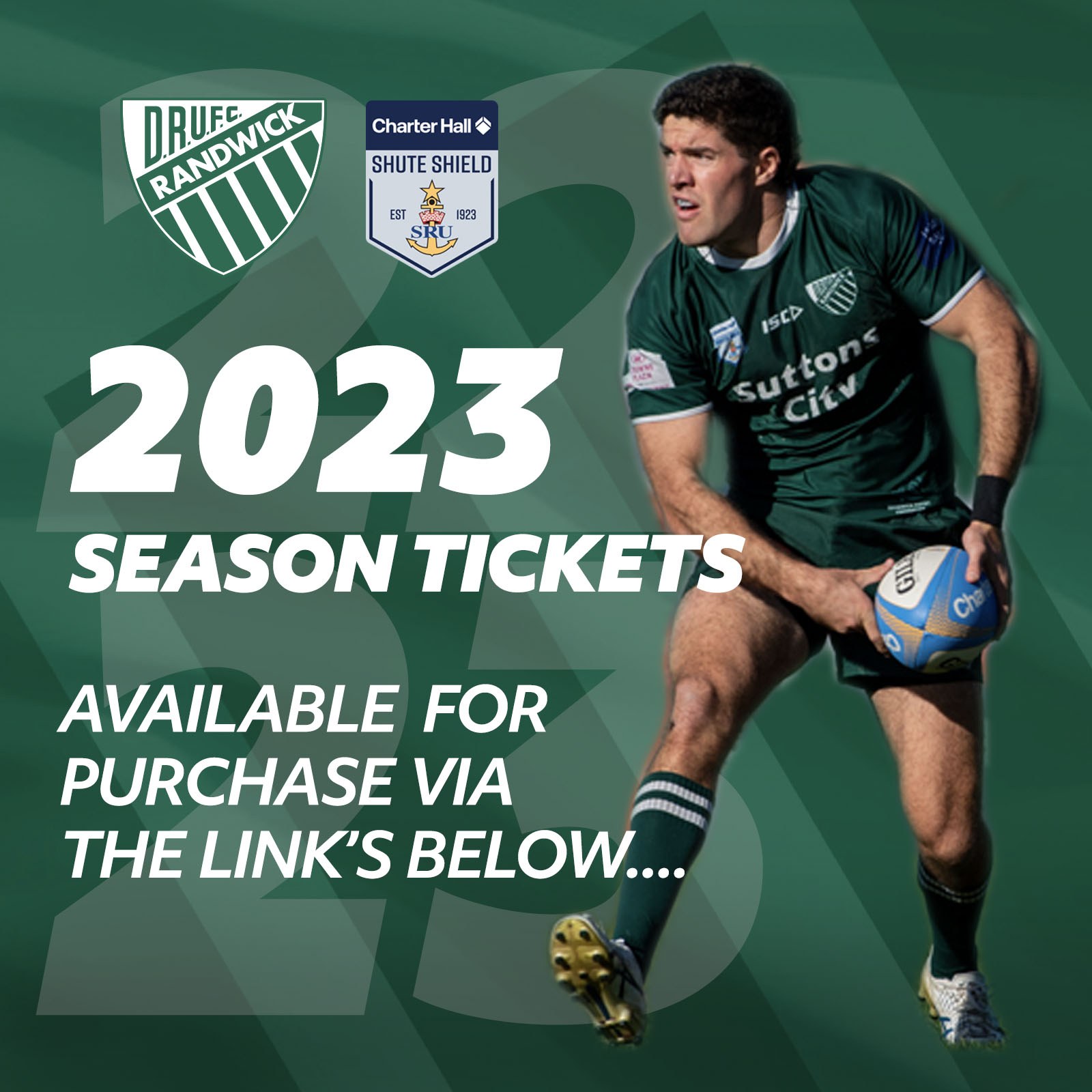 Order your Supporters Gear Now at The Wicks Shop!
With the rugby season kick-off now just around the corner, The Wicks Shop is open 24/7 to sort all your supporting and shopping needs for 2022.

So, all the supporters gear you need for yourself, family or friends is at your fingertips online – from, jackets, hoodies, beanies, caps and a whole lot more. Plus, we have a new supply of hot selling indigenous designed training kit – shorts, singlets and t-shirts - as stylishly modelled below by our stylish models Joel and Kingsley

There is absolutely no better way to keep supporting the club than by buying some kit, so simply head online to The Wicks Shop, plus it's the ideal gift solution for anyone in your life who loves the Wicks and who needs to be spoiled, bribed or whatever!

Obviously, we will also have all merchandise available for purchase at all our home matches in 2023 at Coogee Oval.