General Manager's Update
It's been a while since our last major season update, so there is much to cover off.

Firstly and most importantly beyond rugby, our hearts and best wishes go out to our fellow Australians currently suffering as a result of the devastating floods in Queensland and Northern NSW – so many people have been impacted. Let's pray that these conditions abate quickly, so that recovery efforts can commence ASAP.

As we see this unprecedented storm system hit further down the coast and in Sydney, please stay safe people. And just when you thought we only had to worry about global pandemics and Russian leaders going rogue, mother nature strikes!

In terms of the rugby, our 5-week pre-Christmas training block, began in mid-November, but we were forced to abort it 4 weeks in with the outbreak of the Omicron variant and our first cases in the playing group. Training resumed after the Christmas break in January, but those first few weeks were heavily impacted by COVID, with up to 50 players and staff either directly infected or close contacts and forced to isolate - myself included. I suppose if you can't beat em join em and all that!

Fortunately, our processes to manage and contain it at our Latham Park base worked well and on with life we went. Despite those early interruptions, training has been excellent and, on the weekend, our Top-Grade Squad took on the dreaded South Coogee Steps and then did some beach activities with our partners in sport at Coogee Surf Club, while our Colts headed to the shire to tackle the Wanda Sandhills. Let me tell you there were lots of sore calves and quads on Sunday!

We now are only a few weeks away from Trial matches with our first hit out against Warringah on March 19 and then the Two Blues on March 27. They lead us into our Round 1 appointment vs Eastwood at TG Milner on April 2 and then Sydney Uni on April 9 – so we will face the top seed's early, but will be ready for the challenge.

Whilst the footy has been on ice since June 2021, we still have had lots of players (male and female) doing amazing things on the representative stage over the summer and in recent weeks. Plus our junior and skills development have been in full swing – so there's lot's to tell you about on those fronts.

Our Annual Fund-Raising Lunch is on March 18 and there is still a few tickets left if you are interested in going - but get a move on as we are nearing capacity. Plus, it's the perfect time to lock in your season ticket with 9 massive games at Coogee Oval in 2022 or to get your supporters gear and myrtle green up for the year online at the Wicks Shop. Sadly, we also mourn the recent loss of an old Wick John McCarthy, but congratulate Izaia Perese on the birth of his twin boys - the circle of life meanders on!

Plus, with new young players coming to town from the country or OS, we are always on the lookout for both short term accommodation (a bed or room for a few weeks) and also bits and pieces of furniture to help get these peeps started in their new digs. If you can help in any of those ways then please let us know via emailing office@randwickrugby.com.au

In that spirit, we thank our resident 286 gamer, Life Member and now Coogee Surf Club's Masters Beach Sprint sensation Gerry 'The Bolt' Karras and wife Carole, who donated a few lounges for the cause, but took a few layers of skin off in the removal process!

In our next newsletter, Club Coach and sometimes white sand-shoe wearing Channel 9 & Stan Sports commentator Morgan Turinui will give us his thoughts on the season, tell us about our new recruits and players to watch across the club, plus announce all our coaching and rugby program staff for 2022. So we look forward to that.

For this week read on and Up the Wicks!

Regards
Mark

Mark Harrison
General Manager
Randwick DRUFC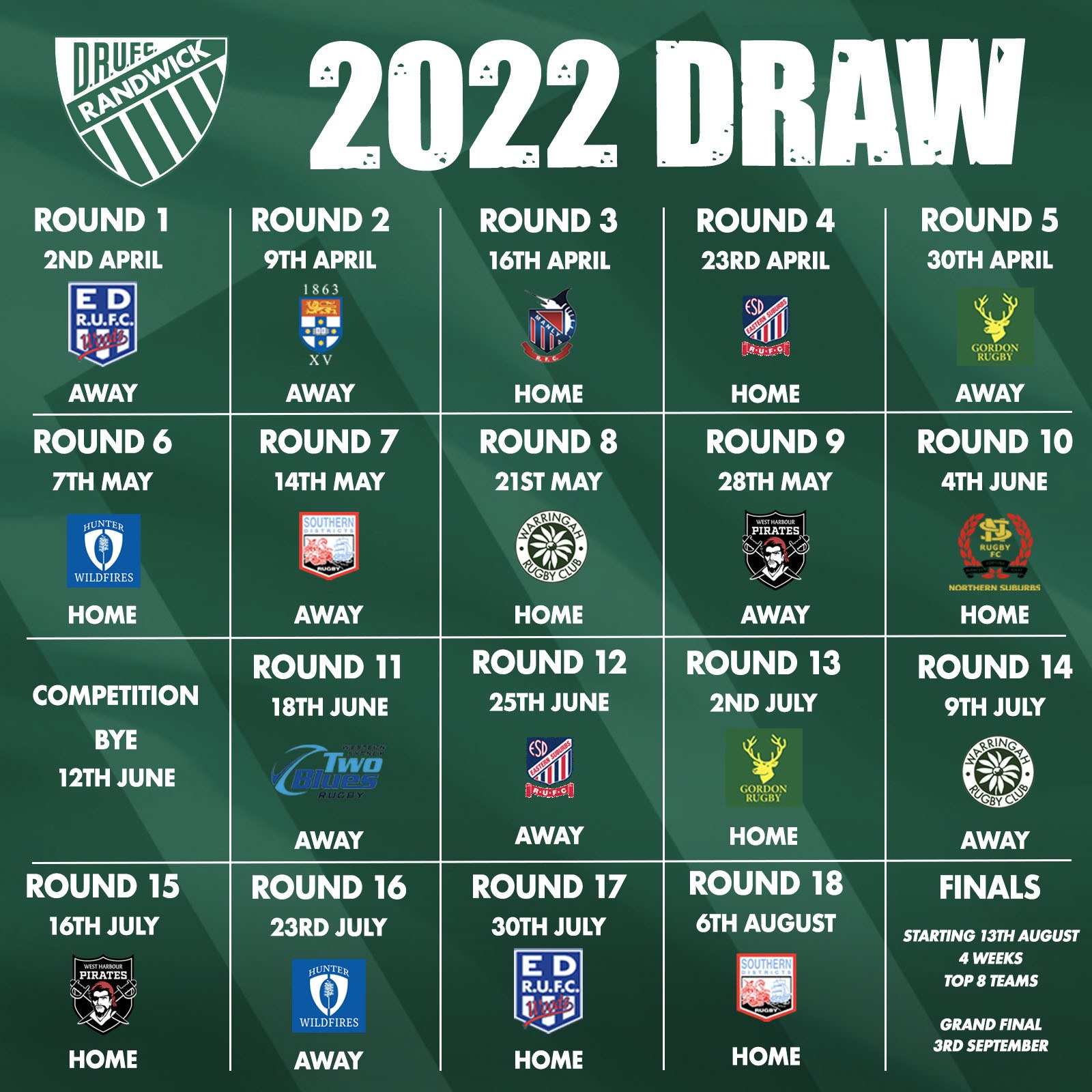 Key Events/Dates at Coogee Oval for Your Diary..
Anzac Commemoration/Battle of the East – Saturday April 23 vs Easts
Ladies Day – Saturday May 7 vs Newcastle
Back to Randwick Weekend – Friday May 20, Ex-Players Reunion at Coogee Surf Club & Saturday May 21 vs Warringah at Coogee Oval.
More details on each will be released in coming weeks via email, on our website and social platforms, so please keep an eye out for it.
Wicks Player's Achieving Plenty!
Despite the COVID challenges, in recent times we have had some rugby going on with many of our men and women accomplishing much across the various representative programs across the state and country - as you can see from below:
Ben Dowling & Kristian Jensen debuted for the Australian 7's Men's team.
Tia Hinds, Rhiannon Byers, Bienne Terita, Demi Hayes & Dominque De Toit were in the Aussie 7's team who won a major 7's tournament in Spain.
Jayden Blake, Ben Dowling, Mattias Jensen, Mitch Watts & Angus Websdale were also selected in the Junior Wallabies Train-On Squad.
Andrew Kellaway was voted Rugby Australia's Rookie of the Year Award and Henry Hutchison the Male 7's Player of the Year.
7 Wick's were named across 3 Super Rugby franchises in Round 1 with Ben Donaldson, Dylan Pietsch (on debut), Izaia Perese & Tiann Tauakipulu turning out for the Waratahs, Cabous Eloff & Tom Nowlan for the Rebels and Ed Kennedy also debuting for the Brumbies. Plus more return from injury in coming weeks.
Eva Karpani (Waratahs) and Oneata Schwalger (Brumbies) were also named in Super W squads for the upcoming Women's Super-Rugby season.
Congratulations to all on your selections and achievements – your club is very proud!
The Randwick Junior Academy Concludes
The final session of 2021/22 edition of Randwick Junior Academy, was held last Saturday, in extreme weather at Coogee Beach, after another successful summer and its 11th year in operation. Over 350 boys and girls aged from 10-18, attended these sessions over the summer months at Latham Park and at various locations across the Eastern Beaches and beyond. Simply it is a program that is the envy of all other districts.

Huge congratulations go to Stu Donaldson for his mammoth efforts in pulling it all together and co-ordinating the stellar cast of 35 odd volunteer coaches and other helpers who make this program tick – again we greatly appreciate everyone's efforts and all the time given.

We look forward to seeing all these boys and girls demonstrate their improved skills and fitness on the rugby field this year when they turn out for their village clubs and in our junior rep teams. We thank the Randwick Rugby Foundation for their continued support of our Junior Academy and Junior Representative throughout the season.
The Rohrig EDP Get's Underway!

Our Rohrig Elite Junior Development Program (EDP), commenced with a camp at Narrabeen Sport & Recreation facility held over 3 days on February 4-6. 35 of our best and brightest Colts, a couple of first year grade and some local junior prospects were invited to take part for both on field and off field personal skills development. This excellent program now runs each Wednesday until the start of the season.

We sincerely thank our very generous sponsor Glenn Rohrig from Rohrig Constructions for his incredible financial support of our elite development pathway and his passion for our club. This program continues to go from strength and it is not possible without Glenn!
The Jeffrey Sayle Scrum Academy
Plus, The Jeffrey Sayle Scrum Academy commenced on February 7 and runs for 10 weeks each Monday under the command of Scrum Maestro Matt Bowman – with our core objective of improving our set piece prowess and the skillset of our young tight 5 players.

We sincerely thank Janette Sayle on behalf of the Jeffrey Leonard Sayle Foundation for her support here, which ensures Jeffrey's incredible legacy continue to live on and in an area, he was completely passionate about.

Well he was very passionate about a lot of things in life was our Jeffrey – but in this case forwards and scrums very specifically! BEAUTIFUL!
Randwick Rugby Annual Lunch - Final Boarding Call
This is a your final reminder to buy a ticket to attend our 2022 Randwick Rugby Annual Lunch to be held at 12pm on Friday March 18 at Dockside, Cockle Bay Wharf.

We are almost sold out, but the venue can still accommodate a few more stragglers, however you will need to book your ticket or table by 5pm next Wednesday (March 9) when ticket sales finally close online.

Just to recap we will preview the 2022 Shute Shield and have a brilliant sporting panel sharing their secrets. Remember, this is the major fund raiser for our club and all proceeds raised will make a huge difference to the lives of our grade, colts, women's and junior players on and off the field.

We hope to see you there on the day as it will be a cracker!

For full details or to book your seat or table simply click here
2022 Season Ticket Packages - On Sale Now!
Firstly, our hugely popular Sayle Season Ticket package is returning for the Wicks true believers, who intend to go to most of our 9 home games at Coogee Oval in 2022 and also enjoy other attractive benefits such as fabulous discounts on club merchandise and with some of our popular local business partners – such as Maloneys Grocer, Crowne Plaza Coogee Beach and Chargrill Charlies.

Plus, pricing is tailored for adults, pensioners and kids to make it affordable for all Wicks supporters. Best of all it is COVID proof and guarantees you entry into all 9 of our regular season home games at Coogee Oval.

In 2022 our Sayle Season Ticket package includes...
Guaranteed entry to all 9 of Randwick's 2022 regular season home games at Coogee Oval – regardless of any crowd restrictions throughout the year.
A club sticker, lanyard & membership card.
A bonus Randwick & Suttons City Seat Cushion (Adults & Pensioners only)
15% Discount on Wicks Merchandise purchased at Coogee Oval on match days.
10% Discount on purchases at Maloneys Grocers in Coogee Bay Rd.
15% Discount on eat in and takeaway at Chargrill Charlie's in Coogee Bay Rd
Special accommodation rates and inclusions at the Crown Plaza Coogee Beach.
The Sayle Season Ticket is on sale now for only...
$150.00 for Adults
$75.00 for Pensioners
$50.00* for Kids aged 16 & under
*Randwick District Junior Players will receive a Junior Membership Card/entry as part of their 2022 village club registration.

The Out of Town Supporters Ticket
Secondly, we again offer our Out of Town Supporters Ticket for those who do not live in Sydney, but wish to come to the odd game and are always keen to support us. This covers off entry into two home matches and similar benefits/offers as outlined in the Sayle Season package to take advantage of when you are in town.

The Out of Town Supporters Ticket is on sale now for only...
$50.00 for Adults
$25.00 for Pensioners
For full details on each Season Ticket package or to purchase one, simply click here.
Order your Supporters Gear Now at The Wicks Shop!
With the rugby season now just around the corner, The Wicks Shop is open 24/7 to sort all your supporting and shopping needs for 2022.

So, all the supporters gear you need for yourself, family or friends is at your fingertips online – from, jackets, hoodies, beanies, caps and a whole lot more. Plus, we have a new supply of hot selling indigenous designed training kit – shorts, singlets and t-shirts - as stylishly modelled below.

There is absolutely no better way to keep supporting the club than by buying some kit, so simply head online to The Wicks Shop, plus it's the ideal gift solution for anyone in your life who loves the Wicks and who needs to be spoiled!

With the rugby back on, obviously we will also have all merchandise available for purchase at all our home matches in 2022 at Coogee Oval.
Community Corner
Vale John McCarthy
It is with sadness we advise of the recent passing of former Wicks player and coach John McCarthy at the age of 90. John was a true local living all of his 90 years around the Bronte/Bondi area.

John originally played Rugby League for Easts before switching to Rugby and the Galloping Greens. He played 18 first grade games for Randwick between 1956 and 1957, until a badly broken leg ended his career. John was a fast and skilful outside centre and played alongside club legends Nick Shehadie, Bob Outterside and Ken Thornett.

After retiring, John coached our Junior teams for several years which included the likes of Jeffrey Leonard Sayle, Bob Dwyer and many more talented young players.

John went to Waverley College and then worked for 40 years at Randwick Council, retiring as Chief Building Inspector in 1991. He then focussed on his tennis game with great success, winning national championships in his age group and representing Australia.

John's funeral was held at Waverley on February 24 and he will be sadly missed by his wife Pam, his family and many friends. RIP John and God bless!
Double Trouble - The Perese Twins Enter the House!
Huge congratulations to Wicks player Izaia Perese and his beautiful partner Issy on the birth of their twin boys Ardie and Jack – joining sister MacKenzie to make a family of 5.

Whilst the boys arrived a tad earlier than expected, mum and the bubs are thriving and already long-term plans are in place to bolster the Wicks centre pairing in 2042 with the Perese brothers at the centrepiece of them.
Match Day Volunteers for the 2022 Season Needed!
For the 2022 season Randwick Rugby is looking for dedicated, reliable and passionate volunteers in many areas of our club operations to help us succeed on and off the field.

Positions Open:
Home Game Day Volunteers – Match Controllers, Ground Set-Up & Pack-Up, General Hands.
Assistant Referees/Touch Judges
Ball Kids – for both home and away games.
All volunteers receive full training, a season pass to all our games, club apparel to wear on match days, invites to club events and most importantly are made to feel a huge part of the Galloping Greens family by the players, staff and fans alike.

If you wish to play a voluntary role to help Randwick Rugby succeed in 2022, then please email us at office@randwickrugby.com.au