NEWSLETTER 1
General Manager's Update
It's been a little while, so apologies for the slight delay in reaching out, but the news cycle was a tad on the slow side once the season was canned in late August and the inevitable ebb tide that followed mopping it all up. However, Freedom Day has also coincided with our COVID melancholy dissipating, our club office at Crowne Plaza Coogee Beach re-opening and my writing mojo returning. So, strap yourselves in….

At Randwick Rugby much has been going on behind the scenes as preparations for the 2022 season accelerate – with season reviews, coaching appointments, player recruitment, sponsorship engagement, events and commercial planning all well advanced. There has also been a huge amount of work invested in shaping the new Participation Agreement and Competition Operations Manual that clubs need to agree to/sign off on to play in the Shute Shield from 2022.

2022 Charter Hall Shute Shield Season Draw
We have even seen a draw for the 2022 season circulated by Sydney Rugby Union on Monday – the early timing of which even surprised us. For context this normally comes closer to Christmas, but the only upside of a cancelled season is way more planning time for the next! In summary it looks like this:


The 2022 Charter Hall Shute Shield will kick-off on April 2 with 12 clubs.
The competition will comprise 18 Rounds and a new 8 team/4-week final series.
Our first two Rounds are away against Eastwood (April 2) and Sydney Uni (April 9).
We return to Coogee Oval for Round 3 against Manly on Easter Saturday (April 16) and then follows the Round 4 Anzac Weekend blockbuster vs Easts (April 23).
In Round 5 we tackle Gordon (April 30) over at Chatswood.

Whilst it's certainly a very challenging April, you have to beat them all at some point to contend, so we may as well strike early. The full draw is below and is also on our website.

With the dates now clear, we are currently finalising our proposed events and activities calendar around it i.e. Back to Randwick, Ladies, Indigenous Days and Season Ticket model etc which we will be able to share with you in coming weeks.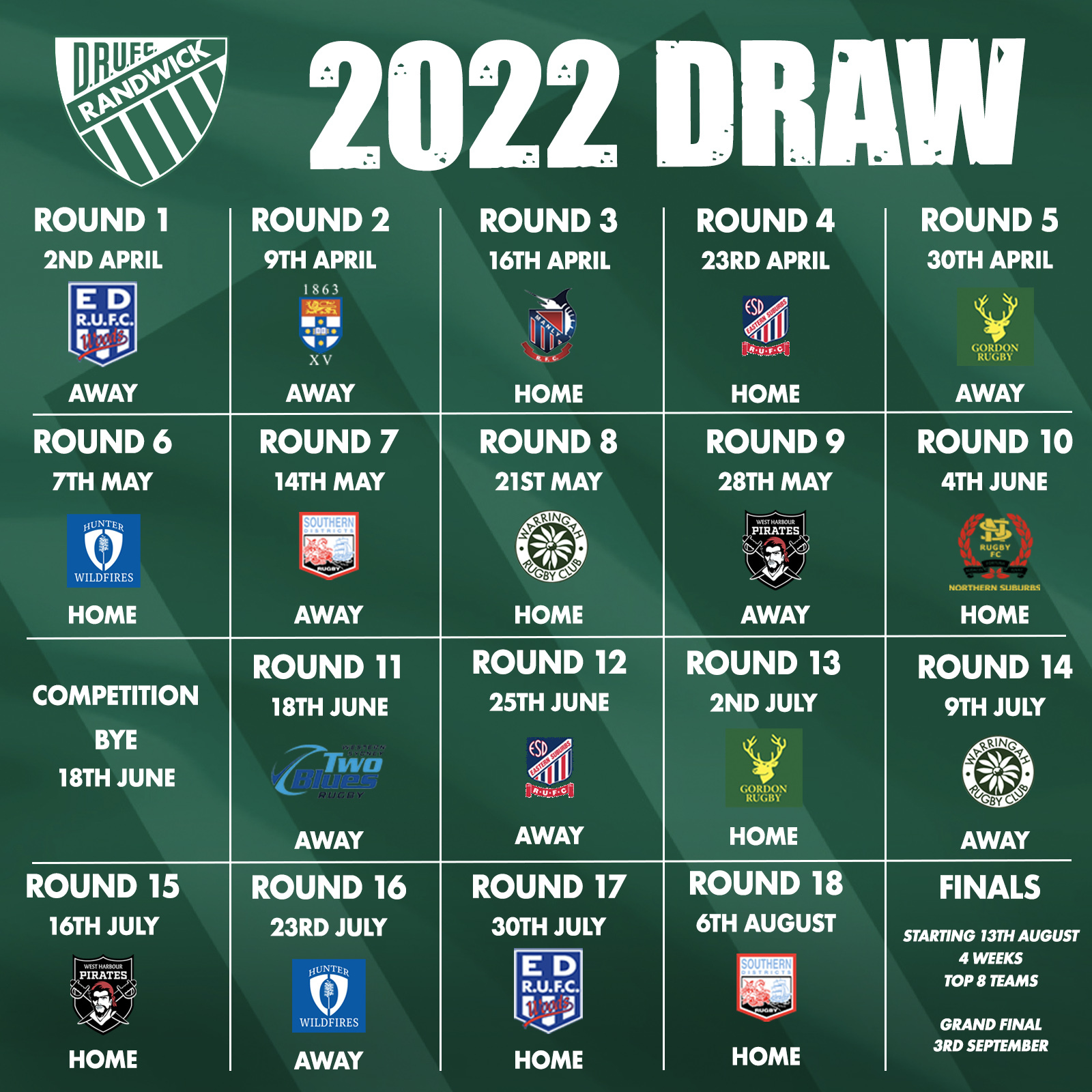 Players Wanted - Men & Women
Obviously, the key ingredient of a rugby club is having players and each year we need to replenish our stocks to remain competitive. We have many quality players returning with unfinished business from the last 2 seasons, but also invite any new folks in grade, colts and women (both 15's & 7s forms) interested in playing for us to reach out and have a crack with the preseason a month away.

Whether you want to play 1st Grade, do the early shift in 4s like Pete Samu once did or display your magic with our girls, we have a solution for players of different levels, sexes, shapes and sizes.

If you want to have a go, please let us know by emailing our club coach Morgan Turinui at office@randwickrugby.com.au
Preseason Training Kick off
Our coaching staff are cautiously working through our preseason training plan, with NSW Public Health Order/COVID restrictions still in place on all Community Sport, including the Shute Shield and all other major sporting codes in NSW.

This main concern is establishing the number of people that can train together and what activities they are permitted to do. Plus, we need to be crystal clear on the measures we need to implement to have players and staff there i.e. check-in and vaccination protocols etc, so the COVID management remains an albatross around our neck.

It's problematic to lock this in 100% until the government makes a clear determination and all stakeholders are on the same page, but our aim is to have all our Grade, Colts and Women's players back training at Latham Park by early November for a 5-week block prior to Christmas, as follows:

Who: Grade, Colts & Women – anyone that wants to play senior rugby with us.
Where: Latham Park, Moverley Rd South Coogee.
Date: Every Tuesday & Thursday– commencing Tuesday, November 9 or 16.
Time: Between 5.30-8.30pm. You will be allocated into a group and training time.

Following the Christmas break training will resume in the New Year w/c January 10.

Any updates to this plan will be posted on our club website and via social channels as this situation is clarified by the Department of Health and Randwick Council.
Volunteers for the 2022 Season Needed
Some of rugby's greatest players have worn our famous jersey and likewise many of the game's best coaches and administrators have earned their stripes with us.

For the 2022 season we are looking for dedicated, reliable and passionate volunteers in many areas of our club operations to help us succeed on and off the field.

Positions Open:
Some Coaching & Assistant roles in our Colts & Women's Program.
Team Managers in Colts.
Home Game Day Volunteers – Match Controllers, Set-Up & General Hands.
Assistant Referees/Touch Judges
Ball Kids – both home and away games.

All volunteers receive full training, a season pass to all our games, club apparel to wear on match days, invites to club events and most importantly are made to feel a huge part of the Galloping Greens family by the players, staff and fans alike.

If you wish to play a voluntary role to help Randwick Rugby succeed in 2022, then please register your intention by clicking here and completing our simple online survey or if you have any further questions please email us at office@randwickrugby.com.au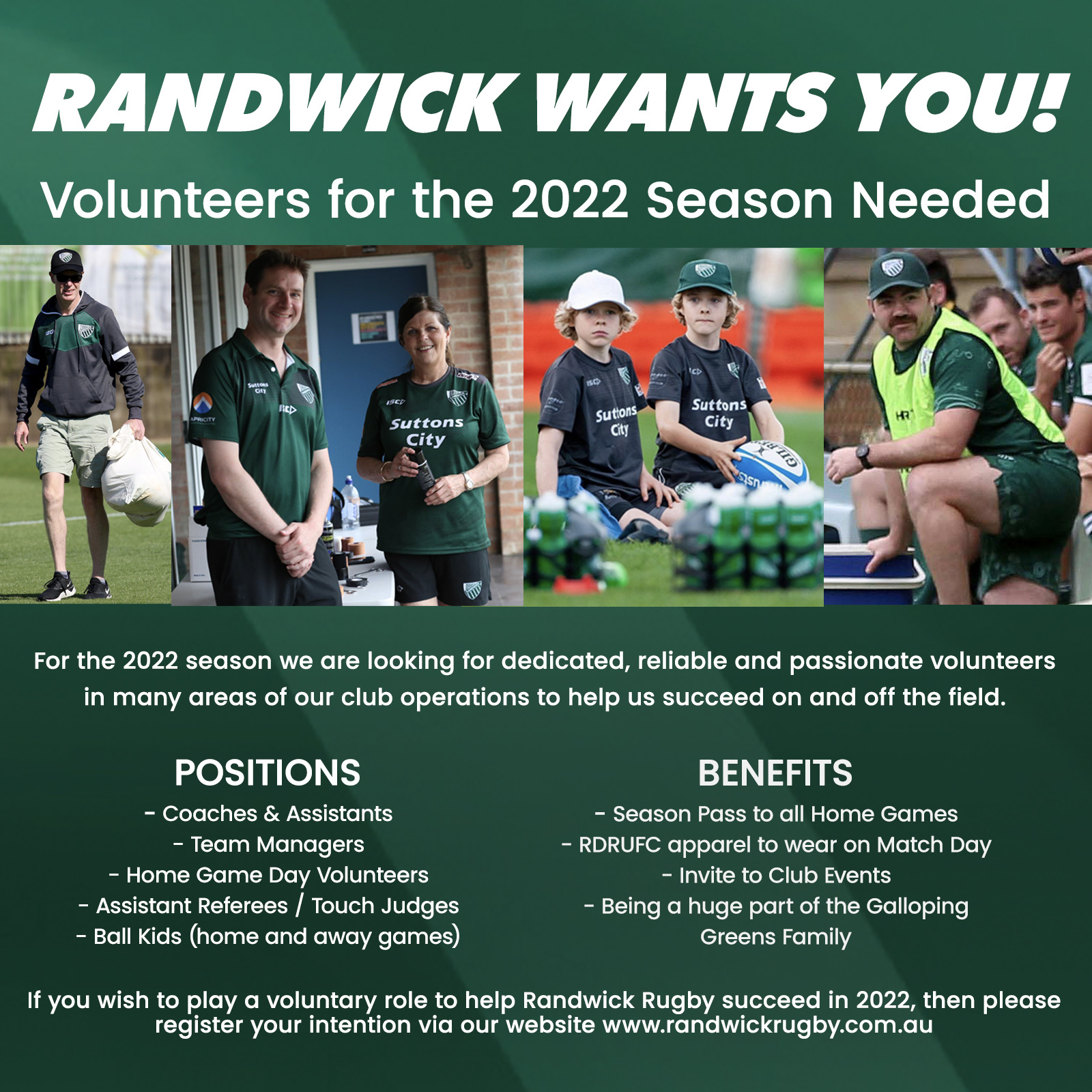 Please Support Our Sponsors!
While there is nothing to support on the rugby field at the moment, we would ask you to continue to support our sponsors businesses, particularly now that some normality has returned and people are able to get out and about.

Fortunately, we have some very loyal sponsors of this club, so please pay a visit online to these organisations by clicking on their logos's displayed at the end of the update. We thank them again sincerely, for their loyalty during such trying times…. yet again!

So, if you need a pizza, a coffee, a weekend away, groceries, invoicing solutions, insurance, financial help, a house, a car or a major building project in mind - our sponsors are fully open for business and would be delighted to hear from you.

Alternatively, if you are interested in sponsoring or aligning your brand with one of the most famous clubs' in World Rugby (that's us if you are wondering….), then please call our Sponsorship Manager Melissa Stone on 0412 266 680.
It's almost Christmas at The Wicks Shop!
Well after correct weight is declared in the Melbourne Cup, Christmas is next the big event around the corner and The Wicks Shop has defied the pandemic and remains open to help you get in early on your all gift shopping needs for the festive season.

So, Wicks shoppers all the supporters gear you need for a loved one or yourself is at your fingertips online – from retro jerseys, jackets, hoodies, beanies, caps and a whole lot more. Plus, we have a new supply of hot selling tracksuits, indigenous designed training shorts and long sleeve t-shirts. Plus, everyone needs a pair of budgies for summer.

Obviously with our season cancelled, merchandise is our only current income source (Yes I know get the violin out here he goes again….), so what better way to keep supporting the club than by buying some kit, so simply head to The Wicks Shop.
Community Corner
The Randwick Connection

It was great to see the Cadbury Wallabies actually playing and then do so well, winning 4 tests on the trot vs South Africa and our good friends Argentina. Obviously, it took some time for the Caramello Koala sugar hit to really kick in, or they just need a double dose prior to All Blacks games in future.

From our perspective It was so pleasing to watch Andrew Kellaway fully realising his potential, by playing so well in every test match and being the leading try scorer in the entire series. His story is a great lesson in resilience and continuing to chip away.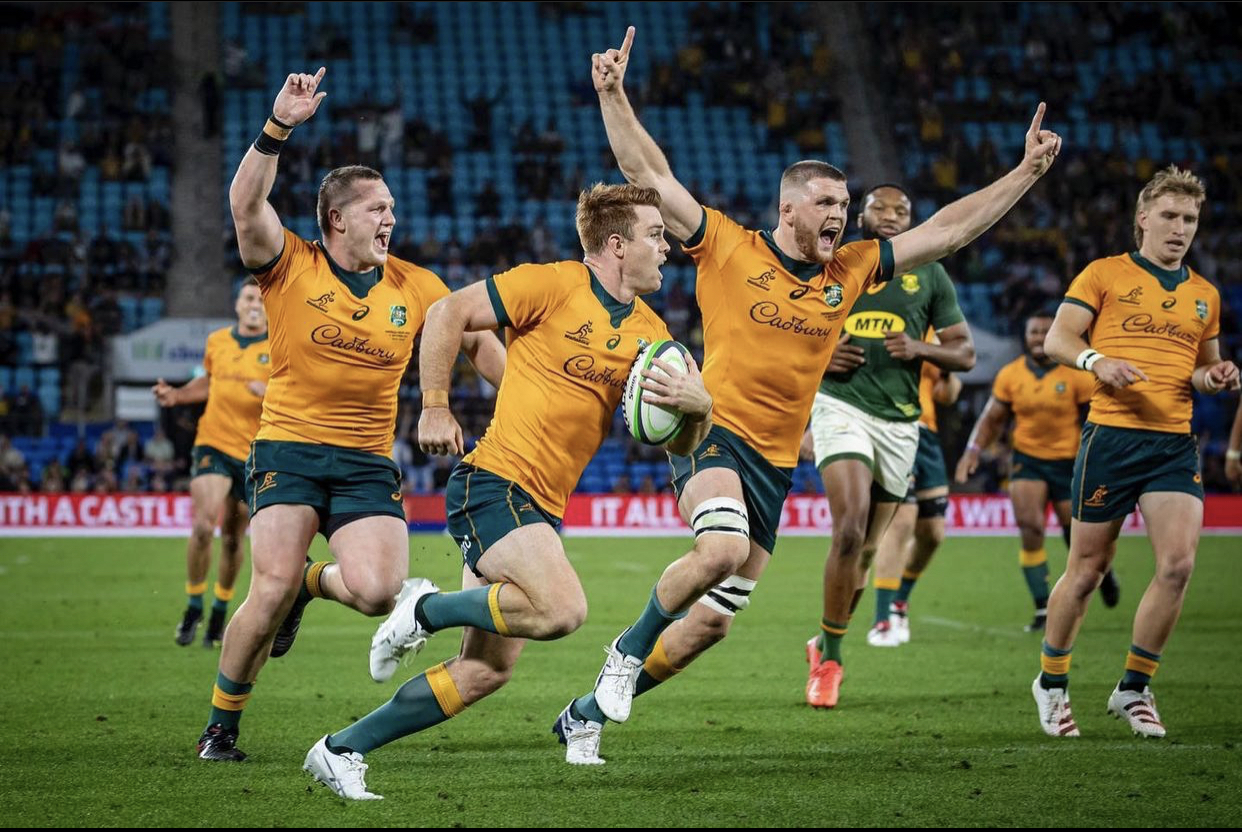 It was also fantastic to see former Wicks 4th Grade Superstar - Pete Samu resurgence at national level and making such a huge impact in the Wallaby backrow. There is a nice yarn written recently by Tom Decent in the SMH about his journey and return to favour, click here to read it.
Well done men and we wish them all the very best on their spring tour to Japan and UK. We also heartily congratulate new Randwick recruit Isiah Perese on his selection in this squad, after many set-backs and challenges in his career. Good on you Izzy!
The Running Game - 1981 Wallabies Documentary
Topically, 40 Years ago, the Wallabies also embarked on a 14-week grand slam tour of the UK and Ireland, and experienced the worst winter in a century. A brilliant film was produced by director Haydn Keenan of Smart Street Films covering this epic tour.

The Running Game provides amazing insights into the high and lows of a team that was expected to sweep all before them. However, despite scoring more tries in every test match, the Wallabies won only 1 from 4 tests, with the sole victory coming against Ireland. Disappointingly we were penalty goaled into submission by England, Scotland and Wales in close battles.

The touring team played a massive 23 matches over 4 months, winning 16 games, drawing one and losing six. The final game, against the Barbarians, was cancelled due to heavy snow. The Wicks were well represented with the 3 Ella Brothers - Gary, Glen & Mark, Simon Poidevin and the late great Bruce Malouf all in the touring squad.

Attached is a two-minute trailer that will send any rugby lover, searching to get a hold of this excellent Australian sporting film as a warm-up to the 2021 tour edition.
From the Rugby News Vault
When Men were Men and had flowing hair as well... The King and Whits!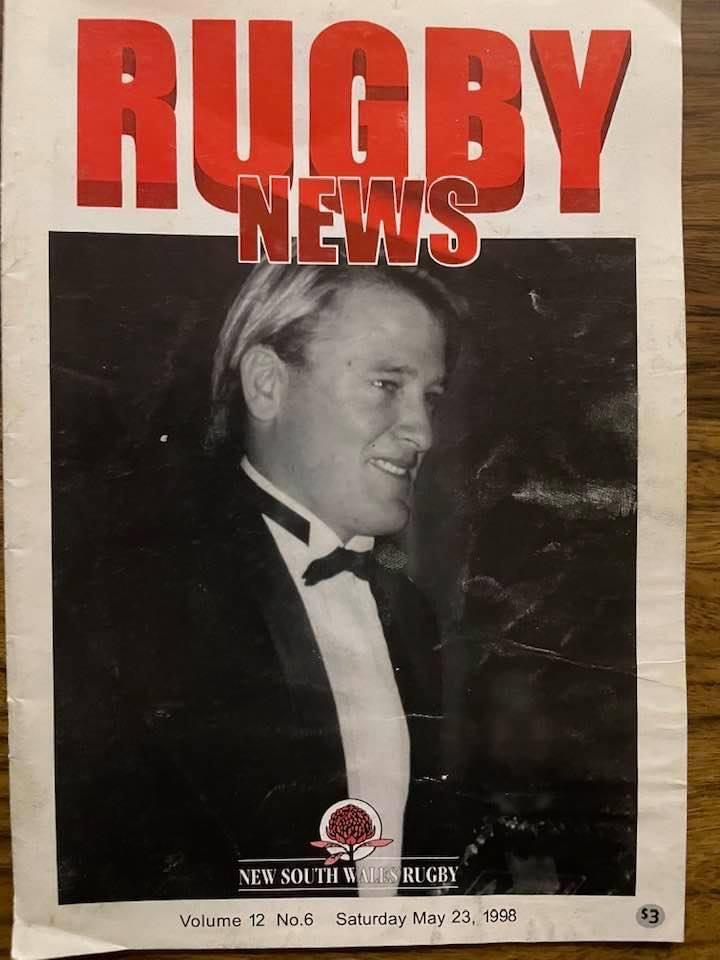 Vale: Paul Nicolaou and Russell 'Rusty' Mackie
Many at Randwick Rugby were saddened to hear of the recent passing of Paul Nicolaou. Paul has been laundering our football jerseys and match day gear for decades, via his Baywash Laundry business at Hillsdale, so off the field he was an important cog in our weekly rugby program. He was a dependable and hardworking good bloke, who was well respected in the local community and will be sadly missed.

We also send our best wishes to our friends at Manly Rugby on the recent passing of their legendary club stalwart Russell 'Rusty' Mackie. Everyone in Sydney club rugby knew Rusty and he was the heart and soul of the Marlins for way too many years to count.

Vale Paul and Rusty. God bless you, your families and many friends during this sad time.
The End....
Phew, I told you I had my writing mojo was restored and it's good to be back.

Without being evangelical about it, its crystal clear that COVID vaccination has played a starring role in achieving our return to freedom and some sort of normality. If you haven't already please get it done, so we can minimise disruptions and get a full year of footy in.

We simply can't afford to have a third severely interrupted season on so many fronts.
Take care and Up the Wicks!

Regards
Mark

Mark Harrison
General Manager
Randwick DRUFC