General Manager's Update
Newsletter 4 2021.
Round 2 started off so promisingly in the morning session at Warringah with 5 wins from 5 games, however it all went a tad pear-shaped on the afternoon shift, when the Rats found a way to win 2nd Grade late and then proved too big and physical in 1st Grade.

Congrats to 3rd and 4th grade on their victories and it was a clean sweep in Colts – with 1st putting on an absolute clinic, then 2nd and 3rd Colts were also impressive in their first official match of the season. Plus, our combined 4th Colts/UNSW boys who took on Epping in Round 1 of Colts Subbies and came away with a good win.

All of these will be covered off in more detail in our Coaches Corner – with match reports from last weekend's games from the coaches or their designated reps.

This week our Grade teams return to Coogee for the first time in 2021 to take on our arch rival Easts in the huge Anzac weekend 'Battle of the East'. It is both a privilege and honour for our club to host this game and the special ceremonies that go hand in hand with it to commemorate our service men and women.

Tickets are selling fast, so get in quick if you don't want to miss out on this quintessential Australian rugby occasion. To book your tickets click here

In this edition, we also celebrate Pat Hodgetts playing his 200th Club game on Saturday and joining very elite company in doing so, the return of our Magic Women to the field, we have our say on Ben Donaldson's Waratahs selection controversy last week and associated criticism of our club by someone who should know better. Plus there's a nice yarn about footy shorts, spiders and harbour tunnels.

Saturday night will be our first big night back at the Coogee Diggers Club post-match and all our players, coaches and support staff will be there, so please come up and join in. To make it easy to do so, the Diggers will run a free shuttle bus to get you to club from 5-6pm, leaving every 10 minutes from the Brook St main entrance.

Plus it's your absolute last chance to get a Sayle Season Ticket, which have been incredibly popular this year. Also don't forget to get your supporters gear and myrtle green up for the season, which is available either online at The Wicks Shop or at the merchandise stall that will be set up at Coogee Oval on Saturday.

Read on. This week we are covering more territory than Vasco da Gama.
Lest We Forget and Up the Wicks!

Regards
Mark

Mark Harrison
General Manager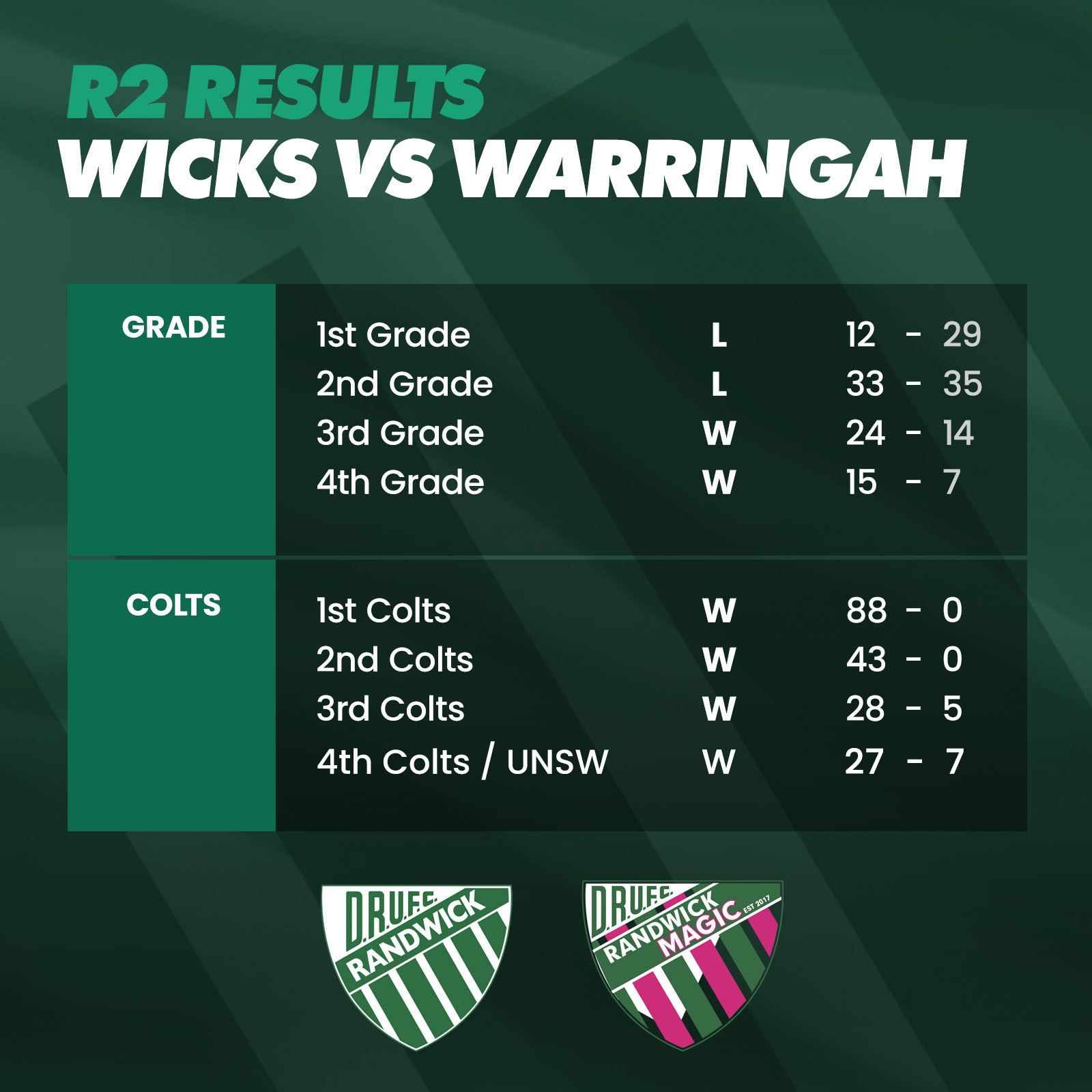 Round 3 v Easts - Ticket Purchase Details
Tickets for Saturday's Coogee Oval matches against Easts can be pre-purchased online and demand is already huge. Due to construction works at Coogee Oval our crowd capacity is reduced until the grandstand, dressing rooms and surrounding area are re-opened later in May. Touch wood!

To ensure you get into this Anzac Day Blockbuster order them now by clicking here.

We can't guarantee any tickets will be available for sale on Saturday, so get in early.

For the Colts matches at Woollahra Oval and the Women's game at Latham entry is free. Our 4th Colts/UNSW are also playing Barker Old Boys at 12.30pm at Turramurra Oval.

Good luck to all our teams this weekend.
The Coogee Diggers is where it's at!
After the Easts match on Saturday we cordially invite everyone back to the Coogee Diggers Club to join our players, coaches and staff for the post-match festivities.

Coogee Diggers has arranged for a free shuttle bus to take our supporters back to the club at the end of 1st Grade from 5pm until 6pm. The bus will leave from the Brook St main entrance at the bus stop across the road.

It will run every 10 minutes from 5pm on a continuous loop to the club and back to the Oval until 6pm. So we can't make it any easier than that to get you there.

For the uninitiated Coogee Diggers Club is on the corner of Carr & Byron St, Coogee.

We welcome this new partnership with the Diggers Club and really look forward to having many great times there.
Coaches Corner
Ben's (B1) - 1st Grade Match Report
1st Grade were out-played in most facets of the game on Saturday to continue the trend of Rat Park being somewhat of a graveyard to us in recent years, as we went down 29-12. It was a disappointing display to say the least.

Poor field management and ill-discipline meant we played the majority of the first half in our own territory and with mounting pressure on our misfiring set piece, the Rats managed to turn pressure into points on numerous occasions. Whilst we managed to build some pressure and score via Christian Yassmin just before the half time break, it was short lived.

Our three games so far in 2021 (with no disrespect to our opponents) were won quite easily, and we were not intensely tested to any great deal, but on Saturday the Rats put the acid test on us and unfortunately some cracks appeared. Sustained pressure through field position, set piece and slowing tactics at the ruck, forced us into making uncharacteristic errors and poor play choices.

The difference between good teams and great teams, is the ability to perform under pressure, displaying consistently brilliant basic skills and not being mentally rattled by varying game scenarios. The good news is that we definitely have this ability in us, with a young and constantly maturing squad, some continued hard work and the right mindset, I'm very confident we will improve immensely off the back of Saturday.

We will learn our lessons and bounce back as we have plenty to play for this week, hosting traditional rivals Eastern Suburbs on the Anzac Day weekend at Coogee Oval. I hope to see you all there to get behind us. Up the Wicks!

Ben McCormack
1st Grade Head Coach
Ben's (B2) - 2nd Grade Match Report
The Jekyll and Hyde 2nd Grade side made their second appearance of the season at Rat Park last weekend, departing with 2 bonus points in a frustrating 35-33 loss.

Showing plenty of ticker to fight back after early Warringah points via rolling mauls and pick and drive opportunities - the second half provided glimpses of the potential the team has when determined to defend together and play smart footy, with several extended periods of play forcing Warringah errors or exits through sustained pressure.

Ultimately it was our inability to hit and stick in tackles that led to a long-range try for the bad guys which decided the game.

The focus now shifts to a huge clash with local rivals Easts in our first home game of the season on Anzac Day eve at Coogee Oval. Up the Wicks!

Ben Rutherford
2nd Grade Head Coach
Gilbert's Goss - 3rd Grade Match Report
Randwick 3rd Grade came away from Rat Park with a well-earned 24-14 win after being down 14-7 at half time. Another slow start, as a result of our lineout failing to fire and a good length of the field try by the Rats, meant that we had to grind out a win against a determined home team. We failed to capitalise on all but one of Ethan Cutler's damaging runs on the edges, which saw him open up the defence repeatedly in the first half.

We steadied the ship in the second half when our lineout began to function, by dominating possession and field position. The Rats only entered our 22 once in the half and we capitalised with tries to Tim Sipple, Blaise Barnes and birthday boy Matt Stead.

Great defensive efforts from Joel Ellis and Joe Feltis set up the win, whilst veteran fly half Lachlan Anderson led the way in attack with good direct running and judicious option taking at both ends of the field. We showed good patience in attack, we won the loose ball count and we tackled hard, all promising signs for the season ahead.

Whilst it was disappointing that the score board didn't reflect our dominance, the need to grind out a win will stand us in good stead in tougher matches to follow, starting this week against Easts. Up the Wicks!

Brett Gilbert
3rd Grade Head Coach
Catto's Call - 4th Grade Match Report
The game started with both sides punching up the middle and the defence dishing out big hits. In the third minute we threw the ball wide to find Hamish McDonald unmarked and he sprinted over to score.

The Rats hit back in the 8th minute when they found the our defence lacking on the short side scoring a converted try. The next period saw both sides throw the ball around, but without troubling the scoreboard. Then a ruck infringement by the Rats saw Ryley Angles-Corke kick a penalty goal to hit the front 8-7, which is how it remained at oranges.

In the second half the arm wrestle continued, with both sides defending with vigour and the rucks hotly contested, which resulted in a number of turnovers.

In the 9th minute the Rats were attacking in our 22 when a dropped ball saw Latham James make a good settling run up the middle. From the ruck the ball was passed wide with Harrison Petkivich finding a gap and sprinted down the field with only the fullback to beat. A well-timed pass to Maleli Motonicococa
in full flight saw him race away to finish off an 80 metre try under the posts. Ryley added the extras, which extended our lead to 15-7.

As the guys from bench took the field the intensity of our defence was increased, with each fresh player echoed their keenness to play and show their skills.

A few more opportunities did not materialise into points and so the full-time score remained Randwick 15 Warringah 7. Up the Wicks!

John Catterson
4th Grade Minister for Communications
Tessa's Tales - Colts Overview
1st Colts Report
1st Colts were coming off a big win over the Pirates, however we had identified a significant number of work-ons to prepare for the Rats. There was a clear focus amongst the group through warm-up and the match's opening stages, and it was clear there would be no complacency in this group. Warringah defended stoutly through the opening stages, but after finding our attacking rhythm the line breaks and tries starting coming.

Ben Dowling has a habit of finding the oppositions slowest forward in the defensive line and beating him with a shift of gears. Dowlo's threatening ball running from 1st receiver opened up spaces wider, and we shifted attack to the edges with great results.

Fullback Winniata Cherrington had his best game of the season, breaking the line with regularity, clocking speeds that that had S&C coach Ash checking the GPS devices for faults, and setting up several team-mates for tries. Speaking of setting up team-mates, winger Gage Phillips made the final pass for six tries, likely an unofficial club record for try assists.

Due to a number of first half backline injuries (including a serious knee injury to Zac Hart), Harvey Austin shifted from No.8 to wing, and absolutely starred in his role. Harv scored 3 tries down the right touchline including and outrageous rugby-league style dive over a defender and corner post for one of the tries of the season.

Most pleasingly, we held the Rats scoreless and ran out 88-0 winners. It was a massive step forward from round 1 and very pleasing form to take into the big clash with Easts.

2nds Colts Report
The mighty 2s finally got their campaign off to a start after a long preseason and trials.
Warringah lost the toss and wicks captain Paddy Turnbull opted to receive the kick off which was to be the first of many.

It was a back and forth tussle in the opening stages as both teams were getting a feel for the ball. Off a great lineout win to debutant Seb Buchanan the call for a drive was on and our very busy number 2 Louis Robinson scored.

This was a sign of things to come as the Wicks forwards had the better of the opposition pack at set piece which created a great platform to work from.

Try number 2 came off another tight head scrum which lead to a very good carry by centre Ben Zucchiati and a quick recycle to Hugo Dempsey who manage to avoid covering defence to score. Converted by James Hendren who also had a busy day with the boot converting 5 from 7 and also scoring the 3rd try of the day.

Try 4 was awarded to Ben Zucchiati after Johnson found him on the blindside of a breakdown. Another backline movement seen fullback Luke Hennessy trot over to dot down. At this stage the hosts started to lose composure and concentration and the Wicks pounced. Next to score was Jake Jorgensen with his 4th try in 2 weeks.

Final try of the day went to Heath Hall Muir who also found himself in the midst of some enterprising play and broke a few tackles to score. A 43- nil win was pleasing, but there is still plenty to do for us leading into the Easts game - a challenge we are excited for.

3rd Colts Report
3rd Colts took to the field against a struggling Warringah team in our first official comp game, but as we all know the Rats are hard to beat at Pittwater. An early try by Patrick Gooley settled some early season nerves and we also started well defensively in the first 10 minutes, showing great line speed and structure through the phases.

Although poor discipline creeped in throughout the first half, we conceded 10 penalties in the first half alone, meant Warringah slowly got back into the game. Two try saving tackles by Jack Bell wasn't enough to stop them eventually crossing, so we led 7-5 at the break.

After the break, our discipline improved dramatically. An early pick and go try by Oscar Linden Smith, was reward for a great build up and multi-phase play. We continued to build pressure and Leeroy Davis scored as a result of a push over maul try. Sam Ridley ensured the bonus point victory, with a great diving finish in the corner off a midfield scrum.

So, it was a solid 28-5 victory over the Rats, but we know the Beasts will be a tougher assignment on Saturday.

4th Colts/UNSW v Epping
The combined UNSW and Randwick 4th Colts team (UNSWRR) took to the park for their Round 1 clash against the team from Epping. Obviously fired up from their jersey presentation at training by former Wallaby, UNSW & Randwick legend Simon Poidevin, the boy they showed some early domination in the backs with Pat O'Sullivan and Callan Porter finding some space in behind Epping.

After a few attacking raids into the opposition 22 Pat Leerdam found some space back on the inside, beating 2 tackles to score. After further time in Epping's territory and a lineout in their 22 Oliver Ferguson went over to put UNSWRR up 12-0 at half time.

Our colts started the second half much as they did the first half, converting territory into two further tries to Jalu Donovan and Fehi Tuitavake and securing the bonus point. Highlight of the match came from captain Angus Strong putting his second-row partner Josh Naiman through a gap in midfield then linking up with him from the offload. Shin Hashimoto finished off the game in style, dummying from 30 out and beating the fullback to score in the corner.

A 27-7 win was a great start to fantastic initiative to ensure all these boys get a run each, week across both clubs.

Up the Wicks!

James Tesoriero
Colts Program and Pathways Manager
Patrick Hodgetts - 200 Not Out
Also, this Saturday we celebrate former Club Captain Patrick Hodgetts, who is playing his 200th club game for our club – an amazing achievement for a hugely respected player and also a quality person. And what a day to do it on - the Anzac match, vs Easts at Coogee!
If there is ever a reason to get to the ground early for 4th Grade - aside from supporting the reigning premiers - then it is seeing Pat run out for this milestone on Saturday at 10.35am.
To quote one of his long term teammate's "Pat is one of the best Randwick blokes and leaders ever!"

Well done mate we are very proud of you!Up the Wicks!
Season Tickets - Last Chance!
This is your final boarding call to get your Sayle Season Ticket Pass before our first home against Easts on April 24.
If you want to be completely guaranteed of getting in to watch the mighty Galloping Greens play at Coogee Oval this year and enjoy incredible savings from our partners such as La Spiaggia Restaurant, Maloney's Grocer, Crowne Plaza Coogee Beach, Chargrill Charlies and on our supporters' merchandise range… then get a move on.
To order your 2021 Season Ticket click here

Get your supporters gear online at The Wick Shop
Check out our huge range of 2021 season merchandise at our online store The Wicks Shop. This now includes our retro corduroy caps which are selling like retro corduroy caps should - that's very quickly!

Here you will find all the fabulous Wick's supporter gear you need at your fingertips – from retro jerseys, jackets, hoodies, beanies, caps and a whole lot more.

The Wicks Shop is open 24/7 online, but will also have all this merchandise for sale at Coogee Oval on Saturday during the Easts game.

Check out The Wicks Shop by clicking here.
The Girls are Back!
We are also delighted to see our Magic Women's XV return to action in the Jack Scott Cup at Latham Park under lights on Saturday night and we welcome back EISS Super, a long-term sponsor who once again are supporting our girls and ladies' programs this season.

The women's representative program this year is extremely congested and saw many players unavailable for large chunks of the season – particularly early in it, which has really been problematic for the club 15's competition.

However, the maestro of women's rugby Fidel Tukel has woven his magic and has been able get a competitive team together and we look forward to seeing them back on the field.
Don't Mention the War!

Last week there was much said in the media by a certain coach of another Shute Shield club who questioned the selection of our very own Ben Donaldson as the Waratah's starting 10 and was highly critical of our club in the process. Very highly critical in fact.

Yet it seems a tad hypocritical to complain about state team selection, when you don't pick the player in question to start for your own club, when he was available to play for you. It's all very confusing I know.

I understand coaches get emotional about things (we have them here too - both coaches and emotions..) and will defend their players which is fair enough. However, in this instance the line was crossed and about the only high performance program that didn't cop a spray from old mate was the Harlem Globetrotters.

Speaking from personal experience, I felt desperately sorry for Ben, his family and friends that his run-on debut was potentially being sabotaged in such a public way. I also felt sorry for Tane Edmed and his family for getting dragged into it. It must have been very uncomfortable at Tah's training and totally unhelpful to the state team's preparation.

Despite our stakeholders being egged on by journo's to engage in retaliatory media jousts or debating with deluded folks with vested interest on social media, as a club we decided not to partake and maintain a dignified silence.

Our novel approach was not to put any further undue pressure on Ben and let him take care of business on the field, which he did magnificently in a fantastic debut. Bravo Dono – we have awarded you a 'Badger' of Honour for the way you handled it all.

Generally, we don't get ahead of ourselves and just focus on our next opponent - but all our players are truly looking forward to Round 12 for some reason....
Short Story
This is the ultimate Short Story...

One of our new players Liam O'Connell was driving to Warringah last week when he encountered a meaty spider (so he reckons) on the inside of his windscreen, whilst in the Harbour Tunnel.

Whilst he claims not to be scared of rats, he certainly is of spiders. Apparently, they don't have them in Ireland and in a mad panic he used his playing shorts to grab the spider and threw then both out of his car window. He eventually arrived at ground and spun this web of intrigue as to why he needed new shorts, which we obviously thought was the biggest load of crap we had ever heard.

Low and behold moments later a post pops up on our players Facebook page with a photo of the missing shorts. There was a holdup in the tunnel not long after (a giant daddy long legs spider was on the loose wreaking havoc..) and his teammate Hugo Carr, also on route to Pittwater, was patiently waiting for the traffic to move again, when he noticed some Randwick shorts peculiarly situated on the side road and retrieved them.

Despite Liam being reunited with his now spider-less fabric, his 2nd grade side lost and our Hugo, calamitously was sin-binned – so unfortunately, we all came up short!

THE END!!!