At the 99th Randwick District Rugby Union Football Club Annual General Meeting (AGM) held at Crowne Plaza, Coogee Beach last night, an absolute giant of Randwick and World Rugby, plus one of the Galloping Greens most dedicated volunteers were bestowed with Life Membership of our Football Club.

We heartily congratulate Ewen McKenzie and Mick Lewis who both received the requisite number of member votes to be awarded with this honour. Ewen was in Melbourne and was unable to be here in person, but sent a video message expressing his thanks and gratitude, while Mick was in attendance to accept his honour.

Randwick DRUFC President John Tuxworth said "As a club we are blessed to have produced some of the greatest players and coaches in the game. Ewen McKenzie was one of the world's best ever tight head props and had a distinguished playing career with Randwick, playing in 8 First Grade Premiership teams and in over 100 First Grade games for us. He went on to play and coach at the highest levels of the game for the Waratahs, Reds, Brumbies and Wallabies. However, he readily credits his years at Randwick as a key part of his success, enhancing our global reputation as a club even further."

"On the other hand, Mick Lewis, has had a long association with Randwick Rugby as a volunteer, with his loyal service to us spanning for much of the last 30 years." It is obvious from his varied roles that Mick has always been willing to lend a hand when and where it was needed. It simply helps make a club like ours tick over each week and his efforts have been invaluable over a sustained period of time." Tuxworth added.

"Importantly, it also shows just what an egalitarian club Randwick is. I'm proud that we can celebrate one of the greats of the game, but equally recognise someone who just gives his heart and soul to us behind the scenes." Tuxworth concluded.

A summary of each of men's contributions to Randwick Rugby is as follows:
Ewen McKenzie
Ewen 'Link' McKenzie was born in Victoria in 1965, was educated and played rugby at Scotch College in Melbourne. In 1985 he moved to Sydney to study Town Planning at UNSW and a night at the old Rugby Club saw him meet the legendary Jeffrey Sayle, which set him on the path to a lifelong association with the Galloping Greens and the game itself.

After one year in Colts, in 1986 Ewen was graded in 2nd Grade and soon after found himself debuting in the top grade and there he stayed. He went on to play 128 senior club games for Randwick from 1986 to 1997 – 116 in first grade and in a staggering 8 premiership winning teams from 1987 to 1992, 1994 and 1996.

At state level Ewen represented NSW on 37 occasions from 1987 to 1995 and also played for the Brumbies in 24 matches from 1996 to 1997. He was the second Victorian born and bred player to represent Australia after the great Sir Edward "Weary" Dunlop, earning his first cap against France in 1990 in Sydney and going on to play 51 times for the Wallabies.

With Phil Kearns and Tony Daly, he was part of Randwick and arguably Australia's best ever front row, culminating in being a member of the 1991 World Cup winning side over England and Bledisloe Cup wins over the All Blacks in 1992 and 1994.

Following his retirement from playing in 1997, he began his coaching career as an assistant with the Brumbies in 1998, before spending 3 years with the Wallabies as an assistant coach to both Rod Macqueen and Eddie Jones.

He then became Head Coach of the Waratahs, taking them to 3 Super Rugby Finals and his five-year tenure still makes him the longest serving coach in NSW's history. He then went overseas to join French team Stade Français in Paris in the 2008 & 09 seasons.

He returned home to coach the Queensland Reds for four seasons from 2010 to 2013 including a famous victory over the Crusaders to win the 2011 Super Rugby title. In 2013 Ewen was appointed head coach of the Wallabies succeeding Robbie Deans and coached the national team for 2 years before resigning.

A very proud Ewen said 'I'm in shock to be honest. It's a nice moment to circle back to where I started at the club. After meeting Jeff Sayle, I went along to Latham for Colts training in 1985 and it all kicked on from there. It's a fabulous honour to be awarded this in the company of many great luminaries of the club, on and off the field.'
"I have very fond memories of my time at Randwick, the great people I met here and the fun I had. It was the springboard for me as well as many other great players and coaches to earn their stripes. I really appreciate being considered at their level." Ewen concluded.

Enjoy fellow Wallaby legend and Randwick Life Member Simon Poidevin's one on one video chat with Ewen by CLICKING HERE, about his many achievements and love of our club.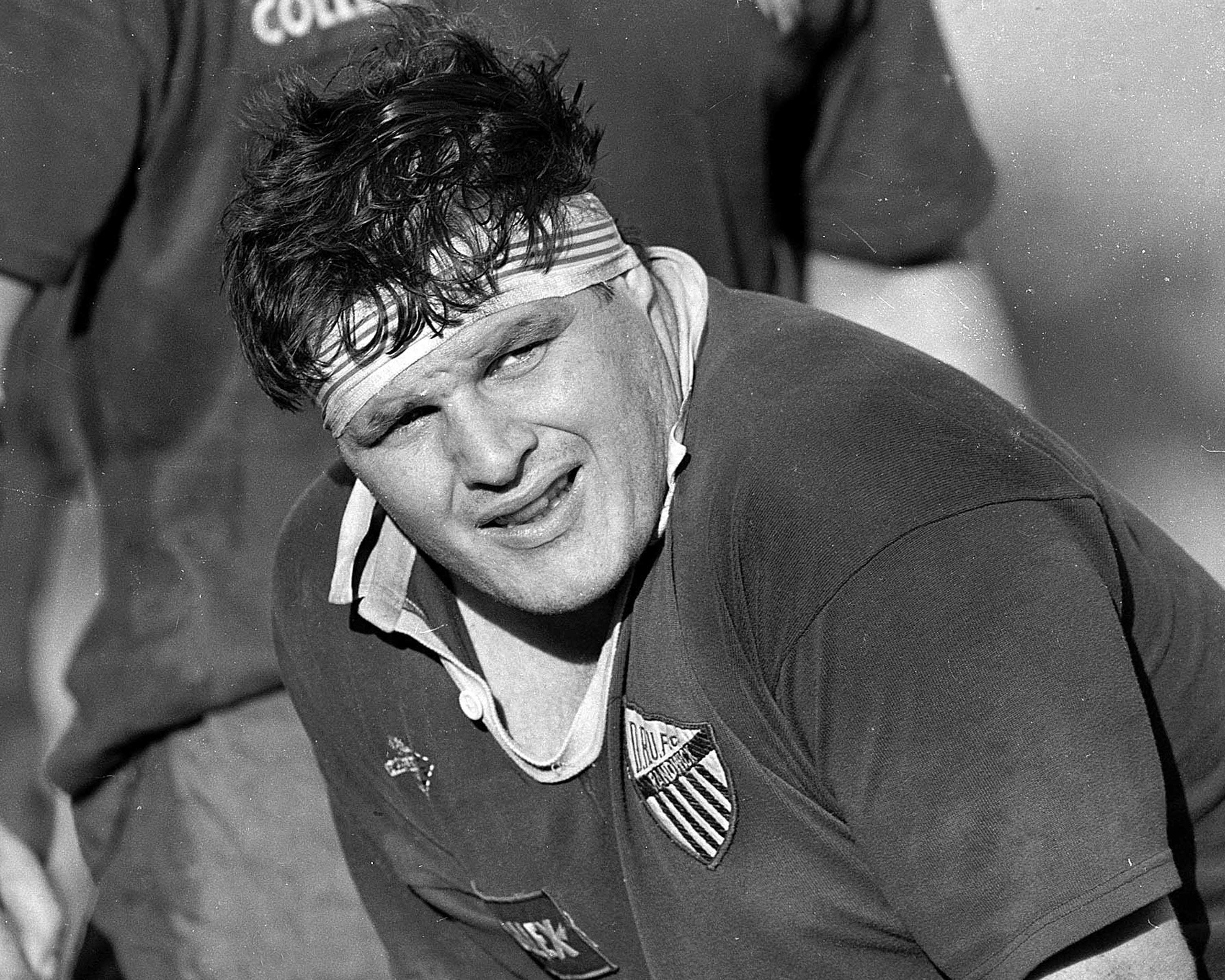 Mick Lewis
Unlike Ewen, Mick's vast contribution to the club has not been made on the field, after a serious injury unfortunately curtailed his playing career in his junior years. Off the field he is one of our many unsung heroes, whose contribution mostly goes unnoticed – yet he has been consistently volunteering for the Galloping Greens, for almost 3 decades.

Whether it be as a coach, manager, match day controller, timekeeper, tough judge or general hand, Mick has been involved with us in some role almost every year since 1992.

While we know that Mick and many of his ilk choose to volunteer selflessly and without expectation of being recognised, today we are thrilled to do just that, particularly as he has now stepped down announcing 2021 would be his last season of volunteering. We sincerely thank him for dedication, hard work and service.

A very humble Mick told the AGM audience "Compared with the extraordinary feats and career of Ewen, I was over the moon just being nominated to begin with and now to receive such an honour alongside a legend like Ewen is just amazing. I am so proud to be recognised in this way by a club that I love so much. I would like to thank a great old Randwick man Ray Jennings for teaching me much about rugby and for getting me involved here."

On behalf of all at Randwick DRUFC we thank both men for their immense contributions to this famous club and congratulate them on this richly deserved honour of Life Membership.