Randwick dominate Grand Final opener, with comprehensive win over Manly in 4th Grade Henderson Cup.
It was 6:30am on a beautiful foggy morning as players, coaches and supporters started assembling at Latham Park to head out to Leichhardt Oval for what was shaping up to be one of the great days for Randwick Rugby - Grand Final Day. As we assembled at Latham all players that were expected on the bus were accounted for, which is always a good start. Our GM Hector then bid us adieu and calmly reinforced the importance of 4's laying the platform for the entire club across the day, as we had all season.
On arrival at Leichhardt Oval it looked an absolute picture. The deck was perfect.
We were up against a Manly team that pretty much was the only club that had troubled us during the season. In our first encounter this season we scored 3 tries within the final 10 minutes to claim a narrow victory, and in our second match we went down to them narrowly at Manly Oval. On both occasions you could say were our worst performances for the year.
We needed to start well and everything else would fall in to place. From the opening whistle all I can say is it was a coach's dream. The first 20 minutes was the best 4th grade footy I have ever seen. Our set piece, especially our scrum dismantling Manly with ease. Rique Miln would play with a maturity well above his years and control the game like a puppeteer, ensuring Manly basically did not spend any time outside of their own 30m line for that period.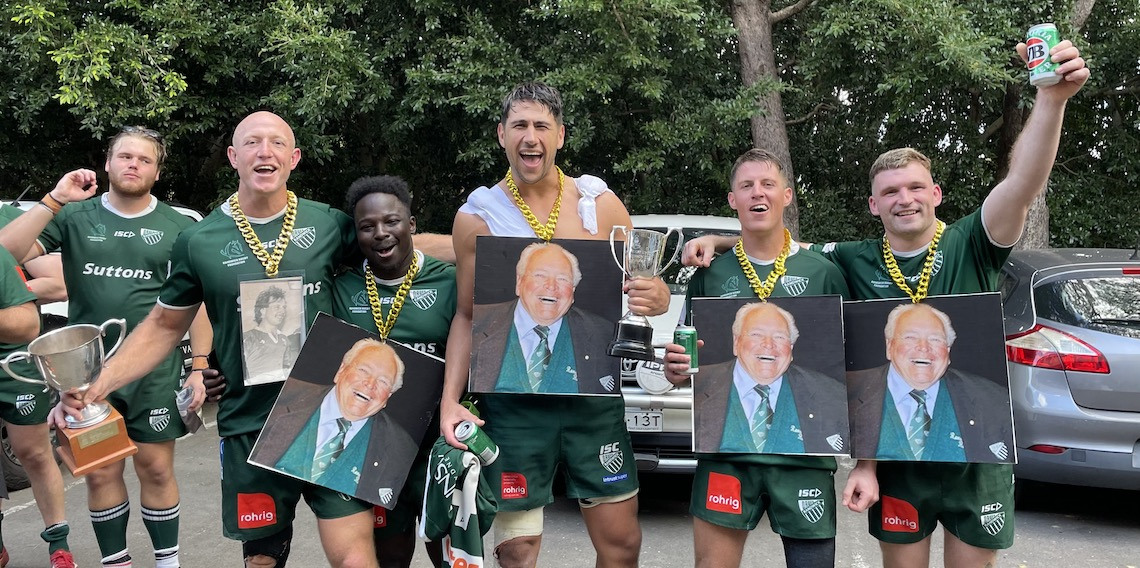 Our defence was organised, suffocated them and Manly simply had no answers. It was a masterclass from the squad. We opted to play footy overtaking penalty goals and it paid dividends. It took us just 3 minutes to score our first try through Barnaby Bickmore-Hutt after a superb lineout and driving maul and we lead 7-0.
We continued to mount pressure and we had our second try through Lewis Taie after Ellis Hawker caught Manly napping when we received a penalty for offside. We lead 14-0 after 13 minutes. Although we controlled the territory and everything else in the game Manly still stuck around. They found a rare weak spot in our defence and made a break which would result in a penalty try after sustained efforts on our line. The half time score was 14-7with Rique in the sin bin for that indiscretion. Our conversation at the half surrounded around our defensive structure and the need to control the game until we were back to 15 men.
After the half time break, we needed to manage the clock and we picked up first points through a 45m penalty goal by Ethan Cusick. We lead 17-7with 28 minutes remaining. We obtained some more positive territory after another penalty, and we went on the attack again. Ellis Hawker would break the game wide open and score from 15m out and we now lead 24-7 with 24 minutes remaining. Ellis had now scored an astonishing 7 tries in the finals' series.
The next try would break Manly's hearts and would probably be our best of the day. After a Barnaby pilfer, Rique from 60m out would kick to space and with just honest urgency Matt Dutaillis would chase and pinch the ball out of the air to score. A phenomenal try and we e lead 29-7 with 20 minutes to go.
Our final try would be from an equally phenomenal individual performance with Nathan Watts pouncing on a stray ball during a kicking duel to streak away from 60m out to score. Apparently later in the night he was claiming it was from 80m. We'd go on to win 34-7 in one of the great 4th Grade performances.
Rique Miln was a huge standout for his game management and ability to pin Manly in their own half. Barnaby and Nathan Watts were enormous around the park doing the tough stuff. Dean Begetis and Nick Halliday ensured our scrum never took a backward step and Lachie Anderson was safe as houses at fullback.
You don't often expect to empty the bench with 10 minutes remaining in a grand final and I was so happy to be able to do so as they thoroughly deserved it. It takes a 4th Grade village to win a comp and there was 15 or so men on a week-to-week basis pushing the starters all the way. Special mention goes to those men who couldn't take the field. That's simply the hardest part of coaching. Having to leave people out. Thank you for turning up each week and putting in.
I want to thank all the staff who are involved directly with the team. Allan Stutchbury, thank you especially for getting me involved with this team. It's been life changing. Tom Hiddleston your contributions were massive throughout the season great to see you home safe and sound. Di and Greer had a monumental task to strap the lads each week and ensuring the men are fit when taking the field. Dr Paul Raftos for being there week in week out ensuring full care is given to our men. Morgs, Hector and Mel your support all year was amazing. Thank you.
To the families of everyone involved ensuring players are where they are meant to be on time, we appreciate your contributions and sacrifices.
And of course, to Joey Picone, congrats on another successful chapter in your long and successful history with the Wicks. Thanks for ushering me in to the coaching ranks mate. I'll be forever grateful for this opportunity. Up the Wicks!

Randwick 37
BICKMORE-HUTT, Barnaby - Try
TAIE, Lewis - Try
WATTS, Nathan - Try
HAWKER, Ellis - Try
DUTAILLIS, Matthew - Try
MILN, Rique - Conversions (2)
CUSICK, Ethan - Conversion and Penalty

Manly 7

Article written by forth grade backs coach, Lachlan McKay