The GM's Update!
Last week was a huge one with our first home game and all the efforts required to transform Coogee Oval from a suburban park to a Shute Shield standard footy stadium. Plus, despite all the rain late in the week, the oval was in really great nick, coping well with the 5 games played on it against Norths.

In terms of the rugby, it was almost a perfect day with 6 from 6 wins from the early Grade and Colts matches going into First Grade, but unfortunately in the main game, we just went down by 5 points to a very polished Northern Suburbs team who justified their tag as early premiership favourites in a very tight and free flowing contest.

Prior to First Grade kick-off we also paid tribute to some old Wicks who had sadly passed earlier in the year in Damien 'The Duck' Maree and Warren 'Wazza' Hurt. At halftime, we also saw our long-time grade player and popular clubman David 'Akkers' Akkersdyk shaving his long blonde locks off as part of his World Greatest Shave charity crusade for the Leukemia Foundation and has raised close to $7,000 to date - so there was much going on in our first home game of the season.

In Coaches Corner, read all the match reports and insight from our coaches - seemingly all the winning coaches were obsessed with the sunshine. Last year's rain deluge has obviously left some mental scars. Interestingly, the only coach who didn't mention the sun was Hoilesy!

Also check out all the amazing photos from all our Round 3 games at Coogee Oval taken by our club photographer Ric McLallen, on the galleries area of our club website. Simply CLICK HERE to see them across the 5 grades in action there.

This week in Round 4, well, there are big games and there are big games. It just doesn't get any bigger than Randwick v Easts and the Battle of the East on the Anzac Weekend - two of the fiercest rivals in club rugby facing off. It's back to a home and away format with Grade at Coogee Oval and all Colts games at Woollahra Oval.

In all honesty, playing footy is not the star event on the Anzac weekend - commemorating our servicemen and women, past and present is, and It's a both an honour and a privilege for our club to host a game of this magnitude on such a special national occasion.

Our Anzac Ceremony will start at 2.55pm and it promises to be a tribute not to be missed. Don't be late this week, give yourself plenty of time to catch the spectacle and honour our veterans. You don't want to be queuing up trying to get in when The Last Post is playing.

All the match details and ticketing information for this this massive game on Saturday also follows in the update. If you wish to purchase tickets the you can simply click here update to current to do so online. Again, get it done before you go online, its way easier to show up and scan your ticket then joining the purchase line.

Also, post-match formalities on Saturday will continue back at Coogee Legion Club in Arden St, so join the players, coaches and their families back there.

Plus, we have details on our Back to Randwick Weekend (May 26 & 27) for all our ex-players, coaches and officials which is scheduled in Round 9 when we play Eastwood at Coogee Oval and the reunion the night prior at Clovelly Surf Club.

I hope to see you at Coogee Oval on Saturday when we tackle the Beasts and honour those many great Australians who have sacrificed so much for us all and continue to do so.

Lest We Forget and Up the Wicks!

Regards
Mark

Mark Harrison
General Manager
Randwick DRUFC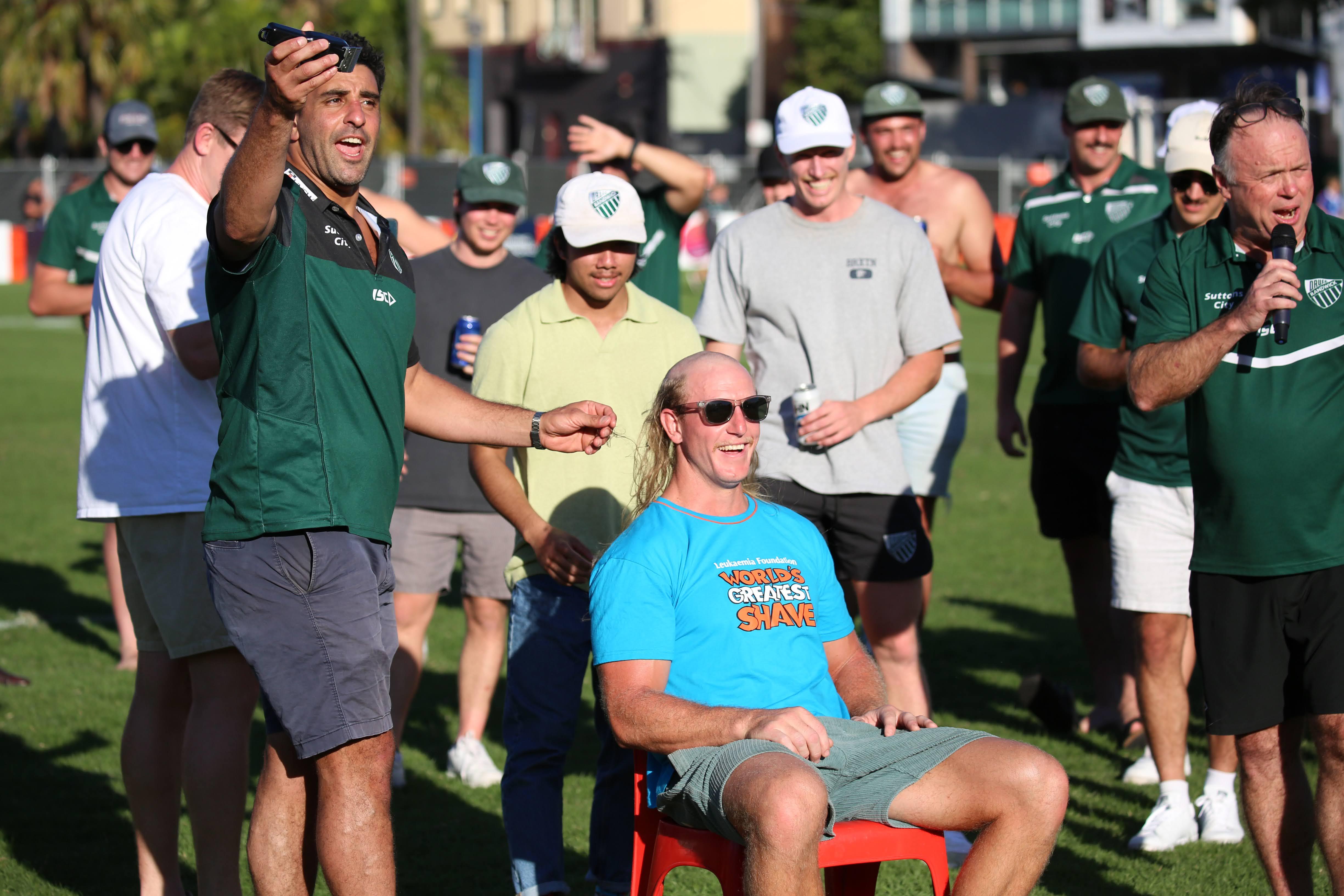 ROUND 4 V EASTERN SUBURBS - SATURDAY, APRIL 22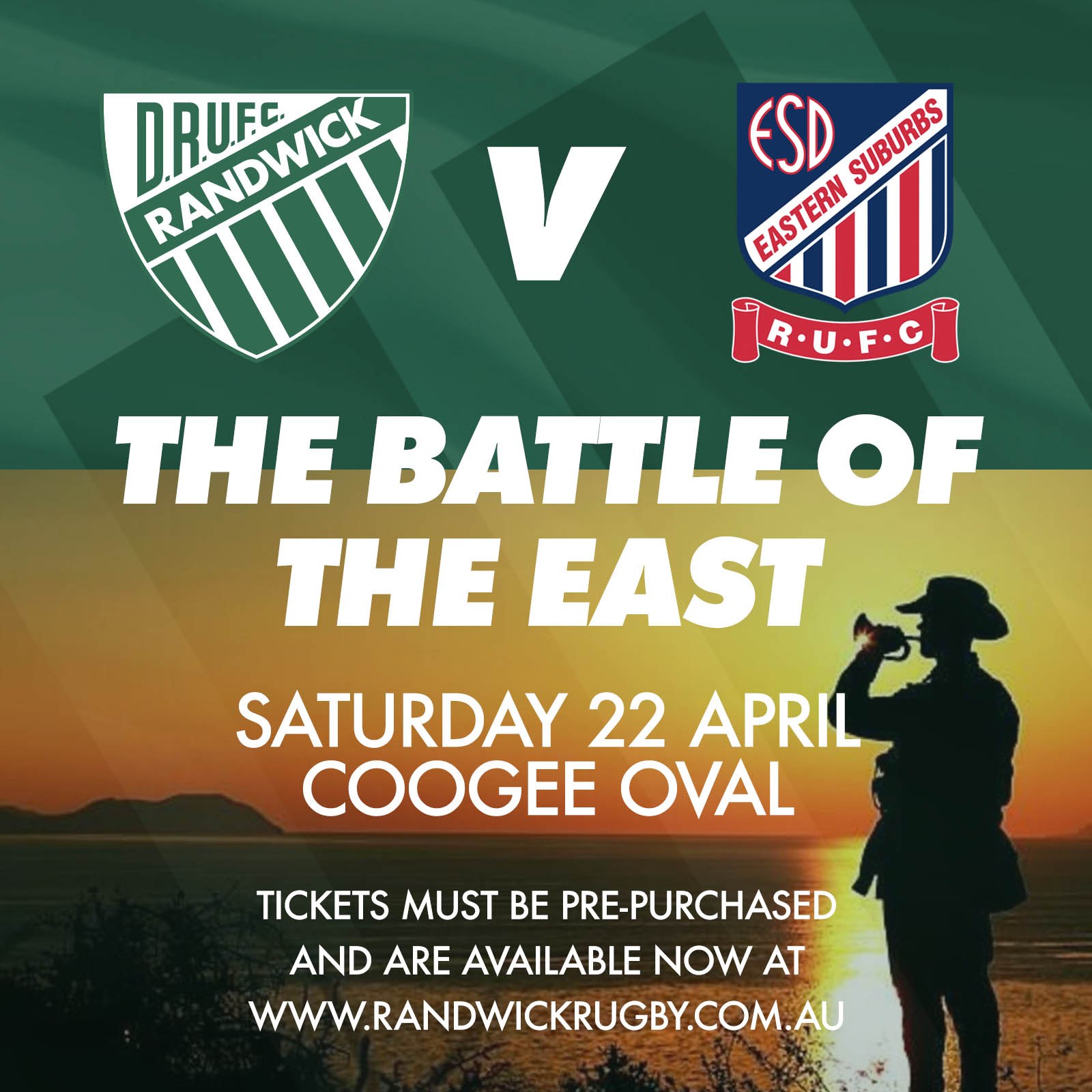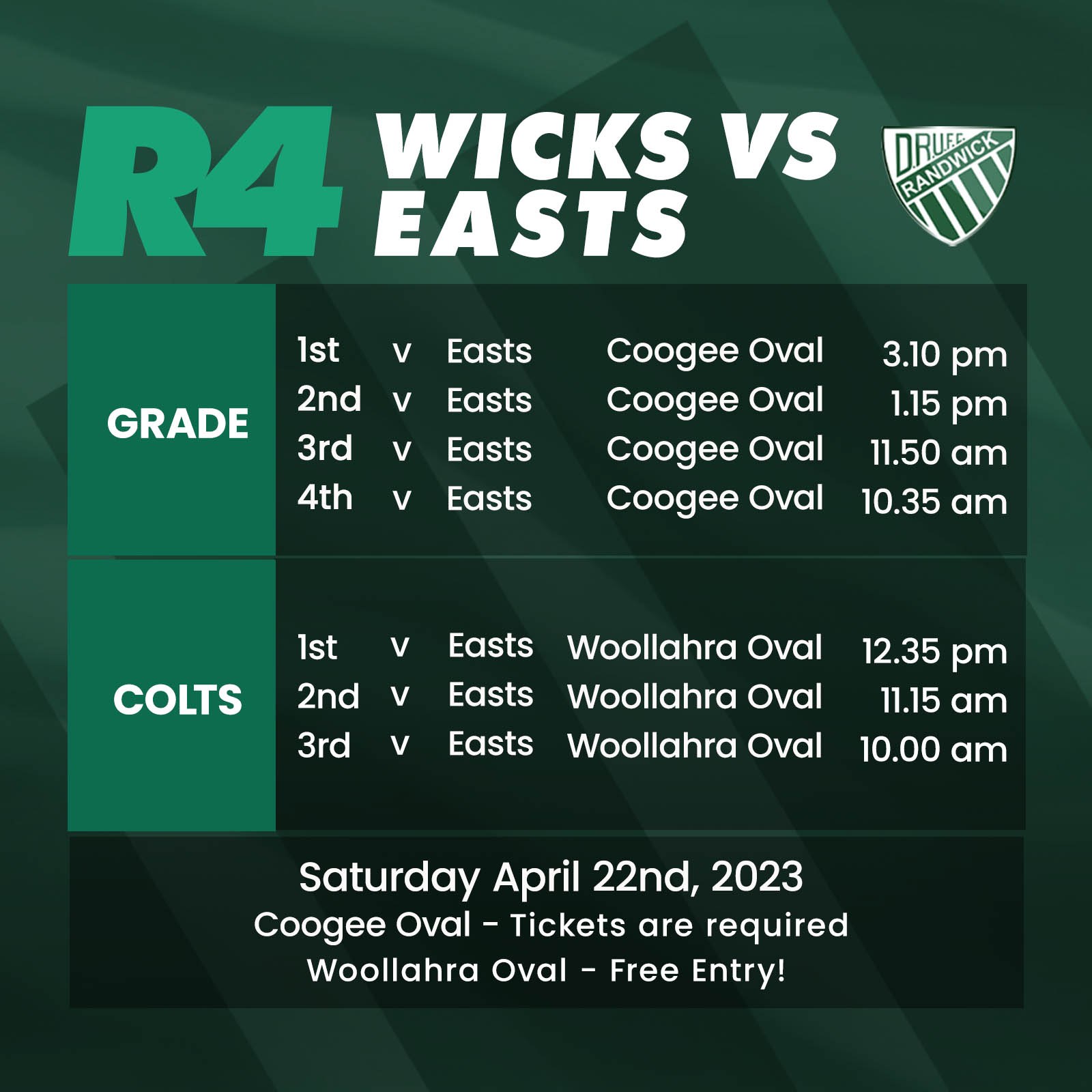 KEY EVENTS AT COOGEE OVAL FOR YOUR DIARY
Anzac Commemoration Match: Round 4 - Saturday April 22 vs Easts
Juniors Day: Round 6 - Saturday May 6 v Manly
Back to Randwick Day Weekend: Friday May 26, Ex-Players Reunion from 5pm at Clovelly Surf Club & Round 9 - Saturday May 27 vs Eastwood at Coogee Oval.
Coogee Surf Club Day: Round 11 - Saturday June 17 vs Gordon
Indigenous Round: Round 12 - Saturday June 24 vs Sydney University.
Ladies Day: Round 17 Saturday July 29 vs Southern Districts (Note Revised Date)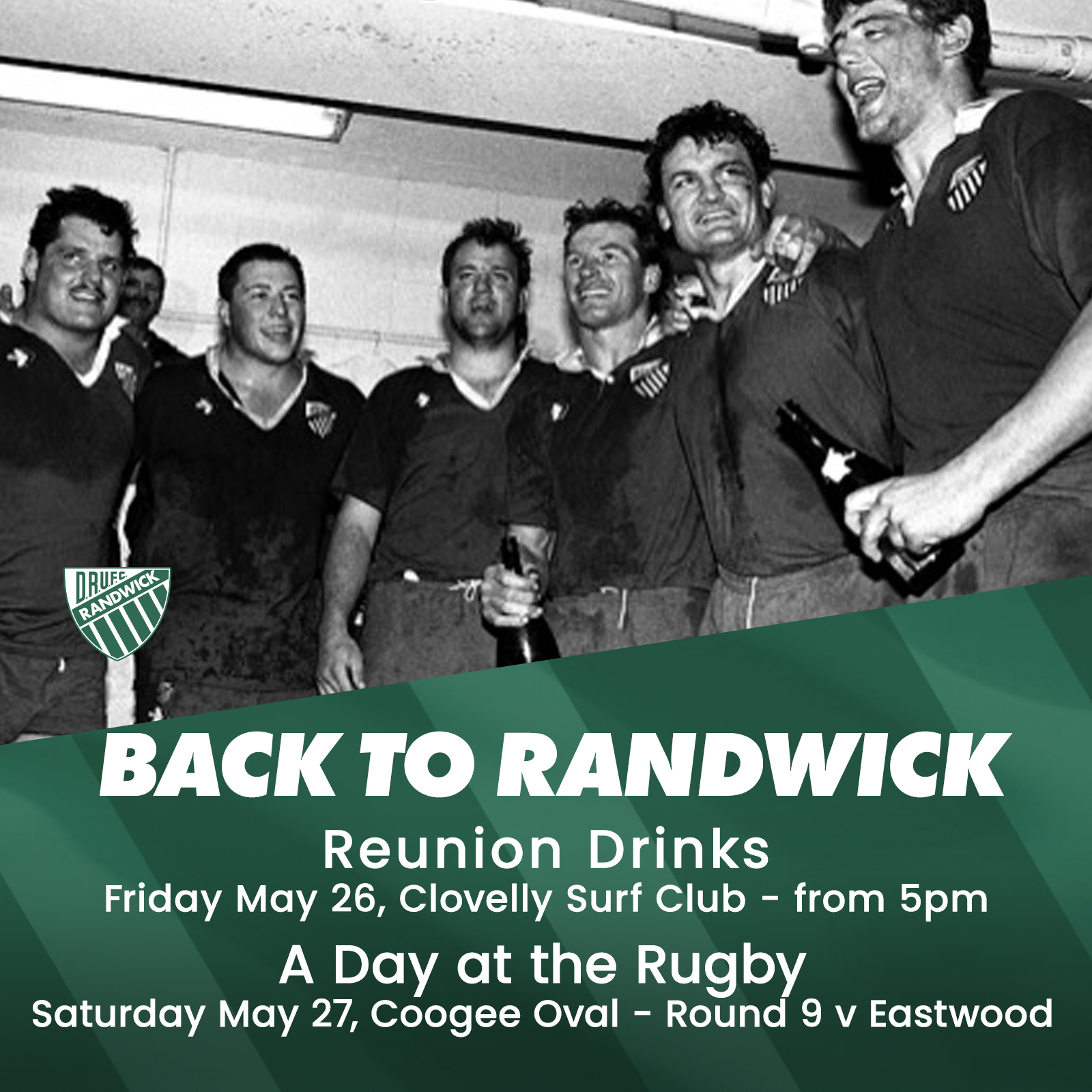 Back to Randwick Day / Ex-Player Reunion - May 26 & 27
All ex-Wicks players, coaches and officials please lock this in your diary - Back to Randwick Day will be held on Round 9 vs Eastwood on May 27 at Coogee Oval.

But why only make it a day, when you can make it a Wicks weekend, so we are again holding a casual reunion on the Friday evening prior from 5pm for ex-players, coaches & officials at the spectacular Coogee Surf Club.

The Back to Randwick Weekend Ticket is $60.00 and includes:
• The Reunion: Friday, May 26 from 5pm-10pm at Clovelly Surf Club. Includes dinner, entertainment and a few drinks.
• The Footy: Saturday, May 27 from 1.30pm Wicks vs Eastwood at Coogee Oval. Includes a ground entry ticket and a special reserved area
•Post-Match Festivities at Coogee Legion Club – invite to have a beer with the players, coaches and old mates.

If you are a 2023 Season Ticket Holder of some sort Sayle Season, Out of Town or Life Member, then the Weekend Ticket price is $50.00.

There are obviously restrictions on how many people can go to the reunion at Clovelly Surf Club on Friday night and we can only cater for 150 people - so its first in best dressed.

To get your ticket simply click here to get it online.

Up the Wicks!
Coaches Corner
Hoilesy's - 1st Grade Report
Our first home game at Coogee Oval this season ended with a close, but disappointing loss to a quality Northern Suburbs side.

Knowing all 6 Randwick teams that had played before us had won and that we had the opportunity for a clean sweep was not lost on us post game and the disappointments shared within the group has helped motivate us for this weekend's Anzac derby.

It took some time before either side found any rhythm, but the game didn't lack intensity with it being one try a piece at half time and a lead to Norths 13-10.

The second half was a similar story with Norths getting a 10-point lead with 15 minutes to play. A try to Ben Dowling after some good lead up work by the team & a penalty from Coby Miln got us within 3 points with 5 minutes to play but unfortunately, we just weren't able to create and finish enough opportunities with the ball in hand.

The team was rightfully disappointed with the result especially in front of packed home crowd full of loud and loyal supporters. On a more positive note, congrats to Christian Yassmin on his 50th First Grade game for our club.

While we as a playing and coaching group know we need to keep working on our attacking combinations, I have been very happy with the commitment from the entire squad especially around our defence and discipline over the first 3 rounds.

This weekend at home against Easts in the traditional Anzac derby provides us with the perfect opportunity to show our Coogee Oval faithful what we are capable of. The players can't wait and hopefully it's the game that showcases what we capable of. Up the Wicks!

Steve Hoiles
1st Grade Head Coach
The Wee Scotsman's - 2nd Grade Report
We could not have asked for a better day to return to Coogee Oval as a group, the sun was shining and there was a real buzz around the club as we took on Northern suburbs.

It was excellent to start the game with set piece dominance and capitalising in the first 2 minutes through a dominant scrum and great interplay between Tim Sippel and Jackson Mohi leading to his first try of the match. During the week we wanted to lift our attacking intensity and speed around the ground which I felt we did, creating multiple line breaks, huge impact here from Angus Ryan, Declan Leaney and Jackson. It was disappointing for this not to be reflected on the scoreboard with attacking penalties conceded however credit to Norths who did not give up defensively. We finished the first half 10-7 in front.

Similar to the first half, we continued to apply tempo and pressure through our attack both multiphase and set piece. Hugo Dempsey, on his 2nd grade debut, was the beneficiary going into the corner after some brilliant playmaking from Sam Croke. Unfortunately, our discipline allowed Norths multiple opportunities to attack our try line. The players showed significant resilience to defend for multiple phases. We will take lessons as a group that we would preferably not concede 19 penalties and 3 yellow cards but it is a credit to the players' character to never give up despite the circumstances.

With 100% goal kicking percentage from Alfie Orchard, we finished the game 27-24 winners with some valuable experience and lessons we can take into our next challenge of Eastern Suburbs this week. Up the Wicks!

Matthew Clark
2nd Grade Coach
The Hoyles not Hoiles - 3rd Grade Report
I don't think you can ask for more than sunshine at Coogee Oval on a Saturday and seemingly this beautiful morning saw us put in a much more composed performanceagainst Norths than what we offered up against the Rats.
While the game still saw signs of being dishevelled, there we some fantastic efforts to put points on the board by our centres Mitch McKay and Matt Stead, both courtesy of brilliant footwork and hard running lines.

Other shining performances in defence by skipper Sam Connor and debutant Nathan Watts saw us only concede only one try across the 70 minutes.

We know that we need to be more clinical and consistent, but with this win under our belt we are confident we will continue to improve and perform at a higher level in the 3rd Grade Grand Final replay at Coogee oval this Saturday against Easts. Up the Wicks!

Rob Hoyles
3rd Grade Coach
The Chubbs - 4th Grade Report
Some say Coogee Oval was the true location William Webb-Ellis picked up the soccer ball and ran with it creating the game of rugby. True or not, (False Chubbs.. ) we were home at the promised land and Coogee Oval was looking as incredible as ever. Thanks to everyone who helped prepare the ground through the week to have it ready for us.

Norths were coming in to the game unbeaten having knocked off last year's grand final winners Uni, as well as last year's minor premiership winners Souths so we knew we had a challenge on our hands and had to start fast and strong. We did that with an outstanding run from Conor Barry tearing through the Norths defence from the kick off. It set the tone for the day with Jake Jorgenson following suit with many strong first half carries.

It took 11 mins before we scored the first points on Coogee Oval with the forward packing showing great patience and composure picking and driving our way over for Barnaby Bickmore-Hutt try.

Only 6 mins later a Norths kick straight to Jake Jorgensen resulted in a 60m counterattacking try with outstanding touches from Jorgo, Ben Howard, Cillian Monahan and Jack Bell being the benefactor of a great Randwick try. Our discipline then started to let us down, with stretches of back-to-back penalties against us and although our defence was stout Norths scored on half time with the score being 14-7.

Our discipline in the second half continued to let us down and although Norths had plenty of opportunities to score, we defended them out of the game and Norths were unable to convert. Norths were now shot and had no answers and in the 56th minute we executed an attacking lineout perfectly 10m out and bulldozed out way over for our third try through David Vea. Yes, you read that right, David Vea in 4th Grade.

We won the game 22-7 on the back of well executed attacking plays and strong relentless defence. This was a pleasing result coming off a second round bye. Special mentions go to Jake Jorgenson, Conor Barry and Will McDonald who all performed outstandingly on the day. Up the Wicks

Lachlan 'Chubbs' McKay
4th Grade Coach
Tessa's Tales - 1st Colts Report
Saturday offered us a sunny day and a dry ball for the first time this season, conditions we felt were to our advantage, after consecutive wet days in rounds 1 and 2.

Norths started strongly, and controlled possession and territory to open the match. We got our first decent territory and possession from a lineout in the 8th minute, and we executed a training ground move perfectly for a Theo Mayell try, converted by Charlie Worthington.

As we expected, Norths kicked well tactically and kicked often. Astute kicking gave them territory and they followed up with defensive pressure. When we conceded penalties in our own territory, they punished us with penalty goals.

Our 2nd try of the half came shortly before halftime, again from an attacking lineout. We won lineout ball and formed a maul, showed patience with our drive and Baxter Flynn peeled off the back for a try. After we missed the conversion, we were tied at 12-12 at halftime despite scoring two tries to none.

We opened the 2nd half with greater poise in attack, and after our longest stretch of continuous phase attack, halfback Ben Keogh scooted from the base of the ruck and flicked a blind Gregan ball back inside to prop Jack Barrett, who showed great speed to beat several Norths backs to the try line, with his trademark ginerish mullet trailing behind.
With increased confidence, the attack gained some continuity. A well-constructed passage ended with a penalty inside Norths territory. A kick for the corner and ensuing lineout maul, led to Baxter Flynn's second try and secured the four try bonus point. Shortly after, a powerful Alex Elder carry got us on the front foot, and we look certain to score, until a long pass near the line was intercepted and Norths run the length for a 14-point swing.

Despite having the run of play, scrums were a problem all afternoon, many dropped scrums were deemed our fault resulting in re-set scrums and penalties conceded. At approximately the 60 minute mark, and with the game still in the balance, we conceded a series of scrum penalties. When the referee blew time off and officially cautioned us, prop CJ Vakatua was inserted off the bench to steady the scrum, and he did a remarkable job over the final 20 minutes. We won a scrum against the feed, and set the backs off down the right touchline. Wing Jackson Cunningham passed inside to Zac Hart, who scored from his first touch of the season, after a long rehab from multiple knee injuries. 



The final try of the match was possibly the best of the seven we scored. A trigger pass from Sam Bertram to a looping Darcy Sullivan became a blind over the shoulder pass to a looping Charlie Worthington, an outrageous piece of skill from a front rower. Chuck drew and passed perfectly to set Jackson Cunningham into the corner for the score.
It was far from a complete performance, but a 7 tries to 2 win is a fair result for our first home game of the season. #8 Theo Mayell played his best game to date since arriving from the UK. In addition to the try, he was a constant menace at the breakdown, stealing several balls.

Captain Hayden Maher was tireless as usual, mixing elite cover defence with some ball playing in attack, and a line break for a try assist. Alex Elder came off the bench as a fresh reserve and had a great impact, making a few big tackles, scoring a try and making a few timely poaches. Our backline again kicked poorly and had some issues with ball security, but also showed spectacular flashes of what the attack might look like when combinations improve and we gain better cohesion. Up the Wicks!

James Tesoreiro
1st Colts Coach
Ollie's Oil - 2nd Colts Report
2nd Colts beat Norths 57-8. On what was a sunny Saturday at Latham Park, the boys made the most of it with the opening try coming just 2 minutes into the game with the next, 2 minutes after that. Despite the strong start, a valiant norths team kept on pushing and secured 6 penalties in a row against an eager Randwick team. This led to them taking points and putting 3 points on the board.

From here on out the boys rallied and managed to score the rest of our 43 points with some great Randwick rugby played by all. A standout from the weekend was Max Dempsey (8) who stole the ball from a ruck, run through 4 defenders and 50m to score the try. There were plenty of work-ons and positives to come from the game including a welcome back to Riley Elliot who had his first taste of footy since his injury last year.

We now look forward to the Anzac challenge against Easts on Saturday. Up the Wick!

Ollie Buchanan
2nd Colts Coach
Paul's Point - 3rd Colts Report
After a very rainy end to the week the sun came out at Latham Park for our Round 3 match against Norths. The game was a tale of 2 very different halves with an excellent first half and then a disappointing second half.

Our first half went to plan with good communication and structure, very few errors and some excellent backline play. We had great energy and the discipline to match. Our lineouts were excellent and we really only missed 2 opportunities to add to the scoreboard which blew out to 24-0 at half time.

We will have to check the water as we had a completely opposite second half where we had 2 x yellow cards through poor discipline, handling errors and lack of energy conceding a try and not adding to the scoreboard. Final score 24-7.

Stand out performances in the forwards from Ollie, Spencer, Eddie, Dane, Kai and Rhys whilst in backs it was David, Max, Josh and Ryan. We look froward to the big game next week boys v Easts and with lots to work on. Up the Wicks

Paul Whitehouse
3rd Colts Manager